Ms. Mahaso is an attorney, a CIA (certified internal auditor) and presently the city's "Interim" City Internal Auditor.
Mr. Roger Strout who held the position of City Internal Auditor until his retirement in January had Ms. Mahaso audit "problem" departments where she found room for improvement, and always had the answers to all questions asked of her. He considered her a valuable part of his department, and assured city leaders he was leaving them in good hands.
I attended the Audit Committee meeting held June 14, 2018 and saw her in action and listened to the remarks of city management and heard nothing negative said about the IA department and many positive comments. She took the time to credit her staff as any good manager would.
Peter Bieniek, Director of Public Works, made a comment that many departments saw the Internal Auditor as "the enemy" but he welcomed Ms. Mahaso audit of his department, commented on how well they worked together and he wanted to know and understand any problems in his department so they could be corrected.
My opinion: The city cannot correct problems they don't know exist, and it's the responsibility of the IA Dept. to bring these problems to their attention.
City Directors and Managers praised her for her cooperation, patience and professional attitude while she thanked them for the speed in which they were processing the documentation needed in order to complete audit's of their department.
The agenda contained 25 items which included:
Approval of the Human Resource Audit
Approval of the Housing and Community Dev. Post Audit Review.
Approval of the Real Estate Management Practice Post Audit Review.
Approval of the Leases and Contract Revenue Post Audit Review.
Approval of the Commercial Refuse Post Audit Review.
As you read above you can see how busy the IA Dept. has been and it was a very positive meeting and Mr Strout was correct when he told all who attended his last IA meeting that he was leaving the city in good hands.
The City Commission oversees the IA Dept. and I can't understand why Ms. Mahaso who has worked for the city as the Interim IA for almost 7 months hasn't lost the Interim title.
The commissioners should move to make her position permanent before they lose another dedicated employee who plays very well with others.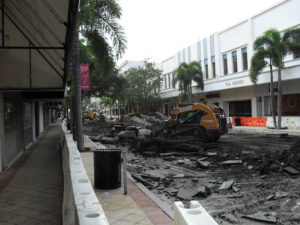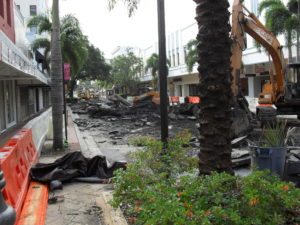 Construction has began tearing up the streets of downtown Clematis Street, between Dixie and Olive all because Mayor Muoio visited Copenhagen, Denmark.
She must have loved it due to the fact she is bound and determined to turn WPB into a copy of another country with her Streetscape project which is the first of 40 projects.
Let's not give the mayor all the credit, she couldn't go forward without the help of the City Commissioners who control the purse strings and allow your tax money to be spent on projects many residents don't want or need. Please take the time to e-mail Commissioner James, Ryan and lambert and thank them for supporting Mayor Muoio's project.
The plan is widen the sidewalks, add biking lanes and remove parking meters and this is where it starts.
I can understand why residents living and working in downtown WPB love the idea. Would be easy to walk or bike to work or lunch.
How about the residents living in other sections of the city who must drive to Clematis St. if they want to dine or shop or attend a city meeting?
Are there enough residents living downtown to support businesses? Without the changes being made businesses are closing by the dozens in the last few years.
Copenhagen, Denmark
Weather averages
Month         High / Low(°F)           Rain
January         38°       30°              10 days
February       38°       30°              7 days
March            43°       33°              9 days
April               51°       39°              7 days
May               62°       47°               7 days
June              68°       53°               8 days
July                71°       57°               8 days
August           71°       57°               8 days
September     63°     52°              10 days
October         54°      45°               9 days
November      45°     38°              11 days
December     40°     33°               10 days
Mayor Muoio visited Copenhagen in Oct. 2015. Hope she brought a warm coat.
Rain in Denmark comes on a regular basis year-round, and there are no true dry periods, although September through November brings the wettest season. The annual rainfall in Denmark averages 61 cm (24 in) of precipitation with Copenhagen having an average of 170 rainy days.
The city has a population of 775,033 (as of January 2018)
Median age 35.9

_____________________________________________________________________
West Palm Beach, FL
Weather averages
Month           High / Low(°F)         Rain
January         75°       57°                 5 days
February       76°      58°                  5 days
March            79°      62°                  5 days
April              82°      66°                  5 days
May               86°       71°                  8 days
June              89°       74°                12 days
July               90°       75°                 11 days
August          90°       76°                13 days
September    89°       75°               13 days
October         85°       71°                  9 days
November     80°      65°                 6 days
December     77°       60°                 6 days
Days of Hot Weather in West Palm Beach
During any month of the year, the temperature at West Palm Beach can reach into the 80s Fahrenheit. From late spring until early fall, the thermometer often tops 90 degrees. Nearly half of summer days here have highs in the 90s. But temperatures of 100 °F (38 °C) or more aren't normal here.  How many folks are out walking or biking with these temperatures?
The city has a population of 104,978 (as of January 2018)
Median age 39.6
The information below was found on Google.
The most populous city is Jacksonville, which had over 800,000 residents as of 2016. The next most populous city, Miami, has roughly half that population, clocking in at over 441,000 people.
I haven't read about Jacksonville or Miami tearing up their streets, eliminating automobiles while adding bike lanes and widening sidewalks. Both cities obviously have better city government representation than the City of West Palm Beach.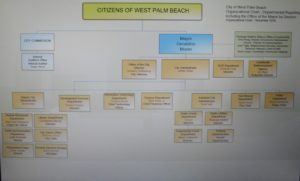 This is a picture of the WPB Organizational Chart. Note top line "Citizens of West Palm Beach" Can you see the humor in that line?
Double click to enlarge pictures.