I wanted to write this story since Feb; and started writing it in May when a firestorm in Minneapolis over the murder of a black resident named George Floyd by a white Police Officer Derek Chauvin took place. Now is the time and here it is.
Mayor Muoio had an idea to improve the lives of young black men in the northend of the city where crime is rampart and shootings are normal. Any attempt to bring police and residents together was in my opinion well worth the effort.
It's called the "Peace Walk" and a program that has been in existence for the last 5-6 years. It is a simple plan where residents, escorted by police officers, walk the streets wearing yellow "Peace in the Streets" t-shirts and yard signs with the same message, left in yards with homeowners permission. We talk with the residents in the area and let them know about programs available to them.
Young black men struggle with various problems such as being raised in a single parent household (usually by the mother with no father to guide them) high school dropouts, incarceration, violence, racism and gangs attempting to recruit them. Can you understand their frustration in not being able to see a light at the end of the tunnel?
The city works closely with the Urban League of PBC and their Mission Statement is: "To assist African Americans and other minorities in the achievement of social and economic equality."
On one Peace Walk we were asked by the Urban League to assist in distributing forms for employment to all black resident aged 18-25.who were looking for work. Here is my experience with one young man.
Me: Young man are you looking for work?
YM: Yes, I could sure use a job.
Me: I have a job application you can fill out.
YM: Yes I sure will. Handed him the application, which he took and sat down to fill it out while I stood with a cop and chit-chatted.
After a while he stopped writing and stared at the application, got up, walked to me and handed me the form while stating "I can't finish this because I'm a convicted felon." It's not as much what he said but the way he said it. I could hear defeat in his voice.
Me: You are exactly the man we are looking for. A felony wont be used against you for employment. The cop spoke up and verified what I had stated. Big smile, he took the application back and continued to fill it out.
After a few minutes he got up and walked into the house, application in hand. I wondered if he was done. He came back out with 2 cold bottles of water saying it's hot and we must be thirsty. We drank, he wrote and I walked away feeling good with the belief we had accomplished something.
My only regret is my failure to follow up. I hope he was successful in his bid for a new job.
Our last walk was in February when the Carona Virus hit and everything changed. This walk was also different because it was the first time we walked without a police escort in one of the most dangerous area of the city. At the next City Commission meeting I complained about the lack of police presence. Mayor said he has nothing to do with the police and their schedule.
I don't know if the program is helping, it certainly isn't hurting when young men see us in their neighborhood and people and police are taking an interest in them, engaging in conversation and asking what the city can do to help. The more I thought about it I realized James is gearing up to stop the walk program and the loss of the police escort was the beginning of the end.
These 2 pictures show children interact with the police. The police on the Segway gave the young man a ride around, and the child was beyond happy. When he turned back there was a line
waiting their turn. They all got one. Double click the picture to enlarge and notice the children's faces.
If you have read this far, please take the time (4:31) to turn on the sound and listen to the video below. Say's it much better than I can.
https://www.instagram.com/p/CAvtTbYg4ZP/
If the mayor of WPB can't help people who look like him, please stay out of the way of people who are willing to try and help the most vulnerable among us.
The City of WPB has awarded most of our water views to developers so it only makes sense they must now spread out throughout the city, and they have now reached my area west of 95 on 45th. St. and Village Boulevard. Here's the story.
The Family Church located at 3600 Village Blvd. has sold a large section of their property to Broadstone who plans to construct 6 buildings 4 stories high and consist of 280 rental apartments of 1,2, and 3 bedroom and the rent from $1,775.00 to $2,375.00/ month. I am going to use 2 cars per apartment for a total of 560 additional cars traveling Village Blvd. daily. This development has been approved by the city.
Another development is the Metrocentre Apartments at the southwest corner of 45th Street and I-95. Developers are proposing 322 units next to what used to be the Culinary Institute. Once again using 2 cars per apt. means an additional 644 cars traveling 45th St. 560+322=1,204 additional cars leaving Village and 45th. St. traveling to their destination. My development, Spencer Lakes, residents now complain about the problems when they try and leave the development and can only exit on Village.
Metrocentre Apartments is seeking a land use plan and zoning change, and I just received notice from the city on 5/18/2020.
"City Commission will conduct a Public Hearing on Monday, June 15,2020." Also stated "the meeting will be held virtually via Zoom video conferencing." 28 days until the meeting and the city is not ready to meet the public in chambers. Well I contacted the County Commission with one question. "Could you please advise me when the County will resume public meetings."
The county responded immediately.
"BCC meetings have been held in person, and open to the public since the CV19 crisis started.
Within the Chambers we are practicing social distancing so not every chair is available for seating, and masks must be worn inside the Governmental Center. You can still fill out a comment card and address the Board for 3 minutes.
We have a Workshop today at 9:30am."
My opinion: James will hold Zoom Video conferencing until the end of his term or he is removed from office, whichever comes first. He wont have to listen to the nay-sayers or gadfly's. Both of these developments are important to me and the area where I reside.
City Commissioners: If a couple of you are nervous about public meetings then you Zoom in, but open the meeting to residents in City Chambers even if it means putting pressure on the mayor.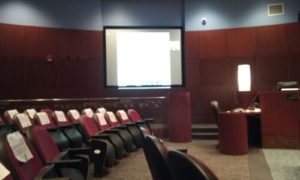 I attended a Planning Board Meeting in City Hall and it appeared to be set up for "social distancing"
On March 23,2020 I attended the CRA meeting and then the City Commission meeting when Commissioner Christine Lambert stated the City's Ethics Officer gave the OK for her to vote on a WGI contract. At that point I knew I would file a complaint and had a choice between the Office of the Inspector General (OIG) or the Commission on Ethics (COE) both departments established after City & County Commissioners were removed from office and received prison terms. Both departments have commissioners who are appointed to their positions, and I have dealt with both. I have absolutely no confidence in the COE so my decision was easy. File the complaint with the OIG. Below is the e-mail filing the complaint and the OIG response.
—–Original Message—–
From: Sandy Matkivich <sandymac36@aol.com>
To: inspector <inspector@pbcgov.org>
Sent: Fri, Apr 17, 2020 10:09 am
Subject: Commissioner Lambert
3/23/2020 City Commissioner Lambert voted to approve 2 items, one on the CRA and the companion item on the City Commission meeting.  Lambert was sworn into office in 2018 and 4 months later her husband Monty Lambert was hired by WGI as Senior Business Development Manager. Lambert and WGI will both benefit from her vote. I have included the agenda for both meetings, and the meeting was televised.
3/23/2020 Special  CRA Meeting Item #2  Fiscal Note: $20 million from bond proceeds. Lambert stated City's Ethics Officer stated OK for her to vote on the issue.
Final CRA Meeting Agenda 3_23_20
3/23/2020  City Commission Meeting Item #8  (Consent Calendar #5-13)  When items are placed on the Consent Calendar they are usually passed with no discussion. The agenda reads in part.
"The City retained Wantman Group (WGI), to perform a traffic study, investigate road conditions, and recommend a sustainable typical section. The scope of work includes but is not limited to: drainage improvements, street lighting, ADA access, landscaped median, midblock crosswalk enhancement, traffic signalization, smart city technology, and sidewalk and bike access."
Fiscal Note: Funding will be provided by the CRA Bond proceeds and the Capital Acquisition fund.
FINAL City Commission Agenda _03_23_20
Below is the response from the OIG to my complaint:
Peter Cruise is Chair of the COE and will look into my complaint concerning Lambert.
I am not comfortable believing the investigation will be fair? The picture is of Commissioner Lambert biking with her friend Peter Cruise.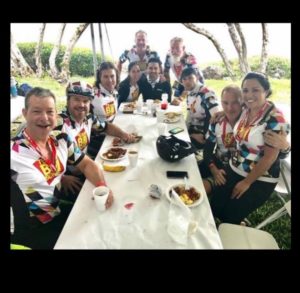 Christine Lambert sitting on Peter Cruise lap at a recent picnic. His hands look cozy.
4/20/2020 City Commission Meeting listed 11 items, all on the Consent Calendar. Items placed on the Consent Calendars generally are passed without discussion as in the $180,000.00 payout to a city employee in an attempt to cover up misdeeds by the city.
5. Resolution No. 111-20 "authorizing a letter of support to the Florida Department of Transportation for the Lane Elimination planned for the Broadway Improvements Project from 25th Street to 45th Street. Transportation staff is proposing to submit a Lane Elimination Application to the Florida Department of Transportation to eliminate vehicular travel lane(s) on Broadway from 25th Street to 45th Street." Item #5 more fully explained below.
9. Resolution No. 110-20 "approving the City's intent to engage in mandatory conflict resolution procedures in an action filed against the Palm Beach Transportation Planning Agency regarding an amendment to its Long Range Transportation Plan that added a project extending and widening State Road 7."  City still fighting the State on State Rd. 7 wasting tax dollars.  Read the City's agenda below:
http://REVISED%20FINAL%20City%20Commission%20Agenda%20_04_20_20.pdf
Another failed campaign promise from Mayor Keith James, when in an effort to gain votes, he stated he was going to mend bridges between the County and City.
I attended a Commission meeting recently when a County staff member appeared before the city and spoke of a concern over a project the city was voting on that night. He spent his 3 minutes explaining how it would impact the city and county and asked them to consider their vote. When his time was up James stated he did not appreciate the county sending staff to the city to express their views as the city didn't send city staff to speak at county meetings. In my opinion James didn't want the public to have the information given by the county, same as he wont allow City Commissioners to ask questions of staff.
In what I believe was Mayor James attempt to embarrass the County James called a press conference and "implored the county to get us these testing kits"
"I implore you, get us these testing kits. We are trying to save lives," Mayor Keith James urged in a news conference Friday aimed at Palm Beach County leaders.
County administrator Verdenia Baker and Mayor Dave Kerner addressed James' accusations together to WPBF 25 News.
They said the county has no control over testing kits — the state denied the city's request for 1,000 kits.
"We get tests from the state, and we have to follow rules of the state," said Baker. "The city did ask for 1,000 kits, we sent that to the state, the state did not honor that request. We can't control that."
Baker said the county has plenty of both drive-thru and walk-up testing sites for everyone in the county — including those in African-American and other vulnerable communities.
Read the WPBF 25 news story below.
https://www.wpbf.com/article/county-leaders-rebut-west-palm-beach-mayor-s-covid-19-testing-accusations/32347002
Item # 5 from Commission vote on 4/20/2020.  With gridlock throughout the city while they continue to overbuild and neighborhoods speak out with legitimate complaints and concerns, which go unheard. The State is weighing in on their attempt to narrow, as in removing lanes on South Dixie Highway. This is a win for the NSNA (Northwood Shores Neighborhood Association) who have for over 20 years attempted to have the city follow through on promises made including the constant flooding on Flagler Drive, and recently how narrowing Dixie would negatively affect their neighborhoods. The good news is obviously the State has an eye on WPB and Mayor James. A little over one year in office and James not only has the County upset, now the State is looking at us while investigating Mayor James.
"State rejects West Palm Beach plan to narrow South Dixie Highway, saying it would jam traffic."
WEST PALM BEACH — "One year after state officials approved a dramatic narrowing of a stretch of South Dixie Highway in West Palm Beach, they've changed their minds, saying it would aggravate traffic on the busy artery and adjacent roads."  Read story below
https://www.palmbeachpost.com/news/20200505/not-so-fast-why-state-stopped-west-palms-plan-to-narrow-south-dixie-highway
On 4/27/2020 I published a story titled "Show Some Compassion!" when Mayor James announced he was temporally ending the Hurricane Season Vegetation Amnesty Program. I would like to think that story moved City Commissioners and City Administrator to request James have a change of heart. He did. Residents don't have a couple of months to prepare but we do have 12 days to get ready to save our pocketbook.
WEST PALM BEACH, FLA. (May 6, 2020) — "In preparation for the 2020 hurricane season, the City of West Palm Beach is pleased to announce that Hurricane Season Vegetation Amnesty will start on May 25, 2020 and continue through June 5, 2020."  Read the City's press release below.
https://www.google.com/search?client=firefox-b-1-d&q=PRESS+RELEASE%3A+City+of+West+Palm+Beach+to+offer+Hurricane+Season+Vegetation+Amnesty