Decisions OIG or COE?
---
On March 23,2020 I attended the CRA meeting and then the City Commission meeting when Commissioner Christine Lambert stated the City's Ethics Officer gave the OK for her to vote on a WGI contract. At that point I knew I would file a complaint and had a choice between the Office of the Inspector General (OIG) or the Commission on Ethics (COE) both departments established after City & County Commissioners were removed from office and received prison terms. Both departments have commissioners who are appointed to their positions, and I have dealt with both. I have absolutely no confidence in the COE so my decision was easy. File the complaint with the OIG. Below is the e-mail filing the complaint and the OIG response.
—–Original Message—–
From: Sandy Matkivich <sandymac36@aol.com>
To: inspector <inspector@pbcgov.org>
Sent: Fri, Apr 17, 2020 10:09 am
Subject: Commissioner Lambert
3/23/2020 City Commissioner Lambert voted to approve 2 items, one on the CRA and the companion item on the City Commission meeting.  Lambert was sworn into office in 2018 and 4 months later her husband Monty Lambert was hired by WGI as Senior Business Development Manager. Lambert and WGI will both benefit from her vote. I have included the agenda for both meetings, and the meeting was televised.
3/23/2020 Special  CRA Meeting Item #2  Fiscal Note: $20 million from bond proceeds. Lambert stated City's Ethics Officer stated OK for her to vote on the issue.
Final CRA Meeting Agenda 3_23_20
3/23/2020  City Commission Meeting Item #8  (Consent Calendar #5-13)  When items are placed on the Consent Calendar they are usually passed with no discussion. The agenda reads in part.
"The City retained Wantman Group (WGI), to perform a traffic study, investigate road conditions, and recommend a sustainable typical section. The scope of work includes but is not limited to: drainage improvements, street lighting, ADA access, landscaped median, midblock crosswalk enhancement, traffic signalization, smart city technology, and sidewalk and bike access."
Fiscal Note: Funding will be provided by the CRA Bond proceeds and the Capital Acquisition fund.
FINAL City Commission Agenda _03_23_20
Below is the response from the OIG to my complaint:
Peter Cruise is Chair of the COE and will look into my complaint concerning Lambert.
I am not comfortable believing the investigation will be fair? The picture is of Commissioner Lambert biking with her friend Peter Cruise.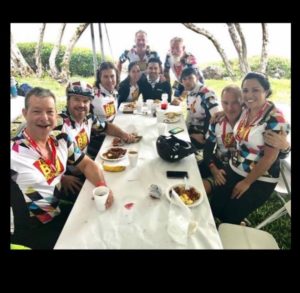 Christine Lambert sitting on Peter Cruise lap at a recent picnic. His hands look cozy.