Enough is Enough
---
The City of WPB has awarded most of our water views to developers so it only makes sense they must now spread out throughout the city, and they have now reached my area west of 95 on 45th. St. and Village Boulevard. Here's the story.
The Family Church located at 3600 Village Blvd. has sold a large section of their property to Broadstone who plans to construct 6 buildings 4 stories high and consist of 280 rental apartments of 1,2, and 3 bedroom and the rent from $1,775.00 to $2,375.00/ month. I am going to use 2 cars per apartment for a total of 560 additional cars traveling Village Blvd. daily. This development has been approved by the city.
Another development is the Metrocentre Apartments at the southwest corner of 45th Street and I-95. Developers are proposing 322 units next to what used to be the Culinary Institute. Once again using 2 cars per apt. means an additional 644 cars traveling 45th St. 560+322=1,204 additional cars leaving Village and 45th. St. traveling to their destination. My development, Spencer Lakes, residents now complain about the problems when they try and leave the development and can only exit on Village.
Metrocentre Apartments is seeking a land use plan and zoning change, and I just received notice from the city on 5/18/2020.
"City Commission will conduct a Public Hearing on Monday, June 15,2020." Also stated "the meeting will be held virtually via Zoom video conferencing." 28 days until the meeting and the city is not ready to meet the public in chambers. Well I contacted the County Commission with one question. "Could you please advise me when the County will resume public meetings."
The county responded immediately.
"BCC meetings have been held in person, and open to the public since the CV19 crisis started.
Within the Chambers we are practicing social distancing so not every chair is available for seating, and masks must be worn inside the Governmental Center. You can still fill out a comment card and address the Board for 3 minutes.
We have a Workshop today at 9:30am."
My opinion: James will hold Zoom Video conferencing until the end of his term or he is removed from office, whichever comes first. He wont have to listen to the nay-sayers or gadfly's. Both of these developments are important to me and the area where I reside.
City Commissioners: If a couple of you are nervous about public meetings then you Zoom in, but open the meeting to residents in City Chambers even if it means putting pressure on the mayor.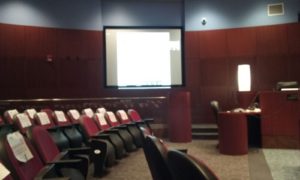 I attended a Planning Board Meeting in City Hall and it appeared to be set up for "social distancing"