WPB Still Cheat Election 2020
---
Election signs may only be displayed on Private Property with permission for a certain time within the election period. 
Election signs may not be displayed on Public Property owned by the government rather then by a private individual. Examples include: parks, streets, sidewalks, libraries.
Political signs are not allowed on Public Property and unless Mayor James has found a buyer for City Hall  it is considered owned by the public, that's you and me.
As previously written the Chamber of Commerce rents Public Property and political signs are not allowed, although they do post them. After complaints to the city, the signs were removed.
The signs below, (Shoaf & lambert) were posted at City Hall before the last City Commission race. Please notice there are no political signs for Martina Walker and Steve Sylvester their challengers. Both ran a clean campaign and I had Steve Sylvester sign on my private property.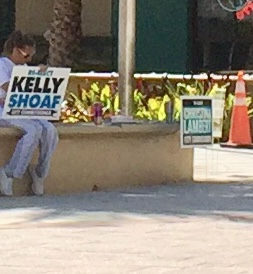 City Hall is at it again when James decided another press conference was called for with invited guests Former Mayor Lois Frankel and PBC Commissioner Mack Bernard. Both are up for reelection in Nov; and both know it is illegal to stand behind a Biden/Harris political sign as they have done (see below) Bernard has raised over $250K and his challengers have raised pocket change so he will win re-election. Frankel has a challenger named Laura Loomer, who has out raised Frankel and what I like about her is she can't be silenced. Please take the time to Google her and learn more. Read the story and see the campaign sign below, all 3 knowing it's illegal, but doing it anyway.
"It's time for voters to plan how and where they'll cast ballots, Palm Beach County leaders say"
U.S. Rep. Frankel, County Commissioner Bernard, West Palm Mayor James urge residents to make voting arrangements early for the Nov. 3 election, calling it 'the election of our lifetime.'
The previous story concerning Mayor James and his taxpayer paid 2020 fully loaded Chevrolet, please know the taxpayers are also paying auto insurance,
The end.