Your Dollars Explained
---
WPB Watch story recently posted I requested City Commissioners stop giving away tax dollars until Mayor James and City Administrator Johnson reach agreement with the WPB Police & Firefighter. Did they?
1/11/2021 "City commissioners Monday approved up to $1.8 million in job creation incentives to a major unnamed company from the Mid-Atlantic states considering bringing 600 jobs to downtown West Palm Beach.
Acting as the Community Redevelopment Agency board, the commissioners are offering $3,000 per job, to be paid after the company creates them. The payments would be made over four years.
In addition to the money, the company would get expedited permits through the city Construction Services division for the build-out of the new office space.
Four major office buildings are in various stages of planning or construction in downtown West Palm Beach." Read story below.
https://www.palmbeachpost.com/story/news/2021/01/11/west-palm-beach-offers-1-8-million-lure-600-jobs-mid-atlantic/6623401002/
I was reminded the city has a budget with dollars allocated for varies projects and I mentioned how many times the commissioners were asked to move dollars from one account to another basically robbing Peter to pay Paul.
A comment from a Fire Fighter. " Our members didn't sign up to fight fires, mitigate gas leaks, scuba dive in the city's canals, cut vehicles apart on City's roadways, or perform life saving medical interventions for the residents because of money, they knew going into this field that amassing wealth wasn't their destiny."
What I learned was all firefighters are paramedics. A fireman can pull you out of a burning building and also do CPR to insure all is being done to give you a fighting chance, and transport you to a hospital.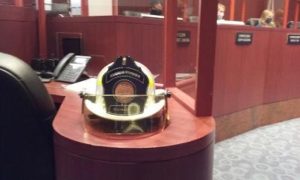 At the 1/11/2021 City Commission meeting the word was out that City Commissioner Cory Neering would not seek reelection as District 2 Commissioner. When the public was allowed to speak Fire Fighter Ryan Stacey presented Commissioner Neering with a firefighters helmet and thanked Commissioner Neering for his years of service and mentioned of all the elected officials who seek their endorsement with promises, Commissioner Neering was the one to keep his.The helmet was a great gift and the look of surprise on Cory's face was priceless, but in my opinion the words Mr. Stacey spoke was the real gift. Cory Neering kept his promises. He will be missed by many.  Double click to enlarge picture.
city insert with water bill  Residents recently received their water bill which included a flyer namely "City of West Palm Beach: Your Dollars Explained" Double click the flier to enlarge and I draw your attention to the bottom right hand corner. The city claims:
Police Officers: 391, Firefighters: 244, Cost to operate Police & Fire $107,766,563.
I offer you the true numbers, straight from the horses mouth.
Police: "Our authorized strength is 314. We currently have 15 vacancies" So there are 299 Police Officers to protect a population of 109,767 (2019). Where are the missing 92 officers the city claims to have?
Fire: "Currently there are 239 firefighters across all ranks. We are currently in the process of hiring 37 using a Federal Grant that the firefighters (not the city) secured. Even after hiring this large amount we will still need 15 more in the near future if all stations are to be fully staff. Currently station 8 and 9 are not fully staffed. These numbers don't account for planned retirements, injuries, and people leaving due to poor pay and morale."
The city claims 244 Firefighters. What is needed 239+37+15= 291 needed to fully staff WPB Fire Dept.
A day in the life of a cop in WPB.
"A 33-year-old man is behind bars after police say he pulled the trigger of a gun while it was in the holster. Eugene Upperman is facing charges of attempted first-degree murder, resisting arrest with violence, possession of a firearm by a convicted felon and discharging a firearm in public. On Sunday just after 4 p.m., West Palm Beach police say Upperman's girlfriend called 911, saying he pointed a gun at her. Two officers patrolling the area responded and confronted Upperman at 21st Street and Division Avenue." These 2 cops are among the lowest paid officers in Palm Beach County. Read the story below:
https://cbs12.com/news/local/man-accused-of-pulling-trigger-of-officers-gun-while-it-was-in-the-holster-during-fight
1/14/2021: I attended the CWPB / Iaff Collective Bargaining Session: It was an attempt to negotiate a new contract between the city and firefighters. This meeting was different because the Mayor and City Administrator were not in attendance, and Mr. Jose-Luis Rodriguez, Chief Human Resources, negotiated for the city, and I believe did a good job. Both sides were very professional and respectful of each others view point. What was missing was the tension in the room which I believe was due the Mayor and City Administrator not in attendance.
Mayor James, our first responders deserve better.
The end