WPB Residents received their first shot of the  Moderna Vaccine
---
UPDATE
Gaines Park location: 1501 N. Australian Avenue
The vaccine is being offered for FREE and appointments are necessary. Please call (561) 200-3687 (TTY: 800-955-8771) for an appointment.
WPB Residents received their first shot of the  Moderna Vaccine
The City of WPB announced vaccine for Caronavirus would be administered by the WPB Fire Fighter's at Gaines Park on Thursday, Friday and Saturday morning's between the hours of 9:00AM until 3:00 PM. I took a ride up to check it out, snap a few pictures, and here's what I witnessed.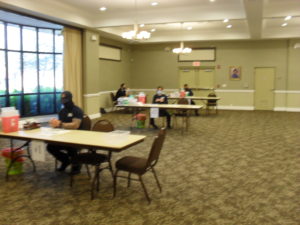 The room has 6 tables set up and were spaced 8-10 feet apart with a firefighter/paramedic at each table and all were ready, willing and very able to serve the residents. Thursday & Friday 280 vaccines were distributed both days and Saturday the number reached 370. I assume people being off work raised the number of vaccines being distributed. Double click pictures to enlarge.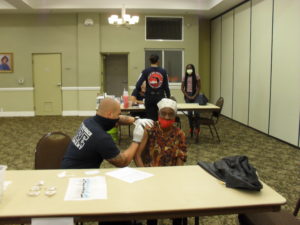 An elderly woman receiving her first shot arrived with her daughter and after receiving permission to take their picture they got down to business and both were receiving the vaccine. The daughter had the table behind her mom and she never looked away from her the entire time and I'm assuming she wanted to insure her mom was OK. Mom was in good hands.
I observed another resident receiving the shot and from the time she sat in the chair until the time she stood up was 1:07 (one minute 7 seconds) The next resident was in the chair for 1:26. The paramedic didn't slow down, the time difference was spent telling him how grateful she was to be able to get the vaccine and took the time to thank him.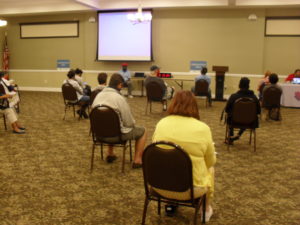 After receiving the vaccine they are required to sit for 15 min. in the Observation Room, 30 min if they are considered high risk, where they are watched over by city employees and given there follow up appointment.
The vaccine, syringes and other medical supplies are supplied with a grant from the Federal Government.
Other supplies such as the tables, chairs, trash bags and buckets and the FF had a golf cart for the elderly who had difficulty walking any distance were supplied with a grant from Housing & Community Outreach Program.
The Federal Government will reimburse the city for expenses.
If City Government ran as efficiently as the WPB FF did issuing the vaccine and city employees who watched over the residents we wouldn't have anything to complain about—–ever. The city can thank the fire department by reaching a new contract. Seven months overdo is long enough.
I can't close out the story without a Thank You to Jaime Walker an 18 year veteran and assigned to the Emergency Medical Services who allowed me to be present and watch the paramedics in action.
The end.