UPDATE: The story below was posted on WPB Watch @5 /29/2021 @ 10:18am. The PB Daily News wrote an updated story 5/29/2021 @ 10:37 am. And more information was disclosed that readers should be aware of. Here it is.
"In a release issued late Friday night, the town of Palm Beach said cylindrospermopsin, a toxin produced by cyanobacteria (known as blue-green algae), was detected in the drinking water from West Palm Beach's Water Treatment Plant on May 20.
Poonam Kalkat, West Palm Beach's director of public utilities, said there were no outward signs of the cylindrospermopsin toxin but that tests began seeing it in Clear Lake on May 3 at low levels. It had disappeared in subsequent tests, but showed up again in a May 17 sampling, which was returned May 20.
Samples were then taken every day with results reported to the Florida Department of Health and Florida Department of Environmental Protection.
The advisory from the city came out about 10 p.m., followed by an 11 p.m. order issued by the DOH. Calls to the DOH and DEP were not immediately returned this morning. Read the story below:
https://www.palmbeachdailynews.com/story/news/local/2021/05/29/discovery-toxin-produced-algae-prompts-drinking-water-advisory-west-palm-palm-beach-south-palm/5261954001/
I sent out emails to residents of Spencer Lakes @ 11:15 pm after hearing the news report. Below is a response from a board member Sat. morning. "Thank you, Comm. Warren notified me this morning."
5/28/2021 @ 11:00 PM I listened to  the news and received a warning WPB water was contaminated and advised not to use the water due to blue- green algae, and that included bathing.   I immediately  sent the warning to everyone in my address book, hoping they received the news before using water.
Below are excerpt's from Chanel 25 news and the entire story can be read below. My comments are in italics.
"Cylindrospermopsin, a toxin produced by cyanobacteria (formerly known as blue-green algae), was detected in the drinking water from the City of West Palm Beach's Water Treatment Plant on May 20."   Water contamination can happen to any city at any time and I certainly don't fault WPB officials for the problem we are now facing, but I do hold them responsible for having the information since May 20,2021 and informing us eight (8) days later.
"The city is working closely with the Florida Department of Health, the Florida Department of Environmental Protection, and the City's Emergency Operations Center to address the situation." Which agency had the City release the information?
"Residents are urged not to drink tap water. Infants, young children, the elderly, and those with preexisting liver conditions may be vulnerable to the effects of cylindrospermopsin. Animals are also vulnerable."   The city allowed the most vulnerable residents to use city water for 8 days before issuing a warning. How many may have been affected? We'll never know.
"Officials also warned residents not to boil the water as it can increase toxin levels." How comfortable are you taking a hot shower/bath?
"The city has established a point of distribution for bottled water to any resident affected. Impacted residents may pick up a supply of water from Gaines Park on May 29, 30 and 31. The park is located at 1501 Australian Ave. and will operate from 10 a.m. to 1 p.m on those days." Over 100,000 residents affected and water can be picked up at the one location above. If you drive a car you have a total of 9 hours to pick up water. Survive Carona virus and become sick by drinking city water.
"Residents with questions can call the city's hotline at (561) 822-2222. Future updates will be shared on the city's website, wpb.org and on the city's primary social media platforms. I called the hotline and received a continuous busy signal, you may have better luck contacting them.
Mayor Keith James and City Administrator Faye Johnson are the two people with the responsibility of running the City, and both have failed residents by not releasing the news of contamination when the problem was first discovered. Shame on you both.
City Commissioners: When were you advised the city had water problems, and why didn't you do something about it? You do realize you can call the media and have a press conference to warn us immediately when you became aware. You were elected to protect residents not the Mayor or City Administrator. Shame on you also.
James has begun running for his second term as Mayor, and holds press conferences and updates regularly. You wont see or hear any press conference on the recent water development.
The Mayor attended the DDA (Downtown Development Agency) recently and advised the audience he would not be taking questions, and advised those in attendance the City didn't criminalize the homeless. Repeat the lie enough and it becomes the truth, that's a great example of hiding info. don't allow questions.
https://www.wpbf.com/article/toxic-algae-detected-in-west-palm-beach-drinking-water/36574097
The end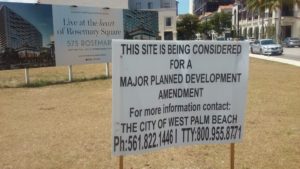 Double click image to enlarge.
Another "Major Planned Development Amendment".
Unless you live within 500 ft. of Publix located in Rosemary Square, formerly CityPlace, you were not likely notified of this "major planned development amendment".
Rosemary Square is owned by Related and they are planning to build a 25 story building, above a new 40K+ sq. ft. Publix, on a site that is zoned for 15 stories so the City Commissioners will be asked to approve an amendment allowing the additional 10 Stories which they will approve as they always do for a Related project. The new project may contain office space and an assisted living facility.
Residents in the area are questioning the loss of Publix during this project and there is no answer coming from the City which is an answer in itself. The City or Related don't care if shopping becomes difficult for you. When you think about it were only talking about a 2+ years of inconvenience.
It is my understanding residents living in the area aren't happy with the change. City Commissioner Christy Fox is a resident of the area, was employed by Related, and I can't wait to hear her vote. Will she go with the people who put her in office or will she make the vote unanimous, or be sick the day the vote is taken?
I can relate the story below with what you have read so far.
"Thousands of homeowners could be forced to get flood insurance" PB Post 5/27/2021
"Questioning whether the federal government used the best methods and data to predict Palm Beach County's coastal flood risk, county commissioners unanimously supported moving forward with an appeal of FEMA coastal hazard maps.
Thousands of county coastal homeowners could be forced to get flood insurance under FEMA's maps, adding about 1,900 acres of land along the Intracoastal Waterway and Atlantic Ocean into the high-risk flood zone.
Top of mind for commissioners was their constituents' wallets.
"I guess my editorial would be that anything we can do to protect our residents, we need to, especially right now," Commissioner Maria Marino said. "Property values are going to go up, so property taxes are going to go up, so insurance is going to go up, anyway. Let's not try to hurt them too much."
https://flipboard.com/article/county-to-appeal-fema-maps-thousands-of-homeowners-could-be-forced-to-get-flood/f-5a518322a9%2Fpalmbeachpost.com
My opinion
Flagler Drive floods to the point where side streets have being affected with rising tides, and with a warning of the coming hurricane season I'm thankful I don't live in the area.
All the new construction where 5 stories were allowed and residents voted twice to keep the cap, the City ran to Tallahassee and it was changed to allow taller buildings and the City allowed construction up to 25 stories. It was a free for all, and construction is non-stop.
Has anyone noticed that concrete does not absorb water?
So residents will pay higher premiums for flood insurance. The only people that care are the folks paying the bills, certainly not the City or Related.
The end.
2/1/2016 Below is a story about the ground breaking of the Banyan Cay Resort with Former Mayor Muoio and Domenic Gatto. Five years ago I am going to assume the City was unaware of Mr. Gatto's reputation. Five years later the City should be well aware of who Mr. Gatto is thanks to the PB Post and the Florida Bulldog.
https://www.nicklaus.com/2016/12/01/jack-nicklaus-breaks-ground-banyan-cay-resort-golf/
4/28/2021 (PB Post) "Domenic Gatto is the developer behind the $100 million Banyan Cay complex just east of Interstate 95, off Congress Avenue and north of Palm Beach Lakes Boulevard, near the Palm Beach Outlets shopping mall. When complete, Banyan Cay will be the largest redevelopment in West Palm Beach since Rosemary Square, formerly known as CityPlace, the popular downtown mixed-use dining and shopping center.
Domenic Gatto, a 46-year old Palm Beach Gardens resident, is one of five men charged in what the U.S. Department of Justice described as a $65 million "nationwide kickback and bribery scheme" to order medically unnecessary orthotic braces for Medicare beneficiaries.
The 250-acre Banyan Cay property used to be the site of the President Country Club, but the club fell into financial trouble and was sold to an investor group for $11 million in 2011. That investor group then flipped the property to Banyan Cay Dev LLC, led by Gatto, for $26 million in 2015."
https://www.palmbeachpost.com/story/news/local/westpb/2021/04/28/west-palm-beach-banyan-cay-owner-charged-conspiracy/7389283002/
5/4/2021 (Florida Bulldog) "Elderly South Florida mobster Thomas Farese at the top of $93 million healthcare fraud, feds say
Joining Farese as a defendant in the case is old pal, Colombo family associate Pat Truglia, 53, of Parkland. Both men, along with Domenic J. Gatto, 46, of Palm Beach Gardens, and Nicholas Defonte, 72, and Christopher Cirri, 63, both of Toms River, N.J., are charged with conspiracy to commit health care fraud between October 2017 and April 2019
Gatto and Defonte posted bonds of $700,000 each and were released. Cirri posted a $500,00 bond. The status of Farese and Truglia is not public. Oddly, because the charges against them are public, their cases remain sealed."
https://www.floridabulldog.org/2021/05/elderly-south-florida-mobster-farese-atop-93-million-healthcare-fraud/?mc_cid=92b6ca7a56&mc_eid=bedbe4cd59
12/5/2019 "Money laundering is an after-the-fact crime. Only after drugs are sold, extortions settled, cons completed and frauds finished, does money need to be cleaned.
Laundering, the near-invisible financial fiddling to make the money from crime look respectable so it can be openly used, is an essential element of the cycle that keeps mobsters and transnational crime bosses in business."
https://nationalpost.com/news/the-underworld-laundromat-how-to-clean-10-million-in-mob-money
I find it suspicious and can't understand why "staff" who recommended approval of the Banyan Cay Resort didn't do a background check on the developers.
Heads up Commissioners, your not asking the right questions.
The end!
WPB Watch recently made an appeal to readers for donations to the WPB Benevolent  Foundation to purchase ballistic vests for our police dogs and a Bite Suit to replace a 20 year old suit that served it's purpose, and definitely needed retiring. Residents came through for the Police Dept. And I have good news to report.

A new company Crazy Tuff K9 stepped up and donated ballistic vests, leash's, collars and various other equipment to keep all our 4 legged officers safe. It is my understanding the new dogs will be fitted for their vests when they reach the age of 11/2 to 2 years old and fully developed to insure the best fit possible. Crazy Tuff also donated ballistic vests to the Riviera Beach Police Dept. K9 unit. These are good people running a good company.

The bite suit was purchased through numerous donations to the West Palm Beach Police Benevolent Foundation designated for K9 equipment.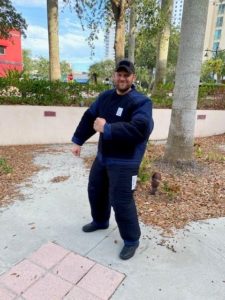 K9 Officer Rob George in the new bite suit. He looks happy  modeling the new Bite Suit. The next picture I hope to receive is one of our K9 hanging off the sleeve to insure a good fit for Rob.
There are 6 dogs in Canine School at the moment being trained for:
4 K9 training for patrol with their 2 legged partners.
1 K9 being trained to detect currency. You read that right, they will sniff out $$. Let the drug dealers beware flying into WPB airports.
The last dog being trained is one of my favorites namely Moose. the blood hound.  More on Moose below. All pictures can be enlarged by double clicking on the picture.
Moose
Moose's mom is Officer Jen Hardiman and he came to Jen @ 3 months old and this month he will be 11 months of age, and has already seen some action. A request by the Boca Raton Police Dept. was received to aid in finding a man who complained his pacemaker was causing him pain, and unfortunately he left his home on foot and could not be located. The man was located shortly before Moose could aid in the search, but good to know he's a valued member of WPB K9 unit.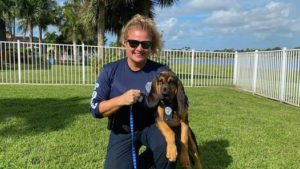 Moose at 3 months old. His handler Jen cuddles him in her arms.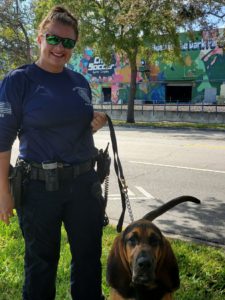 Moose at 11 month's. Cuddle time is over, he's a big boy now. Check out his nose and paws. Crazy Tuff donated a harness, collar and leash for him. Thank you to everyone who donated to keep them safe.  Well done.