The Florida Squeeze
---
Please take the time to read the story below written by "The Florida Squeeze"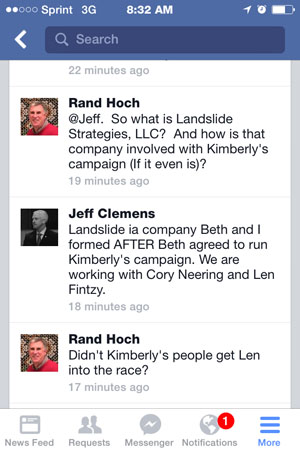 It goes into detail about the upcoming WPB Election, and explains about "Landslide Strategies, LLC" and ties to Beth Kennedy and partner Jeff Clemens. Commissioner Mitchell influenced Len Fintzy and Cory Neering into running to stack the commission in her favor. Mr. Neering can no longer deny his involvement with Mitchell as he has in the past. He is not as independent as he claims.
It continues with Commissioner Mitchell's election in March 2002 and the help she received, from City Watch, Len Fintzy and the 7 gated communities in the west. It goes on to read in part "She has been carrying the water for these communities at city hall during her thirteen years on the commission"
Read about Mitchell, a Republican, and the influence she has with other Republicans such as Ex husband, Richard Pinsky, Mother, Anita Mitchell,and brother all lobbyists. This story is one of the most informative you will read concerning the upcoming election. We hope you take the time to become informed, involved and share with other voter's. Read the story here.
Kimberly Mitchell attracting Democratic support in West Palm Beach Mayor's bid | The Florida Squeeze