Who is Christina Lambert—Really
---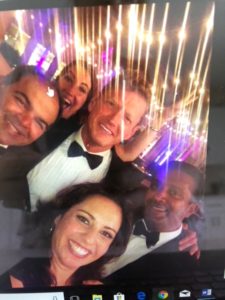 Above Image: Lobbyist Lawyer for Related Companies Harvey Oyer (middle), Christina Lambert (bottom) Rick Asnani (left) political consultant for Christina Lambert and Related Companies community outreach. Gopal Rajegowda, (bottom right) Vice President of The Related Companies. Unidentified women top. Could they possibly be celebrating her election to the city commission? Shouldn't count your chickens before they hatch.
A little refresher course:
Commissioner's Materio, Neering and Moffett voted against Zoning and Land Use Changes that would have allowed the Related project "One Flagler" to move forward.  Related sought  approval for their 25-story office building namely "One Flagler" to be located on the waterfront, where residents twice voted for a 5 story height limit. The 3 named commissioners above recognized this presentation as "spot" zoning. Commissioners James and Ryan voted for the project. Related wanted this project to go forward, and if you listen to the talk around City Hall, it was reported Related would find candidates to challenge the 2 commissioners up for re-election namely Materio and Moffett.
Commissioner Moffett decided not to seek re-election, enter Kelly Shoaf, and Martina Tate Walker both running for her seat. Ms. Walker qualified before Moffett decided to withdraw. Materio, never a quitter, is facing Christina Lambert.
In my opinion if either Ms. Shoaf and Ms. Lambert are elected I can guarantee "One Flagler" will once again be brought to the commission for a new vote. What are the chances of Related's project going forward knowing Commissioners James and Ryan are on board?
I attended a forum on 3/7/18, hosted by Baywinds, who is located "out west" and do not want State Road 7 extended. All candidates were present, and it was respectful until the end when Ms. Lambert claimed Commissioner Materio voted to fund the State Road 7 project, and was proud to announce that Commissioner James just endorsed her. Commissioner Materio  was allowed a rebuttal and stated the transportation plan had no new money for State Rd 7, and she voted to fund  North Lake Blvd, Southern Blvd,  Belvedere Rd. and infrastructures project for depressed area's of the city.
Let's talk $$ and endorsements: The Chamber of Commerce who is solidly behind Related donated $1,000 each to Lambert and Shoaf. I received new flyers today from both ladies who claim "Those We Trust, Trust Kelly Shoaf" and guess who she names? Mayor Muoio and Commissioners James and Ryan. The 3 people who pushed for acceptance of  "One Flagler." Ms. Lambert states "Our West Palm Beach Leaders Trust Christina Lambert." and she names Mayor Muoio and Commissioner James. In my opinion if either lady is elected they will be the 3rd. vote to move Related's project forward. So ask yourself if you want a 25 story building on Flagler.
The debates and forums I attended Ms. Lambert placed schools and children on top of her list for what needs fixing, and she's the one to fix it. I believe Ms. Lambert will do well to run for the school board instead of a City Commissioner.
Ms. Lambert's work Experience
Productive Power
Digital Productivity Strategist
August 2017 – Present (8 months)West Palm Beach, Florida Area
Executive Director
Leadership Palm Beach County
December 2011 – February 2015 (3 years 3 months)
Gordon & Doner, P.A.
Community Relations Director
March 2009 – December 2011 (2 years 10 months)
American Cancer Society
Unit Executive Director
August 2007 – September 2010 (3 years 2 months)
American Cancer Society
Florida Division Gala Manager
August 2006 – August 2007 (1 year 1 month)
American Cancer Society
Community Representative
August 2004 – August 2006 (2 years 1 month)
Healthy Start Coalition of Brevard County, Inc.
Provider Liaison and Event Manager
July 2002 – August 2004 (2 years 2 months)
Gainesville Sun
Freelance writer
March 2001 – April 2002 (1 year 2 months)
Commissioner Materio considers her most important job is participating in the governing of  the City of West Palm Beach and the concerns of it's residents.