What Goes On Behind The Scenes at City Hall
---
Wednesday I attended the am DAC Meeting. Thursday it was the am IA Meeting. Thursday pm back to City Hall to meet with the Department of Housing and Community Development. Rode the elevator to the 3rd. floor, walked up to the window with my mouth hanging open not believing what I was seeing. The department looked like a miniature Disney World at Christmas time.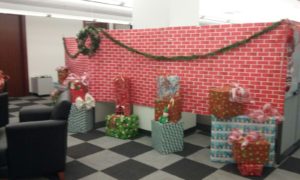 I met 4 amazing women named Luz Rivera, Lucy Joseph, Michelle Tymes and Lisa Kemp. This story is about them and the entire department.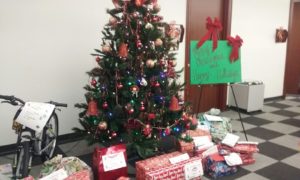 Luz Rivera, 18 years with the city: The dept. has 3 decorated Christmas Trees, with wrapped gifts underneath. One wall was decorated with wrapping paper with more gifts underneath.  The trees were beautifully decorated, and my mind went to the cost of it all. Luz explained everything I was looking at was donated and she walks her neighborhood and said I would be amazed at what her neighbors discarded when the holiday was over. They don't want it, as luck would have it Luz does. She does all the decorating.
Michelle Tymes, 9 years with the city: I was shown the third tree which is located down a hallway. I glanced into one office pod, stopped, backed up and looked in.  Someone had a home away from home. First thing I noticed was a large tack board and pictures of dogs and 2 Yellow Labs had center stage. Michelle pointed to one and said this was her newest pup and the other pup had a grey muzzle and I knew it was an older dog. She then mentioned how much she loved Samson and was so sad when he passed over the Rainbow Bridge. I looked over and noticed her eyes filled with tears. Michelle will see Samson again. He'll wait for her and greet her with all the love and devotion he'd always shown her.
Lucy Joseph, 6 months with the city:  Lucy has a bubbly personality, outgoing personality.  Her hobbies are art and calligraphy. She is responsible for the lettering wishing Merry Christmas next to the tree. She's the type of employee I would be happy to work with. Double click to enlarge pictures.
Lisa Kemp, 4 years with the city:  Lisa is the Community Resource Manager and oversees the Vickers House working closely with the homeless. She comes from a Non-Profit world and uses her knowledge and experience at times thinking outside the box.
For example the last 3 years Lisa and her crew "adopted" 15 children in the foster care system and each Christmas partnering with Friends of Foster Children. Prior to that, her "crew" sponsored a Pre-K and Kindergarten classroom at Northmore Elementary School to which they showed up with Santa Claus,  Elves and gifts. Her staff pays for the gifs, wraps them and delivers them to the disadvantaged children in our area. The school honored them with an award showing their gratitude for their thoughtfulness.
This holiday season was no different. Under the office Christmas tree, the wrapped gifts had an extra paper attached that read "Foster Angel Wish List."  These packages actually had gifts in them donated by City Staff. Reading one of the attached papers containing a name and other info and I realized it was for a child and was told all the children were in Foster Care.  These children will receive a visit from Santa. If you open the link you will find not much has change over the ages. A boy age 4 wants a dinosaur, and a girl age 7 wants a doll. After the toys they wished for shoes, and it included their size. Think about that!  A child wishing for shoes. Now count your blessings.
This year the staff adopted 16 foster children in addition to 4 homeless children. I was simply stunned by their generous giving nature.
I have named 4 people from the department but there are actually 10 employees working in the Department of Housing and Community Development, and every one of them "adopted" a child to fulfil their Christmas wish.  This is what one department started and it's growing.
Not wanting to be left out of the Christmas giving this year, two ladies from Human Resources Department, Alisha and Theresa, asked to be included and were welcomed aboard. Also Lina and Uyen from the Engineering Department joined in the festivities along with Tywanna from Parks and Recreation. For the first time in a long time I left City Hall with a smile on my face and it's all due to one department with a loving and giving nature.                                                                   That is what goes on behind the scenes at City Hall.