Coming Soon to a Neighborhood Near You
---
I forwarded a message I received to WPB Watch readers and received responses either thanking me or setting me straight on my understanding of the changes to the City's Zoning Code. This is being published to correct my misunderstanding and to better inform residents of the changes coming, that not only affects the south end of the city, but the entire city of West Palm Beach including the gated communities in the west, Ibis, Riverwalk, Bay Winds and gated communities in The Villages to name a few.
In my opinion Mayor James is taking full advantage of the Carona Virus to keep city hall closed to the public, and this extremely critical meeting will air on Zoom, and residents will be told they can participate with comments. Not true.
Example:
I watched the Zoom meeting on James "Town Hall on Social Justice, Racial Equity and Police/Community Relations."
I made 2 comments which were not read along with Rodney Mayo's asking James why he didn't correct statements made concerning the Peace March that turned violent and police used tear gas and rubber bullets when James stated "Let me be very clear. Those allegations are 100% unequivocally false."
Mr. Mayo also asked for an explanation why James cancelled the Peace Picnic in WPB.
I digress to show readers what they can expect when they respond to the City's Zoning Code with concerns they express. Comments will be carefully selected and read.
Back to the Zoning Code changes, and please take the time to read the entire piece found at the end of this story.
"The change of just a few words in the Zoning Code would allow a Residential Planned Development (RPD) if you have or are able to assemble one acre of land. A one acre PD in any future residential land use designation, especially single family residential, under the new language essentially changes the rules governing "included but not limited to" setbacks, lot sizes, yards. The effect of the changes will allow higher density development, on smaller parcels, and with no meaningful restrictions on setbacks, height, parking, landscaping and the like."
I offer my development as an example of what can happen if the City Commissioners pass this amendment which I never thought could affect where I have called home for 34 years.
My development has 187 lots with single family homes built in the 80's. If a developer decided they wanted to build in my neighborhood he would simply buy 4 homes, tear them down and build condominiums or townhouses with few restrictions on *height, **setback or ***density.
*Height restriction laws are laws that restrict the maximum height of structures.
**A setback is the minimum distance from a property line that a building can be built.
***Residential density means the average number of families living on one acre of land in a given area.
Developers can change my neighborhood from 4 homes, with an average of 3 people and 2 automobiles each to a condominium 15 stories high, 4 apt's per floor for a total of 180 residents and automobiles.
If residents don't unite and say enough is enough this change will happen.
City Commissioners:
Do not blindly accept Staff Recommended Motion: Approve.
Staff is going to approve, if they want to keep their jobs.
Remember the past when you didn't do your homework and took staff's recommendation because you are not allowed to ask questions. God forbid their answers don't coincide with Mayor Keith James. Please do your homework.
Click below to read about proposed City Zoning Code changes:
https://docs.google.com/document/d/1m7mjpUxq-B8Pj_g40Z81Vjzy_PNUFBSbIvmn_9ehTjc/edit?usp=sharing
Click below to take one minute survey. Let the city commissioners know your thoughts.
https://www.surveymonkey.com/r/QLBLXVL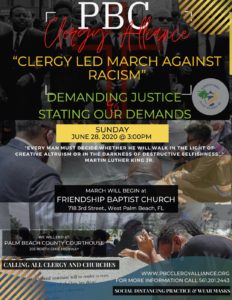 Please consider attending this march and bring your masks, signs and manners. The Palm Beach County Clergy Alliance is asking Clergy throughout Palm Beach County to join us in a Clergy Led March "Denouncing Racism, Demanding Justice and Changing the Spiritual Climate". This March will take place on Sunday, June 28, 2020, at 3:00 Pm starting from Friendship Missionary Baptist Church 718 3rd Street West Palm Beach, Fl. and we will we march to the Palm Beach County Courthouse 205 N Dixie Highway, West Palm Beach Beach, Fl.