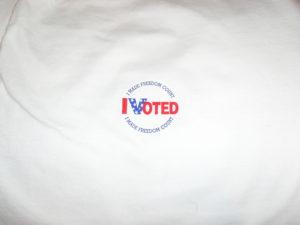 Friday morning at 7:30 AM I was in the PBC Election Office and was pleasantly surprised to see the number of residents already at the polls for early voting. Every vote counts, and folks who take an interest, and pay attention to politics know this to be true due to the fact it was reported that over a million people have already voted in person or by mail in Florida.
Here's what I can't wrap my head around. Voters turn out in record numbers to vote for the President along with the Governor's race, because they want the best candidate to run our Country and State, and with a population of 110,222 residents living in WPB and according to the PBC Election Office there are 68,119 registered voters and less then 9,000 voted in the last City Commission race. Why don't people care who's running their city, raising their taxes and wasting their money?
WPB will be called on in March 2019 to vote for a new Mayor and 3 Commissioner seats will be open if Commissioner Ryan does resign her seat to run for Mayor, along with Commissioner James who is term limited out, and Cory Neering the last decent commissioner on the dais. So lets look at their voting record, and see how well they took care of their constituents as sitting City Commissioners. Ibis first:
"Ibis Golf and Country Club is a tranquil community comprised of 33 individual neighborhoods, all with their own distinct design and architecture. Situated adjacent to Grassy Waters Nature Preserve, a 23-square mile wetland ecosystem endemic to Florida, Ibis Golf and Country Club is a private oasis surrounded by tropical vegetation, mature trees, and indigenous wildlife. Real estate in Ibis consists of large custom estates, single family residences, townhomes, and condos. This is a large community with 1850 homes and around 1350 members of the Country Club. This Club offers 3 Jack Nicholas designed championship courses, all in excellent condition. There is also a large Clubhouse, Fitness center, pool, and tennis center." So Ibis website tells us.
Ibis has contaminated Grassy Waters Preserve maintaining their beautiful lawns and golf courses by using weed killer and fertilizer that have leached into the grounds and the ponds on Ibis land, and the PB Post writes it could cost "Ibis' 1,800 homeowners possibly $40 million in pollution clean-up costs." Let's do the math. $40,000,000 divided by 1850 residents equal over $21,621.00 per household for a Special Assessment. Could explain why Mayor Muoio sold her home in IBIS and moved downtown to little Copenhagen. One home in Ibis is on the market at 10520 Hawks Landing Terrace West Palm Beach, Fl. 33412 for $3,998,800. Why mention this? Ibis is a community of wealthy homeowners and one thing they have in common is they don't want to pay to clean up their pollution in Grassy Waters, so they have the city clean up after them. Both Commissioners James and Ryan voted to spend two million dollars toward the cleanup effort, and that's only the beginning of our wasted tax dollars.
Ibis & State Rd. 7 extension.
The city lost a lawsuit, and appealed the decision to the three-judge panel of the Fourth District Court of Appeal. On Aug. 8 the panel rescinded the South Florida Water Management District permit that approved the extension. The judges found that an administrative law judge who backed the permit made procedural errors that denied the city a fair hearing and misinterpreted the applicable water quality standards. The panel sent the matter back for a new administrative law hearing.
The Northern Improvement District was required to do a study and if determined the storm water permit for the construction of State Road 7 would not be detrimental to the areas or the wetlands, they would allow for the permit, which they did and that permit was used by the Water Management District and the DOT (Dept. of Transportation) to fight the lawsuit the city has against the extension. Recently the city attorney's made a deal with the Northern Improvement District. The deal is the city would pay for the clean up if the district would pull the permit and remove the use. That action puts the city in a much better position to win the fight on the road extension.
Commissioner James has continued to support Ibis residents for his 8 years in office, and Ryan in her 3 years in office, and it's estimated to have cost taxpayers almost 3 million in the battle over State Road 7 with the help of both Commissioners voting to continue the lawsuit. Why? Simple answer The upper class elitist vote, and they will vote for whoever protects their wallets which is James & Ryan.
So who do you believe made up the majority of the 9,000 people who voted in the last commission race?
My opinion: Voters made a big mistake when we voted to change the City Charter from single district voting to city wide voting. We should have known it wouldn't benefit residents unless you lived "Out West" in one on the gated communities. Why should Ibis choose our commissioner in district 1;2;3;& 5; and why do we allow it? Simple answer} not enough people bothering to vote in the above numbered districts. Shame on us.
Please read the story's below.
https://www.palmbeachpost.com/news/arguing-its-case-against-road-did-west-palm-put-itself-bind/ToXY0xoSLOVvJpkTuSpslI/
https://www.palmbeachpost.com/news/could-battle-over-road-extension-cost-ibis-homeowners-millions/ZQvPm9BuZbZ5xBjgZOWstI/
Rick Asnani, Political Consultant, and CEO of Cornerstone Solutions Florida LLC is being challenged by former City Commissioner Shannon Materio with a lawsuit for defamation of character alleging a campaign mailer Asnani distributed in February defamed her reputation and cost her the election.
Mr. Asnani represented Christine Lambert and come hell or high water, he would do or say whatever was necessary to get her elected.
There was a lot riding on this election since  Related's "One Flagler" project was rejected back in September of 2017 by 3 commissioners who listened to the public and voted against the project.
After Asnani's victory over Materio by any means necessary, and just 4 months after the election Lambert, Shoaf, Ryan and James gave Related what they wanted. "One Flagler" would be built.
Please read the story below and notice the comment by Lambert which she states "I have no involvement in this matter and no comment to make about it." Really? She was the candidate, did she blindly follow Asnani directions and do what she was told? She was either in control of her campaign, or she was out of control of her campaign.
Personally, I'm happy Ms. Materio has taken this action for one reason. Asnani is the political consultant for Commissioner James, and now they may think twice about nasty, no holds bar fliers, or hiding money contributions.   Commissioner James is busy around the city holding "Conversations with Keith." Why didn't he hold conversations and listen to residents over the OBD?
Think about this, please:
I remember when Mayor Joel Daves was going to rebuild a modern library on the original site, and he wanted to build a new city hall and police station on the hill top site on Banyan.
After Lois Frankel won the Mayoral election and decided we needed to combine the library and city hall and put in on Clematis . The city was sued, the courts decided the residents would VOTE the issue. We NEVER voted the issue and city hall/ library was built. How did that happen, and how much did it cost taxpayers?
When the new City Hall was complete a plaque was added at the entrance with the City Commissioners name engraved on it. One name was missing. Kimberly Mitchell refused to have her name associated with the building. I respected her for the decision. Commissioner Muoio name is front and center.
Lois Frankel endorsed Jeri Muoio for Mayor, she won the election and proceeded to continue the dictatorship style of government by forcing the Bristol to be built, closing Flagler Blvd., spending millions to ensure State Rd. 7 was not completed while spending millions more tearing up Clematis St; pushing hard, while "staff" lied to residents,  continued with the OBD and of course completing Related's "One Flagler".
Now Mayor Muoio has endorsed Commissioner James for Mayor to keep the dictator form of government going.
You know, if I was running for Mayor of WPB, guess who's endorsement I wouldn't want?
Please read the story below concerning the lawsuit between Materio and Asnani.