The Black Republican Caucus of Florida held a news conference Monday afternoon where they called for WPB Police Chief Sara Mooney to step down effective immediately. Sean Jackson has a history with the city and in my opinion it's not good. In the interview he stated he was at the scene on the double homicide last Saturday and within an hour he learned who the shooter was. Bullshite. Also said he had a conversation with Mayor James, Commissioners Cory Neering, Joe Peduzzi and Richard Ryles. Why didn't he have a conversation with the two women commissioners Shoaf and Lambert? Does he have a problem with women? He also has an opinion on who should be the next Chief of Police, but wont mention HIS name at this time, and please take the time to listen to Rick King of the PBA (Police Benevolent Association. Hear the press conference below.
https://www.wptv.com/news/region-c-palm-beach-county/west-palm-beach/group-calls-for-west-palm-beach-police-chiefs-resignation
Sean Jackson A former West Palm Beach city commission candidate is being accused of a hit and run in the city hall parking garage. When first asked about the incident by The Post, Jackson said, "My bumper tapped another car and that was that." But this week he denied ever hitting the car, saying the "frivolous" charges were dismissed. Please pay attention to how he treated the women garage attendant, and the owner of the car he hit. Read the story below.
https://www.palmbeachpost.com/article/20130516/NEWS/812056628
Inside the Bru's Room Sports Grill in Boynton Beach, Carly Cass, a lesbian, says she was accosted and nearly assaulted by Sean P. Jackson, a Palm Beach County Republican Party operative. Jackson, Cass said, grew angry and eventually stated, "You want to be a man, I'll beat you like a man." My opinion Jackson is a bully who has no problem threatening women. Read the story below.
http://southfloridagaynews.com/Local/lesbian-says-republican-threatened-to-beat-her-like-a-man.html
City website 4/29/19 Work Session with the mayor and commissioners. The only item on the agenda concerned the Police Dept; and guess who placed it on the agenda? Commissioner Joe Peduzzi the mayor's right hand man. He is to James what James was to Muoio, their yes man. Rumor's were flying around after James was elected Mayor his top priority was to replace Chief Mooney. You judge for yourself.
https://vimeo.com/channels/781231/333149934
Mayor Muoio nominated Chief Mooney, and needed the commissioners to vote on her nomination but no vote needed to fire her. Does that sound right to you? Four commissioner's voted for approval with James voting no. He wanted to look elsewhere. Chief Mooney has the backing of her officers, and if you talk to them they will tell you morale has never been higher, and I never met a cop who didn't respect her.
She has initiated new programs and community outreach such as, Cops working with six year olds to join the Boy Scouts, cops reading to 3rd. graders, having lunch with cops, police going into elementary schools and talking to the kids. There is more, but you get the drift. It appears she is trying to reach the kids before they become a satistic like the 18-25 year old African Americans who join a gang to belong and it's these very gangs who are killing each other in the north end of the city.
If I could make a suggestion to Sean Jackson come join in the monthly Peace Walk headed by Kevin Jones, a man dedicated to make the area safer. Where police go door-to-door talking with residents, handing out flyers, job applications, placing signs in yards to promote peace, but also to build bridge's between law enforcement and residents, especially the children. Also take a "Ride with a Cop" and see what goes on during their shift, and please request the North End ride along.
Two pictures below show Officer Pinto with a child who love the Segway and line up to take a short ride or just to stand on it.
Chief Mooney completely unaware the picture was taken. She is at the April peace walks and that is the position you will find her in, on her haunches talking with the kids, handing out peel and stick badges. You would think she was given each child the Hope Diamond as they hold onto her every word.
Now that's building bridges.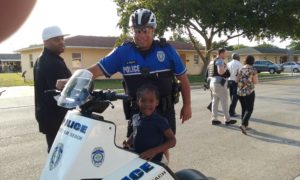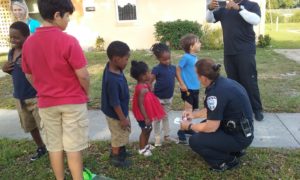 Well here we go again, another battle with the city over development.
We have another 24 story waterfront condominium going up on Flagler Drive. City Commissioners ignored the zoning rule concerning height density and set back. They broke all the rules for developers–again. This project, like many others is trying to place 100 lbs. of baloney into a 1 lb. bag. It don't fit.
All 5 commissioners James, Shoaf, Lambert, Ryan and Neering voted in favor of the project.
James: was rewarded with the title Mayor of WPB.
Shoaf: believes transit plan, minority hiring plan, a housing plan, an art plan, innovative design and preserving green space.   Naïve?
Lambert: "I do care very much for this city," while her vote continually say's something different.
Ryan: lost and is no longer a problem for the city. Irony: Ryan took Lambert under her wing and she appeared with her at varius function's around the city educating her. Lambert endorsed James. Kick in the ?
Neering: People are surprised he voted for this project and ask why.
It takes 3 commissioners to approve or stop a project and he does not have the support to swing the vote residents want or expect.
In my oppinion residents can depend on 2 commissioners Neering and Ryles. Were short one who cares.
New commission Joe Peduzzi in my opinion is definately in James corner and like Lambert and Shoaf will vote for developers and against residents, and will fight the State Rd 7 expansion wasting millions more of taxpayer dollars. He was very clear at forums and meet and greets.
So, what do we do? In March 2020 3 commissioners are up for re- election, Lambert, Shoaf and Ryles. Commissioner Ryles is finishing Ryan's one year term in office, and must run again.
What am I going to do? I'm going to vote for whoever challenges Lambert and Shoaf regardless of who they are. We cant do any worse than these two. I'm going to vote to send Ryles back to the commission to assist Neering. If we are fortunate (smart) enough to replace Lambert and/or Shoaf residents stand a chance of taking their city back. Remember their vote to always assist developers, big money will be thrown at them.
Reasons I've been told folks don't vote is because it is a waste of their time: Really?
People who do not vote are the reason we can't elect decent representation. Don't take the time to learn what is going on or it's not their neighborhood so who cares.
Other people, like CTG (Citizens for Thoughtful Growth) spend countless hours watching what the city is doing, and more endless hours trying to convince them this is the wrong project for the city.
When the commissioners are ready to vote the project they invite people to the meeting who will speak in favor of the project.
The story in the Palm Beach Post, which can be read below, mentions the resident's name who spoke against the project.
A resident who spoke in favor of the project no name mentioned. Why?
Read the story below.
https://www.palmbeachpost.com/news/20190311/among-citys-tallest-west-palm-gives-go-ahead-to-south-flagler-drive-24-story-waterfront-condo-tower
The first time I heard the expression EB-5 was uttered by former City Commission Materio. The powers to be were discussing a new development and Materio was directing her comments to Mayor Muoio and I can't recall verbatim but it went something like this.
Materio: You know this project is an EB-5, and we know what that means.
Muoio: Shaking her head up and down in agreement.
Well I'm sitting in chambers and not only don't I know what it means I'm aware Materio was upset with it. I make a note to myself to find out what EB-5 means.
Before I could investigate 60 Minutes did a story on it and now I'm upset. Basically 60 Minutes said wealthy foreigners were buying their way into the U.S. Below is an excerpt from Lightstone Investment and the information along with an application can be found.
Read the entire story below:
ABOUT THE EB-5 VISA
Have you been looking for inroads to high level real estate projects in the Unites States? Are you interested in an expedited United States green card?
If you are foreign to the United States and a high net worth individual looking for immigration opportunities, the EB-5 visa program may be the right solution for you. An eligible investment into a US business through the EB-5 visa program is the fastest way to a permanent United States green card for you, your spouse and eligible children.
The EB-5 program is actively seeking foreign investors in commercial projects that create at least 10 new US jobs. This program is one of the fastest and easiest ways to receive a green card with no sponsorship needed.
https://visit.lightstoneeb5.com/?gclid=EAIaIQobChMIqNzXvqTQ4QIVxF6GCh3vXQEAEAAYASAAEgJcZfD_BwE
This shouldn't surprise anyone:
Related is one of the largest private real estate developers in the United States and operates its own EB-5 regional centers.
Read the story below:
http://www.relatedeb5.com/?gclid=EAIaIQobChMIqNzXvqTQ4QIVxF6GCh3vXQEAEAAYAiAAEgI6cPD_BwE
How many readers have heard of Hudson Yards in New York? It's a Related project and you have to read the story to believe it. Residents were asleep until they woke up and saw the size of the project. Too late.
"The Hidden Horror of Hudson Yards Is How It Was Financed"
https://www.citylab.com/equity/2019/04/hudson-yards-financing-eb5-investor-visa-program-immigration/586897/
China is the biggest user of EB-5 in America.  If I may be so bold as to make a suggestion. Start taking Chinese speaking languages, we already owe then $1.13 Trillion.
https://www.thebalance.com/u-s-debt-to-china-how-much-does-it-own-3306355
This is happening while illegal residents are pouring over the border by the thousands and President Trump wants to build a wall, which I am in complete agreement.  Nancy Pelosi, Speaker of the House, is fighting the wall tooth and nail. Below is a picture of Pelosi's house not the one I originally posted. My bad.
https://www.politifact.com/facebook-fact-checks/statements/2018/dec/13/blog-posting/no-nancy-pelosis-home-doesnt-sit-behind-high-wall/
The last thing on my mind Monday night was attending the City Commission meeting. Monday is the day I work on my lawn. trimming, weed whacking, edging and mowing the lawn leaves me feeling like I have 5 acres of land. I just want to relax with my feet up, and that was the plan, until I checked my phone and had messages and text's telling me Police Chief Sara Mooney's job was in jeopardy and Mayor James would replace her. I attended the meeting, and there was a change in procedure and the City Commissioners made their comments at the beginning of the meeting instead of the end. A member of the public attended and wanted the commissioners to address the rumor of the Chief's removal in their closing comments. That didn't happen. Now I am asking for their comments on the supposed rumor. Hopefully the media will follow up.
Mayor James addressed the "rumor" of Chief Mooney being fired and basically said it was just that, a rumor. Really? I sat in the audience when Mayor Muoio announced that she was appointing Assistant Chief Sara Mooney as the new WPB Chief of Police, and needed the vote of the City Commissioners to ratify the appointment. Four Commissioners approved the appointment with Commissioner James stating they should "look outside" the department to insure the best candidate was found. He was the only commissioner to vote no on her appointment. That alone should have been a sign of what was to come.
Previously the city did look outside for a new Police Chief and appointed Vince Demasi in 2012 and he resigned in 2014 and recommending that Assistant Chief Bryan Kummerlen be promoted as the new Chief. He was and served until his retirement in 2016 when he recommended Mooney as the best person to replace him, and Mayor Muoio agreed. Read the story below.
https://www.palmbeachpost.com/news/crime–law/west-palm-names-year-veteran-new-police-chief/EtQnvUrFXYmVd1ITg1pWuJ/
The first City Commission meeting led by newly elected Mayor Keith James was held on 4/8/19 and an item on the agenda was "Proclaiming April 14 -20,2019 as National Public Safety Telecommunications Week" Proclamation was to be accepted by Police Chief Sara Mooney, who was absent from the meeting and the award was accepted by Telecommunications Manager, Suzette Dodd and Assistant Telecommunications Manager Natasha Potter. So where was the Police Chief? She was at the PBC Convention Center, along with an estimated 2,000 people discussing homelessness and racial profiling. Personally I prefer she attended the event at the convention center than receiving a proclamation. Please take the time to read the story below. To me it is very telling, who was invited, and who couldn't be bothered to attend.
https://www.palmbeachpost.com/news/20190408/homelessness-racial-profiling-to-be-addressed-at-annual-peace-meeting
The piece below was written by Andrew Loftholm who is a reporter for WPTV.
From Andrew Loftholm at channel 5 on Facebook about possible firing of West Palm Beach police chief:
"I just talked to Keith James, Mayor of West Palm Beach, on the phone. He said the rumor that Chief Mooney would be let go tonight is "ludicrous and it's false."
Long term, "anything is possible," he said.
John Kazanjian, the president of the Palm Beach County Police Benevolent Association (the police union) told me on the phone,
"it's not happening tonight."
Important to note: Mayor James has a 50 person transition team that is reviewing all positions with the city, including public safety.
A public safety liaison will be appointed at tonight's meeting."
Another item on the agenda is #14 which reads "Public Hearing and Second Reading of Ordinance No. 4835-19, amending the Code of Ordinances at Chapter 62- Personnel Policies, to update and clarify allowable severance payments upon separation from employment" In other words after the city fires you your severance pay will go from 12 weeks to 20 weeks, "to certain classifications of employees" I take that to mean the upper echelon will be well compensated for taking our city in a direction that benefits developers. In my opinion it's worth the price to get rid of them and I have suggestions.
One other concern I have under the new administration is for Beverly Mahaso, Manager of the Internal Audit Dept; and is responsible for bring fraud and waste to the city's attention so that corrections can be made. She was trained and recommended by Roger Strout to replace him upon his retirement.
Once again Commissioner James stating they should "look outside" the department to insure the best candidate was found. They did just that and it was found Beverly was the best candidate.
The Mayor supposedly has no jurisdiction over the Internal Auditor, and when Mayor Muoio was first elected with James the Internal Auditor was Imogene Isaacs who was forced out by James, and as I was told directly by Ms Isaacs once Commissioner Muoio was elected mayor, her time with the city would be ending. Read the story below
https://www.palmbeachpost.com/article/20120216/NEWS/812036562
So Commissioner Lambert is now the President of the Commission, will she be Mayor James puppet, as he was Mayor Muoio, and find a way to eliminate Beverly Mahaso?
I have to ask myself why some men are intimidated by strong women which in my opinion are both Sara Mooney and Beverly Mahaso.
If you are out and about and see a cop, ask them what they think of the Chief. I have and found them to be protective and supporting of her. Many stating morale has never been higher. If James terminated the chief I will pray for a blue flu and maybe the governor will check out the City of West Palm Beach as suggested by Gregory Daniel in the above story.
FYI: Please be aware that newly elected Commissioner Richard Ryles will serve the remainder of Paula Ryan's term of one year and will seek re-election along with Lambert and Shoaf in 2020. Be vigilant.
When you receive your city water bill there is an informational sheet enclosed and contains useful info but I question if the powers to be read it and understand what they are releasing. A few months ago we received one called
"Flood Hazard & Preparation Information" and one paragraph caught my attention and it was written:
"Just because you haven't experienced a flood in the past, doesn't mean you won't in the future. Flood risk isn't just based on history. It is also based on rainfall, tidal-surge data, topography, flood-control measures, and changes due to building and development."
That makes sense because I have noticed that asphalt and cement will never absorb water as easily as green space. It tells how to prepare for hurricanes, flooding and evacuations, and states "If mandatory evacuations are issued, you must leave."
So say we are hit with a hurricane of the century, and we are ordered to leave. Now keep in mind the estimated population of WPB is 110,222 according to the most recent United States census estimates. West Palm Beach, Florida is the 20th largest city in Florida based on official 2017 estimates from the US Census Bureau. Let's take one development Ibis a gated community and the figures below are from their website.
Total Population: 9,097
Total Household: 3,154
Average people per household: 3
Cars: 3,927
Ibis is one of a dozen gated communities and residents of Ibis and others do not want the State Rd 7 extension, and city officials spend millions of taxpayer dollars to insure the elite have their way.  The extension would give those developments another means of escape. Well there is always Okeechobee Blvd.
Speaking of Okeechobee Blvd. I received info. on another closing in City Place, which is owned by none other than Developer Related. Here it is.
"As if Related could be even less popular with downtown residents, the latest victim of skyrocketing rents at City Place is The Panera Bread Co. At some point our elected officials should have conversation with Related. This has worked in other cities. Enough is enough. Panera & Related could reach an agreement if they act in good faith. There has been dozens of closings over the years. The Brewzzi location has been empty for over 5 yrs. now. How is that good for any of us?"
It appears to me the millenniums and bicyclist are not supporting local businesses and seniors who do dine out wont go where they can't park and feel safe.
I recently wrote a piece on Clematis VS Northwood, and if you missed it you can catch up by reading the story below. I wrote it was up and coming and would draw business away from Clematis and City Place.
Last February Mayor Muoio was a guest for the grand opening of Mestizo Peruvian Cuisine a new restaurant in (guess where?) Northwood Village. The story finishes with "It is the latest edition to the popular and award-winning restaurants in the neighborhood." This is an area where you can park on the street, with no parking meters, and keep an eye on your auto.
https://wpbwatch.com/2018/08/clematis-vs-northwood-rd/
Just received more info on City Place and it's private security can be read below.
'This past Saturday evening a riot broke out at the Burger Fi restaurant at CityPlace. A large gang of teenagers had a brawl and, according to employees, security was non-existent. The restaurant
had to close for repairs until Monday, had to change their hours & now has to pay for security detail. Many of you know the politics of the security at CityPlace. It needs to change NOW. We need our elected officials to take action & stop putting people's lives in danger. This email is going viral so everyone can take action before a major crisis occurs. Thank You for your support.'
It's a plus for the city and neighborhoods when residents are involved in their neighborhood and speak out about the problems. Read about the private security firm below.
https://www.floridabulldog.org/2015/12/firm-tied-to-us-rep-lois-frankel-gets-no-bid-contract-owner-gives-her-campaign-11k/