Residents recently received correspondence from the city which states:
"West Palm Beach Seeks Citizen Input on Proposed Fire Assessment Rates.
Public Hearing Scheduled for August 26, 2019 at 5:00 p.m. at City Hall.
City of West Palm Beach Mayor Keith A. James and City Commissioners want to hear from you"
Anyone who opposes this increase from $50.00 to $100.00 trust me they don't want to hear from you.
Last year when Mayor Muoio pushed to raise the fee from $25.00 to $50.00 people who attended the meeting walked into City Chambers to be met with a room full of firemen, many in uniform.
Well, what do you do? If you speak against the increase, many firemen feel you are voting against them. I can only speak for myself and did speak against the raise, but took the time to tell them I was not against the fire department, but against the city and how they used taxpayers dollars.
What was not mentioned in the letter above was Resolution no.190-11.
The city passed Resolution No. 190-11 establishing fees to be charged for the emergency medical transportation services provided by the West Palm Beach Fire Rescue Department. Below are the fees the city charges.
West Palm Beach effective October 1, 2011 Rates
ALS1 (Advanced Life Support 1) $700.00
ALS2 (Advanced Life Support 2) $750.00
(Specialty Care Transport) $850.00
Mileage Fee $12.00 /mile (If you live 1.1 mile from hospital you will be charged $24.00)
Waiting Fee $35.00 1/2 hour
Response to DOA (Dead on Arrival) $350.00.
Late Fee $3.00 / Month.
Figures City sent to me after a PRR for dollars collected.
FY 10/11 $2,034,461.86
FY 11/12 $1,956,560.31
FY 12/13 $1,911,861.02
FY 13/14 $1,886,757.58
FY 14/15 $1,873,849.88
Total $9,663,490,65
Below are the figures supplied by a city employee who asked to remain anonymous.
FY 2012 $2,723,993.00
FY 2013 $2,357,994.00
FY 2014 $3,144,304.00
FY 2015 $4,034,342.00
FY 2016 $3,365,000.00
—————————————
Total $15,625,633.00           Difference $5,962,143.00       Where is this Money?
Original story below posted July 23, 2016.
https://wpbwatch.com/2016/07/live-in-wpb-stay-healthy-or-pay-up/
Here are the Fire Assessment's fee's received from a PRR from the PBC which I received the day my request was submitted. Excellent service.
2019 $8,071,730.20 proposed (Ave$100 residential)
2018 $4,174,983.31 (Ave $50 residential
2017 $2,183,708.95 (Ave $25 residential)
2016 $2,180,241.30 (Ave $25 residential)
Total $8,538,933.56
Here are the Fire Assessment's fee's received from a PRR from WPB
2018 $2,090,940.91
2017 $2,087,772.73
2016 $2,033, 340.84
Total $ 6,212,054.48       Difference $2,326,879.08        Where is this money?
This is the 2nd. Time the city falsified records sent to me.
This will be a hardship for anyone on a fixed income, namely senior citizens, and don't forget the $150.00- 200.00 that will be added onto the Non-ad valorem supposedly to be used for schools, solid waste authority of PBC $175.00. Homeowners can expect to pay $4-500 more on their tax bill. Why is it always the homeowner who pay's? Guess who it won't be a hardship on? Mayor Keith James, he isn't a homeowner and rents a home from a homeowner who does business with the city, and James stated he paid "fair market Value" for rent.
Remember when James had his city commission check garnished? You forgot?  Here's a reminder.
Remember when James had liens placed against him for not paying taxes? You forgot? Another reminder.
Keith James Tax Lien 2009-2016
"If you don't pay your property taxes in Florida, the delinquent amount becomes a lien on your home. (Fla. Stat. § 197.122). Once there's a tax lien on your home, the tax collector may sell that lien at an auction. This is called a "tax lien sale."
There will be an election for 3 City Commissioners Lambert, Shoaf and Ryles. Hopefully they will not take our vote for granted.
Personally I will not vote for any commissioner who uses Rick Asnani consulting firm Cornerstone Solutions, who is being sued by former Commissioner Materio, and after receiving another complaint political consultant Rick Asnani has been fined $950 for failing to register as a political committee. $950.00 fine how painful was that? The previous election was brutal to some candidates, and I have no desire to read the fliers full of lies and innuendos.
Voters please take the time to know the candidates, their issues and most importantly how they vote. The last Mayoral vote Mayor Muoio, Lois Frankel, Palm Beach Post,  West Palm Beach Association of Firefighters, Police Benevolent Association, and the Chamber of Commerce all endorsed James for Mayor. That's their opinion, have one of your own.
I believe the 3 commissioners will vote to approve the increase of the fire assessment fee for one reason. They want their endorsement for re-election.
________________________________________________________________________________
As residents are well aware the city streets have been flooding for the last 2 weeks, with cars stranded in knee high water, hoods up waiting for help. How serious is this?
When you work all day, then plan to stop for groceries for dinner, Need to pick up your kids from the babysitter, visit a sick relative or just get home put your feet up because today was hell at work and you never thought your day would end.
Well your day ended when your car stalled out due to city streets flooding, wouldn't start, and here you are waiting for a tow truck you didn't budget for. Well tomorrow's another day. Will it be better? If your car needs to dry out you spend your time looking for a friend to take you to work, a ride to the babysitter's. If your auto has permanent damage you ask your friend to take you car shopping. One other thing you didn't budget for.
"A total of 2.66 inches of rain was recorded in just 36 minutes today at Palm Beach International Airport. That amount of rain in 30 minutes happens about once every 10 years, the National Weather Service reports."
Reporters are doing an excellent job bringing residents up to the date stories, and advising residents of area's to stay clear of Flagler Drive, S. Flagler Drive, and Parker Avenue south of Okeechobee. Read the story below:
https://www.wptv.com/news/region-c-palm-beach-county/west-palm-beach/heavy-rain-causes-drivers-to-become-stuck-on-flooded-streets-in-west-palm-beach
Heartbreaking are the stories people in the area are telling how it effects them, and tell us they have been complaining to the city about the situation for 40 years. Seriously?
Below was taken from the WPB City website:
"HOW IS THE CITY'S MONEY SPENT?"
"Just like our personal budget, the City's budget is divided into two types of expenses: operating and capital. For us as residents, operating expenses are the costs we pay to live—like our electric and water bills. For the City, it means paying for the services we all use like street cleaning, police and fire. It also means keeping each department and facility up and running. Capital expenses are one-time purchases or upgrades. For us as residents, this might mean buying a car or fixing up the house. For the City, it means paying for new fire stations, road development, or improving a tired out area. How the City spends money comes from decisions made by the City of West Palm Beach Mayor and City Administration, with approval from your City Commission. They make those decisions based on a number of things: The City's long-range plans, local data, future forecasts and—most importantly—feedback from you! Your opinions are important because they listen to you throughout the year before final decisions are made. So, tell us what's important for you, your business and your family!"
Million's spent on Clematis St; with million's more to come. Mayor Muoio visited Copenhagen, came home and made the decision to spend our tax dollars on one particular area of the city. The line above "The City's long-range plans, local data, future forecasts and—most importantly—feedback from you."
Resident's have complained about flooding for 40 years do you truly believe our feedback is most important to city officials? They have mastered the art of telling us what we want to hear.
The story below has Mayor Muoio bragging about how much money the city has collected. To bad the city is spending our tax dollars where they deem important, not in critical area's where it's needed.
https://www.palmbeachpost.com/news/west-palm-mayor-last-budget-plenty-money-here-where-going/L6Lln5lqkfNi1KaQlJLDDL/
So here is my prediction: Official's will pick the one line that states "That amount of rain in 30 minutes happens about once every 10 years." No problem let the future Mayor and Commissioners worry about it, not our problem because in a few months the rain will cease and we can all forget about the flooding.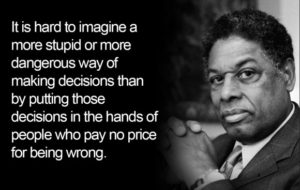 Thoughts to ponder: Did you ever notice asphalt and cement won't absorb water? Keep building those Related projects, you know the ones that are not "spot zoning" and the Class A office buildings that WPB so desperately needs. Please ignore all the Class A office space that is empty.
Words of wisdom by Thomas Sewell.