The Palm Beach Post wrote an editorial questioning why Mayor Keith James took so long to notify the public of the water contaminated by Blue/Green Algae and a health hazard to seniors, children and people with health issues, and finally don't give city water to your pets.   My comments in Italic.
Mayor James was upset with the editorial and notified the Post who printed a correction on 6/5/2021, and can be read below at the end of the story.
May 5, 2021 Blue/Green algae first appeared.  2nd Sample taken and algae disappeared.
May 17, 2021 Blue/Green algae appears again.
The time line was reported by WPTV (Chanel 5) and the entire story can be read below.
May 19, 2021 Results came back high.

May 24, 25, 26, 2021 The City wanted to make sure this was not an anomaly, so it tested again.
The City wanted to test for 3 consecutive days and based on the outside lab schedule the samples were collected on May 24, 25, and 26, 2021.     5/19/21 results came back "high" and nothing more was done until May 24. That's 5 days!  If not James who made  the decision to test the water 3 days in a row?
May 27, 2021 Results were formally received at approximately 5 pm.
May 28, 2021 The city contacted the Florida Department of Health to inform them and begin the process of public notification. The city's notification required approval from the Florida Department of Health which was received late Friday night.
https://www.wptv.com/news/local-news/investigations/utility-engineer-questions-west-palm-beach-delaying-action-after-toxins-found-in-water-supply
Here are the players:
#1 Mayor Keith James
#2 City Administrator Faye Johnson
#3 Public Utilities Poonam Kalkat
#4 Penelope Redford Division of Public Utilities, Office of Sustainability.
Taken from the WPB Website:
"Public Utilities Billing & Payments; Report Damage by an Outside Utility Contractor; Backflow Prevention and Cross Connection; Water Quality Reports; Fats, Oils and Grease; Our Watershed; UV System and Water Plant; Grassy Waters Preserve; Customer Water Portal; Public Works. Sanitation; Pickup Schedule; Street Maintenance & Lighting; Request for Service; Sustainability."
We have all heard Keith James and Poonam Kalkat on the water situation, why haven't we heard from Ms. Redford who reports to Ms. Kalkat, who reports to Ms. Johnson, who reports to Mr. James.
The PB Post wrote an editorial on the contamination on the City's water supply which obviously upset James and the Post issued a correction on 6/5/2021 apologizing to James and readers for the error. The Post also states:
"The Post cannot disprove the mayor's explanation and has removed the editorial from it's website"
If the Post placed a PRR (Public Records Request) for all emails, and especially text messages between James, Johnson, Kalkat and include Redford from May 5 through May 28,2021 that should show when James first knew about the water contamination. Taxpayer's pay for their phones, so it makes it public record and I wouldn't trust City officials to provide the information but would trust the report from the phone carrier.
I don't believe the Post owe it's readers an apology for the editorial, but do believe an apology is due for endorsing him for Mayor of WPB. Editorial Staff learn from your mistakes, and common sense dictates when James realizing the City Commissioner's were upset concerning the way they learned of the situation, he publicly apologized to them saying "we need to do better"  The Commissioners want a work shop on improving communication. Double click to enlarge "Correction"

In closing does anyone believe James didn't know we had contaminated water until May 28. I don't, and his lying miscommunication is what has me upset. Everyone dropped the ball but him.  He thanked the PBC Sheriff office for lending WPB their plane to fly the water sample to Tallahassee. The WPB Police have a helicopter, and depending on the fuel tank, a helicopter can travel 955 mi.and it's 832 mi. round trip.
The end.
I attended the City Commission meeting last night and listened to residents concern over the water problems we are all faced with. Today marks 5 day's of bottled water.
In all fairness we can't blame Mayor James or City Administrator Faye Johnson for the outbreak of the Blue-green algae, technically known as cyanobacteria.
What we can and should hold them responsible for is how they handled the situation after they were notified of it's existence which first appeared 5/3/21 and again 5/17/21.
James said the problem was unprecedented and they were at a loss of what to do. Understandable.
Why wasn't a call made to the DOH (Dept. of Health) or the DEP (Dept. of Environmental Protection) and seek guidance on what turned out to be a disaster for the City.
What has me most upset is City Commissioners were not notified until they received emails advising them to boil their water. The Commissioners sent out notices to Presidents of Homeowners Associations who then sent out email to residents warning of the situation.
Now I'm wondering how the water situation has affected the County's water supply and emailed Commissioner Bernard who forwarded my email to Ali Bayat, Utility Director, and his response was "Palm Beach County uses groundwater (wells) to produce potable water. As Commissioner Bernard said the current situation with City has no impact on PBC water system."
Now I'm wishing I lived in Unincorporated PBC, and today I wish I never had that thought. Be patient reading this story, I'm not wandering around but making a point.
The City of WPB should be ashamed of how they treated our First Responders (Police & Firefighters) over a new contract. I am happy to report the City and the Police have a new contract, and the Firefighters meet with a Special Magistrate for 2 days and he will make the final decision.
The City Charter which is supposedly the Bible of can and cannot do say's the City Administrator must live in the City of WPB. Ms. Johnson does not reside in the City of WPB. Her home is located in unincorporated Palm Beach County.
City Administrator Pay Grade, GM20 ($174,303-$261,454).
Ms. Johnson's current salary as Interim City Administrator is $220,000.
The Mayor is recommending to the Commission a starting salary of $249,000. Upon successful completion of a six (6) month probationary period, Ms. Johnson's salary will increase by 5% to $261,450.  City Commission unanimously approved the increase and pay grade.
Below is the new Organizational Chart for the City, and you can enlarge the picture by clicking on it.
City of WPB Org Chart Effective 05.24.21-2
The departments reporting directly to Ms. Johnson are: City Clerk, Human Resources, Finance, Police and Fire Dept.
Johnson represented the City in negotiations with both the Fire & Police Dept.
Ms. Johnson has held the position 1 1/2 years and has the protection of the PBC Sheriff's Dept; PBC Firefighters and can use all the water she needs because the County knows how to keep their residents safe, and their report can be read below.
Palm Beach County 2020 Water Quality Reports Released
"The reports feature results from more than 80,000 laboratory tests of PBCWUD's drinking water. The test results are summarized in easy-to-read charts, which explain to residents where their water comes from, how the water is treated and disinfected, and who they can contact for more information." If interested in reading the report it is enclosed below.
https://discover.pbcgov.org/waterutilities/Pages/Press-Releases.aspx
To fully understand the problems WPB residents are facing I believe Ms. Johnson should reside in the City and suffer along with us.
The end.
UPDATE: The story below was posted on WPB Watch @5 /29/2021 @ 10:18am. The PB Daily News wrote an updated story 5/29/2021 @ 10:37 am. And more information was disclosed that readers should be aware of. Here it is.
"In a release issued late Friday night, the town of Palm Beach said cylindrospermopsin, a toxin produced by cyanobacteria (known as blue-green algae), was detected in the drinking water from West Palm Beach's Water Treatment Plant on May 20.
Poonam Kalkat, West Palm Beach's director of public utilities, said there were no outward signs of the cylindrospermopsin toxin but that tests began seeing it in Clear Lake on May 3 at low levels. It had disappeared in subsequent tests, but showed up again in a May 17 sampling, which was returned May 20.
Samples were then taken every day with results reported to the Florida Department of Health and Florida Department of Environmental Protection.
The advisory from the city came out about 10 p.m., followed by an 11 p.m. order issued by the DOH. Calls to the DOH and DEP were not immediately returned this morning. Read the story below:
https://www.palmbeachdailynews.com/story/news/local/2021/05/29/discovery-toxin-produced-algae-prompts-drinking-water-advisory-west-palm-palm-beach-south-palm/5261954001/
I sent out emails to residents of Spencer Lakes @ 11:15 pm after hearing the news report. Below is a response from a board member Sat. morning. "Thank you, Comm. Warren notified me this morning."
5/28/2021 @ 11:00 PM I listened to  the news and received a warning WPB water was contaminated and advised not to use the water due to blue- green algae, and that included bathing.   I immediately  sent the warning to everyone in my address book, hoping they received the news before using water.
Below are excerpt's from Chanel 25 news and the entire story can be read below. My comments are in italics.
"Cylindrospermopsin, a toxin produced by cyanobacteria (formerly known as blue-green algae), was detected in the drinking water from the City of West Palm Beach's Water Treatment Plant on May 20."   Water contamination can happen to any city at any time and I certainly don't fault WPB officials for the problem we are now facing, but I do hold them responsible for having the information since May 20,2021 and informing us eight (8) days later.
"The city is working closely with the Florida Department of Health, the Florida Department of Environmental Protection, and the City's Emergency Operations Center to address the situation." Which agency had the City release the information?
"Residents are urged not to drink tap water. Infants, young children, the elderly, and those with preexisting liver conditions may be vulnerable to the effects of cylindrospermopsin. Animals are also vulnerable."   The city allowed the most vulnerable residents to use city water for 8 days before issuing a warning. How many may have been affected? We'll never know.
"Officials also warned residents not to boil the water as it can increase toxin levels." How comfortable are you taking a hot shower/bath?
"The city has established a point of distribution for bottled water to any resident affected. Impacted residents may pick up a supply of water from Gaines Park on May 29, 30 and 31. The park is located at 1501 Australian Ave. and will operate from 10 a.m. to 1 p.m on those days." Over 100,000 residents affected and water can be picked up at the one location above. If you drive a car you have a total of 9 hours to pick up water. Survive Carona virus and become sick by drinking city water.
"Residents with questions can call the city's hotline at (561) 822-2222. Future updates will be shared on the city's website, wpb.org and on the city's primary social media platforms. I called the hotline and received a continuous busy signal, you may have better luck contacting them.
Mayor Keith James and City Administrator Faye Johnson are the two people with the responsibility of running the City, and both have failed residents by not releasing the news of contamination when the problem was first discovered. Shame on you both.
City Commissioners: When were you advised the city had water problems, and why didn't you do something about it? You do realize you can call the media and have a press conference to warn us immediately when you became aware. You were elected to protect residents not the Mayor or City Administrator. Shame on you also.
James has begun running for his second term as Mayor, and holds press conferences and updates regularly. You wont see or hear any press conference on the recent water development.
The Mayor attended the DDA (Downtown Development Agency) recently and advised the audience he would not be taking questions, and advised those in attendance the City didn't criminalize the homeless. Repeat the lie enough and it becomes the truth, that's a great example of hiding info. don't allow questions.
https://www.wpbf.com/article/toxic-algae-detected-in-west-palm-beach-drinking-water/36574097
The end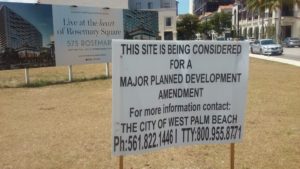 Double click image to enlarge.
Another "Major Planned Development Amendment".
Unless you live within 500 ft. of Publix located in Rosemary Square, formerly CityPlace, you were not likely notified of this "major planned development amendment".
Rosemary Square is owned by Related and they are planning to build a 25 story building, above a new 40K+ sq. ft. Publix, on a site that is zoned for 15 stories so the City Commissioners will be asked to approve an amendment allowing the additional 10 Stories which they will approve as they always do for a Related project. The new project may contain office space and an assisted living facility.
Residents in the area are questioning the loss of Publix during this project and there is no answer coming from the City which is an answer in itself. The City or Related don't care if shopping becomes difficult for you. When you think about it were only talking about a 2+ years of inconvenience.
It is my understanding residents living in the area aren't happy with the change. City Commissioner Christy Fox is a resident of the area, was employed by Related, and I can't wait to hear her vote. Will she go with the people who put her in office or will she make the vote unanimous, or be sick the day the vote is taken?
I can relate the story below with what you have read so far.
"Thousands of homeowners could be forced to get flood insurance" PB Post 5/27/2021
"Questioning whether the federal government used the best methods and data to predict Palm Beach County's coastal flood risk, county commissioners unanimously supported moving forward with an appeal of FEMA coastal hazard maps.
Thousands of county coastal homeowners could be forced to get flood insurance under FEMA's maps, adding about 1,900 acres of land along the Intracoastal Waterway and Atlantic Ocean into the high-risk flood zone.
Top of mind for commissioners was their constituents' wallets.
"I guess my editorial would be that anything we can do to protect our residents, we need to, especially right now," Commissioner Maria Marino said. "Property values are going to go up, so property taxes are going to go up, so insurance is going to go up, anyway. Let's not try to hurt them too much."
https://flipboard.com/article/county-to-appeal-fema-maps-thousands-of-homeowners-could-be-forced-to-get-flood/f-5a518322a9%2Fpalmbeachpost.com
My opinion
Flagler Drive floods to the point where side streets have being affected with rising tides, and with a warning of the coming hurricane season I'm thankful I don't live in the area.
All the new construction where 5 stories were allowed and residents voted twice to keep the cap, the City ran to Tallahassee and it was changed to allow taller buildings and the City allowed construction up to 25 stories. It was a free for all, and construction is non-stop.
Has anyone noticed that concrete does not absorb water?
So residents will pay higher premiums for flood insurance. The only people that care are the folks paying the bills, certainly not the City or Related.
The end.
2/1/2016 Below is a story about the ground breaking of the Banyan Cay Resort with Former Mayor Muoio and Domenic Gatto. Five years ago I am going to assume the City was unaware of Mr. Gatto's reputation. Five years later the City should be well aware of who Mr. Gatto is thanks to the PB Post and the Florida Bulldog.
https://www.nicklaus.com/2016/12/01/jack-nicklaus-breaks-ground-banyan-cay-resort-golf/
4/28/2021 (PB Post) "Domenic Gatto is the developer behind the $100 million Banyan Cay complex just east of Interstate 95, off Congress Avenue and north of Palm Beach Lakes Boulevard, near the Palm Beach Outlets shopping mall. When complete, Banyan Cay will be the largest redevelopment in West Palm Beach since Rosemary Square, formerly known as CityPlace, the popular downtown mixed-use dining and shopping center.
Domenic Gatto, a 46-year old Palm Beach Gardens resident, is one of five men charged in what the U.S. Department of Justice described as a $65 million "nationwide kickback and bribery scheme" to order medically unnecessary orthotic braces for Medicare beneficiaries.
The 250-acre Banyan Cay property used to be the site of the President Country Club, but the club fell into financial trouble and was sold to an investor group for $11 million in 2011. That investor group then flipped the property to Banyan Cay Dev LLC, led by Gatto, for $26 million in 2015."
https://www.palmbeachpost.com/story/news/local/westpb/2021/04/28/west-palm-beach-banyan-cay-owner-charged-conspiracy/7389283002/
5/4/2021 (Florida Bulldog) "Elderly South Florida mobster Thomas Farese at the top of $93 million healthcare fraud, feds say
Joining Farese as a defendant in the case is old pal, Colombo family associate Pat Truglia, 53, of Parkland. Both men, along with Domenic J. Gatto, 46, of Palm Beach Gardens, and Nicholas Defonte, 72, and Christopher Cirri, 63, both of Toms River, N.J., are charged with conspiracy to commit health care fraud between October 2017 and April 2019
Gatto and Defonte posted bonds of $700,000 each and were released. Cirri posted a $500,00 bond. The status of Farese and Truglia is not public. Oddly, because the charges against them are public, their cases remain sealed."
https://www.floridabulldog.org/2021/05/elderly-south-florida-mobster-farese-atop-93-million-healthcare-fraud/?mc_cid=92b6ca7a56&mc_eid=bedbe4cd59
12/5/2019 "Money laundering is an after-the-fact crime. Only after drugs are sold, extortions settled, cons completed and frauds finished, does money need to be cleaned.
Laundering, the near-invisible financial fiddling to make the money from crime look respectable so it can be openly used, is an essential element of the cycle that keeps mobsters and transnational crime bosses in business."
https://nationalpost.com/news/the-underworld-laundromat-how-to-clean-10-million-in-mob-money
I find it suspicious and can't understand why "staff" who recommended approval of the Banyan Cay Resort didn't do a background check on the developers.
Heads up Commissioners, your not asking the right questions.
The end!
WPB Watch recently made an appeal to readers for donations to the WPB Benevolent  Foundation to purchase ballistic vests for our police dogs and a Bite Suit to replace a 20 year old suit that served it's purpose, and definitely needed retiring. Residents came through for the Police Dept. And I have good news to report.

A new company Crazy Tuff K9 stepped up and donated ballistic vests, leash's, collars and various other equipment to keep all our 4 legged officers safe. It is my understanding the new dogs will be fitted for their vests when they reach the age of 11/2 to 2 years old and fully developed to insure the best fit possible. Crazy Tuff also donated ballistic vests to the Riviera Beach Police Dept. K9 unit. These are good people running a good company.

The bite suit was purchased through numerous donations to the West Palm Beach Police Benevolent Foundation designated for K9 equipment.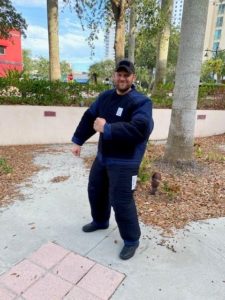 K9 Officer Rob George in the new bite suit. He looks happy  modeling the new Bite Suit. The next picture I hope to receive is one of our K9 hanging off the sleeve to insure a good fit for Rob.
There are 6 dogs in Canine School at the moment being trained for:
4 K9 training for patrol with their 2 legged partners.
1 K9 being trained to detect currency. You read that right, they will sniff out $$. Let the drug dealers beware flying into WPB airports.
The last dog being trained is one of my favorites namely Moose. the blood hound.  More on Moose below. All pictures can be enlarged by double clicking on the picture.
Moose
Moose's mom is Officer Jen Hardiman and he came to Jen @ 3 months old and this month he will be 11 months of age, and has already seen some action. A request by the Boca Raton Police Dept. was received to aid in finding a man who complained his pacemaker was causing him pain, and unfortunately he left his home on foot and could not be located. The man was located shortly before Moose could aid in the search, but good to know he's a valued member of WPB K9 unit.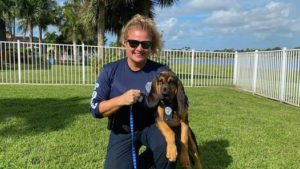 Moose at 3 months old. His handler Jen cuddles him in her arms.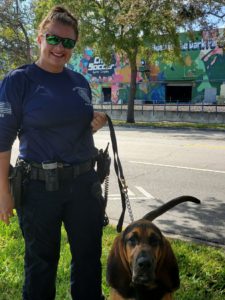 Moose at 11 month's. Cuddle time is over, he's a big boy now. Check out his nose and paws. Crazy Tuff donated a harness, collar and leash for him. Thank you to everyone who donated to keep them safe.  Well done.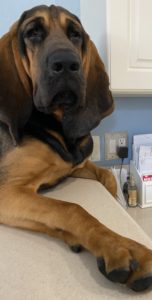 When I first heard "defund the police" it was upsetting to me. Then a neighbor explained "we don't want to defund the police, we want dollars diverted to other programs" We old timers call that "Robbing Peter to pay Paul." Now I'm hearing from Washington elected officials get rid of the police altogether with no mention of who we call for help in the middle of the night when a stranger enters out home, when a child is shot and killed playing in his front yard, when a drunk driver hits and kills a pedestrian or the corner store is robbed. Who do we call?
What I write here includes the WPB Firefighters. They are both in the same boat as far as wages and benefits. City Administrator Faye Johnson made statements concerning Police contracts at the last City Commission meeting. I was more concerned with what she didn't say.
The City is obligated to follow the previous contract concerning raises, and if you recall a vote by the police overwhelming voted out the PBA (Police Benevolent Association) and a new contract with the FOP (Fraternal Order of Police) who has been negotiating with the City for a new contract for a year, and May 2021 will begin it's 8 month without a contract.
Step Plan
The Police Officers we see on the street, riding in patrol cars and respond to us when called are in what is referred to as a "step plan" and the police currently have a 12 step plan which determines police pay grade. When an officer reaches their one year anniversary date, they earn a 5% pay increase until they reach their 12th "step" or year.
Topped Out
Meaning there are police officers who have reached their 12th Step 10 years ago, have over 20 years with the dept. and have not received a raise in the last 10 years.
Something needs to change, either increase the step plan or increase the pay grade.

Wrap your head around that, because I can't understand why these cop's continue to show up each and every day to protect us in what I consider one of the world's most dangerous professions especially when moral is at the lowest point in years.

WPB Windfall
Reported by WPBF (25) news: A recent press conference and news story with Frankel & James can be seen below.
President Biden signs $1.9 trillion COVID-19 relief package.
"Congressman Lois Frankel said West Palm Beach will receive about $25.3 million."
"Mayor Keith James said during the pandemic the city experienced revenue losses of $7 million and spent about $2 million on testing, PPE (Personal Protective Equipment) and overtime. He said the city is $10 million short of its projected 2021 budget."

5% Increase
"The Mayor is recommending to the Commission a starting salary of $249,000 for consideration, which is within the General Management Salary Rate Schedule for the City Administrator Pay Grade, GM20 ($174,303 – $261,454) Upon successful completion of a six (6) month probationary period, Ms. Johnson's salary will increase by 5% to $261,450, also within the current salary rate schedule."
Police Officer Step1 $49,900 X 5%= $2,495 = $52,395 1st. Year anniversary.
City Administrator $249,000 X 5% = $12,450= $261.450 6 month Anniversary. In less than a year Ms. Johnson is $4.00 short of the top of her GM20 pay grade. When she is due for a pay increase how does the City handle it. Possibly leave it at GM20 but increase the Salary Rate Schedule from $261,454.00 to.$350,000.00.
WPB is the largest and busiest municipality in PBC yet they are the lowest paid. Don't our first responders deserve better?
4/29/2021 @ 2:00 PM City Hall: Negotiations between the City & IAFF (Firefighters)
5/7/2021 @ 10:00AM City Hall: Negotiations between the City & FOP (Police)
Rep. Lois Frankel says COVID-19 relief plan will bring millions to Palm Beach County (wpbf.com)
Friday night @ 7:30 PM (4/23/2021) I was expecting a regular Peace Walk like the "old days" when the police officers outnumbered the residents walking. This walk was completely different with approximately 200 residents in attendance which included former City Commissioner Sylvia Moffett along with Commissioners Peduzzi, Lambert, Fox and Shoaf who represents District 1 where the event took place. Missing was Mayor Keith James and Commissioner Warren.
I spoke with residents who told me "they were not from the area" and attended to show they wanted peace in the streets and gave up their Friday night to show solidarity. Black and white, young and old all walking for a common goal. We all wanted peace and an end to the violence. This is how you take back the streets, you show up in numbers.
"RISE" is an organization, and their members also joined the walk, and they do good work in the northend of the city. RISE will assist residents with housing, employment, education and health and wellness. All you have to do is reach out to them. Double click to enlarge picture for address & phone number. Flyer at the end of the story.
The police dept. had a food truck available and offered hot dogs, snow cones and water along with a mini bus and golf cart for folks who may have a need to sit and rest or a ride back to their auto.
We walked from 39th. and Pinewood to 54th. 15 blocks. 2 blocks east to Broadway on 54th. Broadway to 39th. 15 more blocks and 2 blocks back to Pinewood Park.. total of 34 blocks…
On Pinewood we walked down the middle of the street until we reached Broadway and the police asked we all move to the sidewalk, and all the marches moved to the sidewalk. We complied. Personally I preferred walking on the street as sections of the sidewalk left a lot to be desired. The police wanted to keep us safe and away from heavy traffic. Here I want to thank 2 men who allowed me to take their arm which allowed me to finish the walk. Thank you to the drivers who sat patiently while the police stopped traffic so we could cross the street safely. Thank you to the drivers who honked their horns on Broadway to show support. Thank you to the WPB Police Department who took every step with us, and kept us all safe. As usual they came through for the City and residents.
If you look at the pictures of arrest at the bottom of the story (double click to enlarge) you will see the following:
Special Investigation Div.   8 arrests
Operation Clean Streets      8 arrests
Operation Ghost Unit         7 arrests
Vice Unit                               11 arrests
That is a total of 34 arrests. One arrest for every block residents walked for peace.
WPTV Chanel 5 was there and you can read the entire story below.
WEST PALM BEACH, Fla. — "A peace walk. It's a stroll the residents of the Pinewood Park neighborhood in West Palm Beach say is needed to spur change.
"What we feel in this neighborhood on the north end of the city is that we're not heard very well," Denise Barnes said.
But they were also briefed by West Palm Beach Police Chief Frank Adderley on what his department is doing to fight crime.
"It's not falling on deaf ears, we're in the midst of doing an operation, Operation Clean Sweep. We've arrested about 30 individuals that are involved in open drug sales and prostitution in this area. When our community calls, we're going to respond to them," Adderley said."
While residents walked for peace, we heard police sirens a few blocks away and the police helicopter flew overhead and you knew there was a problem. On 13th. St. 3 people were shot, 1 fatally at 8:00 PM. As you can see there's a lot more work to be done. The police cannot give us peace without the public's help, and residents will never have peace without the help of the police.
If you know something please step up and say something. If your afraid of retaliation, I understand that so make a phone call from a public phone. Drop a letter to the police dept.  give them a starting point, someone to investigate. If not you—Who?  Denise Barnes spoke up and look what she accomplished, 200 marching people.
West Palm Beach neighborhood holds peace walk to spur change (wptv.com)
WEST PALM BEACH, Fla. — "One man is dead and two others are injured following a shooting in West Palm Beach Friday evening, according to the West Palm Beach Police Department.
The shooting occurred at 8:32 P.M. along the 900 block of 13th Street.
Police said the gunman shot three pedestrians, who appeared to have been targeted, and then fled the scene."
1 dead, 2 injured following shooting in West Palm Beach (wptv.com)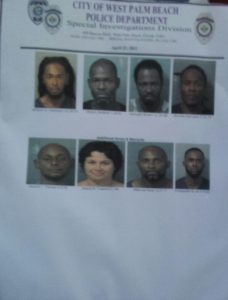 His name was Officer Flanagan, and he was the cop that walked the streets in my neighborhood as I was growing up, and he knew the name of every kid, and every kid knew him because our parents repeatedly told us if someone bothers or hurts you find a cop and he will help.
In the summer when we were all in the street playing jump rope, kick the can or hide and seek he could be seen walking up the street when he would bellow while calling us out by name "come on it's getting dark get home." We all went home. Unfortunately not all kids were told to trust the police, and at times with good reason. That needs to change.
Chauvin,a former police officer who murdered George Floyd, is not one of the good guy's and deserves the guilty plea's he received. One picture is worth a thousands words, and I believe that. Prayers have been heard and answered and I'm hoping mine will be also. My prayer is people will not paint all cops with the Chauvin brush.
WPB has it's problems in the northend of the city with gangs, drugs and too many killings. In an attempt to bring peace to the northend former Mayor Muoio started the first "Peace in the Streets" walk, and it was organized by Pastor Kevin Jones and volunteers walked the streets monthly talking to residents, asking them to display Peace Signs in their yard and their response was always yes. They thanked us for being there. We always had information for them along with job applications, where to get help if needed and programs the city offered.
We were always accompanied by police officers who kept one eye on us while spending time with the young kids. Officer Seth Buxton had a pocket full of peel and stick police badges and the kids flocked to him for one. Officer's gave the kids a ride on their Segways and the picture shown is of retired Officer Pinto who thrilled one young man with a ride and the kids lined up for their turn. If you look at the smile on the kids face they were not afraid of the boggy man (cop) No, nothing to fear here. I loved the program and could see the good it was doing especially with the kids who were seeing cops in a different light.
The monthly walks continued for approximately 3 years when we took our last walk in Feb. 2020 without benefit of a police escort in the most dangerous sections of the city. What the hell happened?
I complained about it at the next City Commission meeting and James responded with "I don't managed the Chief's schedule." Really. Another one of Mayor Muoio's program scrapped.
If kids are in a gang, some as young as 12 or 13 it is my belief these kids are hard to reach as they already belong to "something or someone." That leaves the younger kids who the police try to reach out too. I have enclosed pictures from previous walks and if you double click I ask you to look at the smiles on the young faces.
There is good news on the horizon. The police dept. is starting the Peace Walk again and the first one is scheduled for this coming Friday April 23,2020 @ 7:30 PM @ 4105 Pinewood Street. The only way they will have a cancellation is if severe weather occurs.
I would like to invite residents to join us and receive the gift of knowing you are helping others by showing we care and walk away with a good feeling knowing you possibly made a difference in someones life.
Pictures are of Former Chief of Police Sara Mooney talking to young children.
Officer Pinto giving children a ride on his Segway.
Children enjoying a WPB Police dog.
This story moves away from City Government to homegrown terrorist, bombings, vaccines and the health of American citizens.
Nov. 1983   Capital Bombing  May 19 Communist Organization (M19) bombed the Capitol Building in Washington DC. Women led terrorist, Susan Rosenberg and Linda Sue Evans were found guilty and sentenced to 58 years in prison. Story below.
https://www.smithsonianmag.com/history/1980s-far-left-female-led-domestic-terrorism-group-bombed-us-capitol-180973904/
January 2001 President Bill Clinton issued a pardon to both Rosenberg & Evans.
August 2014    Fergurson Missouri Remember the riots and looting.
"Sgt. Al Notham, who works with the Highway Patrol, says the bad actors have largely been weeded out. "Community leaders are stepping in. We're getting all kinds of assistance from the community. They're actually doing a fantastic job.
Since the protests erupted, people in Ferguson have insisted that the troublemakers are not from this community. Capt. Ron Johnson, the highway patrolman in charge of security here, said as much earlier this week.
In fact, of the 51 people who were arrested Tuesday night and Wednesday morning, only one person was from Ferguson. The rest were from surrounding towns and faraway cities such as Des Moines, Iowa, Chicago and New York." Where is the $$ coming from to bus protesters to the city, shelter and feed them?
https://www.npr.org/2014/08/21/342207432/who-are-the-protesters-getting-arrested-in-ferguson
Where is Susan Rosenberg today?
2016   BLM Global Network approached Thousand Currents to create a fiscal sponsorship agreement.
https://www.snopes.com/fact-check/blm-terrorist-rosenberg/
June 2020 "Thousand Currents, the California-based charity that manages fundraising operations for the national arm of Black Lives Matter, includes on its board a convicted terrorist whose sentence was commuted by former President Bill Clinton on his last day in office."
"Susan Rosenberg was identified as the vice chair of the Thousand Currents board of directors on the charity's website until Wednesday when the page was taken down after the conservative think tank Capital Research Center detailed her involvement with a communist terrorist group"
https://www.citizensjournal.us/a-convicted-terrorist-sits-on-board-of-charity-handling-black-lives-matter-fundraising/
"As the protest for social justice continue across the United States, some are critical of the true intentions of the "Black Lives Matter" movement.
To many, the protests seem to have turned into a extremely radical political movement rather than a movement for social justice police brutality. The group has grown immensely in popularity and strength since the unfortunate death of George Floyd in Minneapolis. The protests have not stopped, but critics of the movements believe many, if not most, of the people supporting "Black Lives Matter" don't embrace the true political intentions of the movement."  It appears to me an attempt to drive a wedge between the black, white and police community are happening, and we have to start thinking for ourselves and put a stop to the madness.
https://www.kusi.com/retired-nypd-commissioner-bernard-kerik-warns-public-black-lives-matter-fundraising-is-run-by-a-terrorist/
While researching this story my mind wandered to the recent stories concerning people of color who are reluctant to take the vaccine. Lets take a moment to look at why and try to understand their point of view.  Johnson & Johnson has developed a new vaccine for the Caronavirus.
Johnson & Johnson (J&J) Talcum powder caused Cervical Cancer.
"A Reuters examination of many of those documents, as well as deposition and trial testimony, shows that from at least 1971 to the early 2000s, the company's raw talc and finished powders sometimes tested positive for small amounts of asbestos, and that company executives, mine managers, scientists, doctors and lawyers fretted over the problem and how to address it while failing to disclose it to regulators or the public." They hid the dangers of talcum powder, Do you trust them to be honest with the findings of the vaccine? I don't.
https://www.reuters.com/investigates/special-report/johnsonandjohnson-cancer/
The Tuskegee Study
"40 Years of Human Experimentation in America: The Tuskegee Study
The goal was to "observe the natural history of untreated syphilis" in black populations, but the subjects were completely unaware and were instead told they were receiving treatment for bad blood when in fact, they received no treatment at all.  Now I understand why people of color are hesitant to take the vaccine. They have been there and done that.
https://www.mcgill.ca/oss/article/history/40-years-human-experimentation-america-tuskegee-study
The end