WPB still attempting to balance the city budget. Below are excerpts from a story written by PB Post Tony Doris. Entire story can be read below. My opinion in italic.
WEST PALM BEACH —" Amid protests from the public and commissioners, city officials struggling to overcome a $10 million budget gap have backed off plans to lay off dozens of park and library workers."  Obviously this is what awakens residents to stand up and express their feelings to city leaders concerning layoffs and furloughs of city workers. Proud of everyone who spoke up with their opinion. Strength in numbers.
"Instead they will spread the pain among all departments except police and fire, with many of the cuts made by not filling vacant positions."
The City of WPB, under the leadership of Mayor Keith James, has in his own way, defunded the Police Dept. by not replacing the missing 30 police officers needed to insure enough officers to keep the peace in WPB. How about cancelling the PSC Security $8 million dollar contract, hire the missing cops and the millions in savings can be used to help balance the budget. James could end his "security detail' and put more cops on the street where they are needed. 
"An earlier iteration of the budget called for 30% cuts to the Mandel Public Library and the Parks and Recreation Department. That meant the library would lose 12.5 full-time positions and 12 "on-call" pages. Parks stood to lose 36 full-time workers. Members of the public, citing the importance of those public resources, urged the city to back off those cuts." Since the pandemic and all the closings throughout the state, I missed the library closing more than any of the closings. When you can't socialize you have a choice TV or read a good book. I receive my books from the PBC Library on Okeechobee because I have no problem parking and it's free.
"Under a new proposal, presented to commissioners Monday by City Administrator Faye Johnson, the library instead would lose one full-timer and seven pages, while the parks department would loose about 11 full-timers and five on-call part-timers." What the hell did the city do with the 30 million dollar "Park Bond" they pushed so hard for and voters gave them?
"But other cuts would have to be spread among various city departments to make up for that, Johnson said. In all, 48 positions would have to go, including five layoffs and 43 vacant positions that would go unfilled." 48 positions eliminated. Shame on the city of WPB. Bet no "staff members" are included, just blue collar workers, not top earners. When James was first elected he promoted 3 staff members to Assistant City Administrators with a raise $180,000/year and rehired a previously fired employee as a Assistant City Administrator again at a salary of $180,000.00. He loves the figure and tried to use it to pay off an employee who is suing the city.
"She said the administration might have to come back to the commission for more cuts part-way through the fiscal year, if the budget crunch worsens." With James in charge it will worsen.
"The city commission is scheduled to cast its votes to finalize the budget on Sept. 10 and Sept. 24."  The city needs to open city hall for both meetings. Residents want to be heard.
"Commissioners asked whether that cost of living increase might be reduced, or furloughs imposed, to save money and avoid cutting jobs. Johnson and Mayor Keith James resisted, saying that many of the non-public safety employees earn less than $50,000."   The people earning less than than $50,000.00 will be sacrificed. The very people behind the scenes who keep city hall running, blue collar workers.
"Making such changes, Johnson said, would "put some employees in the position where they're going to have to choose between putting food on table" or paying utility bills. "The proposed budget absolutely hits the mark," she said."  Someone please explain to me how eliminating jobs will help people make decisions on putting food on the table or paying utility bills. Seems to me they wont be able to do either. Read the entire story below. https://www.palmbeachpost.com/story/news/2020/08/26/west-palm-backs-off-proposed-slashes-library-and-park-staffs/5634469002/
National Politics:
I am busy enough with city politics and don't write much about County or National Politics but will make an exception with a couple of facts that have bothered me recently concerning book writers and a House bill passed in March 2010. Here are my thoughts:
Stephanie Winston Wolkoff the BFF (best friend forever) of Melania Trump recently published a tell all book on their friendship and of course the media is lining up interviews for Wolkoff. What bothers me is her admission that she secretly recorded their conversations which she used when writing the book. Here's my first thought. Who secretly records a conversation between friends? My second thought, after her 15 "minutes of fame" would she have any friends left that would ever trust her again never being sure if over coffee they may have discussed problems with their spouse, kids, family maybe problems with their job and not worry about another book being written. Please God I don't have a friend like Wolkoff.
Readers of WPB Watch are aware I have a problem with City Commissioners who take the advice of "Staff Recommend Approval" I fell they can't be bothered to read and investigate whatever they are about to vote on which will change the lives of residents forever. In March 2010, Speaker of the House Nancy Pelosi (D) led the House to vote approval of Obama Care. When the press questioned her on what the bill contained she replied "But we have to pass the [health care] bill so that you can find out what's in it." She didn't know what the bill contained so I assume House "staff" recommended approval. Obama, just like Mayor Keith James, wants approval so staff responds to what leaders want. Despicable.
The end
When Keith James was running for Mayor of WPB 2 campaign promises he made were to help the homeless (also a promise of Commissioner Lambert) and not raise taxes. James was sworn in April 2019 and 16 months later lets see how he kept his campaign promises.
Homelessness: Below are excerpts from the PB Post and the entire story can be read below.
"The last of the homeless population at John Prince Memorial Park's "Tent City" could be moved out as soon as Friday, Palm Beach County officials have confirmed, offering hope to neighbors vexed by the encampment and generating fear among those living there who say they have no place else to go.
To make the forced removal legal, county commissioners invested $8.6 million in a homeless shelter at the former county stockade off of Southern Boulevard west of Florida's Turnpike.
At the annex, on a 17-acre site next to the South Florida Fairgrounds, homeless people have access to substance abuse treatment and mental healthcare. From there, county staff members try to help homeless people move on to permanent housing.
The 125-bed annex, which the county is paying Gulfstream Goodwill Industries to operate, is part of a $8.6 million project to help address homelessness in the county.
Some of the first homeless people taken there said they initially were frightened by the barbed wire surrounding the facility, a throwback to its days as a jail. But they said they grew to appreciate the services and amenities, not the least of which was air conditioning.
"We are looking at a 90-day action plan that would involve potentially alternate locations," Kerner told The Post in February"
https://www.palmbeachpost.com/news/20200820/county-to-clear-homeless-lsquotent-cityrsquo-out-of-john-prince-park
The homeless were moved and now have AC; a bed, washer & drier; computer access; running water and refrigeration. Things many of us take for granted. Read the story below, and if you have a desire to send a thank you card send it to the  County Commissioners who made this happen. Grateful they didn't wait for WPB Mayor Keith James to fulfill his campaign promises to help the homeless and not raise taxes.
Taxes:
2018 under former Mayor Muoio
WPB Debt: $7.79
WPB Operating: $507.00                              Fire Fee: $50.00
2019 under Mayor Keith James
WPB Debt: $7.55
WPB Operating: $524.56                              Fire Fee: $100.00
2020 (proposed taxes)
WPB Debt: $8.25
WPB Operating: $546.23                               Fire Fee: $100.00
Tell the voters what they want to hear, and do what you want after you are elected. Where are our tax dollars going? Here's an example of wasted taxes while they talk of laying off and furloughing workers.
From Jan,29 2018- March 6,2020 travel expense for James and his Security Detail. FLOC(Florida league of Cities) NLOC (National league of Cities) Lobbying firm.
1/29/18- 1/31/18 Tallahassee Fl.   $1,003.07 FLOC
3/11/18- 3/15/18 Washington DC $2,685.27 NLOC
8/15/18- 8/19/18 Hollywood Fl.  $1,250.00 $7,877.76
11/7/18- 11/14/18 Los Angeles Ca. $2,935.93 NLOC
3/25- 3/27/19 Tallahassee Fl.         $1,138.81 NLOC
4/23-4/27/19 Lex Ky.                       $1,049.73
5/19- 5/22/19 Kansas City               $258.93 (invited)
6/10/19- 6/11/19 Wash. D.C.           $896.96
staff member                                       $865.96
staff member                                       $707.96
6/19/19 – 6/21/19 Philadelphia Pa.     $126.00 (invited)
Security Detail                                         $1,892.95
6/25-7/3/19 Honolulu Hawaii             $4,079.30
Security Detail                                         $5,768.27
7/31- 8/03/19 Columbia S.C.               $463.96
Security Detail                                         $1,814.92
8/14/19- 8/18/19 Orlando Fl.               $1,572.00
Security Detail                                          $1,178.40
9/19/19 9/22/19 Boston Ma                 $761.89 (Harvard Law)
9/24/19-9/25/19 Williamsburg Va.    $825.48
Security Detail                                         $1,056.02
11/11/19- 11/12/19 Tallahassee Fl.      $300.00
Security Detail                                        $636.00
11/12- 11/17/19 NYC                              $878.47
Security Detail                                        $3,410.05
11/20- 11/24/19 San Antonio Tx       $2,699.48
Security Detail                                       $2,421.80
1/21-1/25/20 Washington DC            $3,227.98
3/6-3/12/20 Washington DC             $3,746.65
Security Detail                                       $3,870.56
The WPB Police Department are short 30 Police Officers, but one is assigned to sit in the entrance to city hall along with 2 PSC Security Officers. Why isn't this officer working the streets where he/she is needed?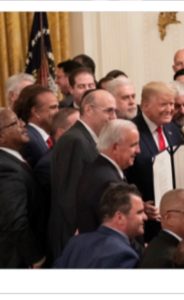 Once upon a time the city owned the WPB Municipal Auditorium which sat on 72 acres of land located on 1610 Palm Beach Lakes Boulevard and Congress Ave. Originally built in 1965 it had a capacity of 6,000 and residents affectionally called it the "Leaky Teepee" due to the roof leaking when it rained. Many events with fond memories were held there.
In July 1997 Mayor Graham, elected the first strong mayor, and the City Commissioners decided to sell the auditorium to the Jehovah's Witnesses for $12.5 million dollars. Now 23 years ago $12.5 million was a lot of money to a city who was having financial difficulties.
Staff Recommend Motion
"Recommended Approval"
The City Commissioners agreed to sell. Good deal? Let's see.
After acquiring the 72 acres, new owners the Jehovah's Witnesses turned around and sold off a large section of the property to the Home Depot who built a new store on the land. Home Depot paid $12.5 for the land. Jehovah's Witnesses, a religious organization, along with other religions pays no taxes on property owned. Nice deal and it's OK because staff "Recommended Approval." Good deal for everyone except taxpayers and a perfect example of elected officials depending on staff instead of investigating the issue.
https://www.palmbeachpost.com/entertainment/leaky-teepee-west-palm-arena-had-circus-wrestling-elvis/HVBrAJQoaLAoAk82lFQF2O/
City Commission meeting to be held 8/10/2020. Part of the agenda below.
6. Resolution No. 220-20 finding that City-owned property located at 8111 South Dixie Highway is not needed for City purposes, declaring the property surplus, and providing the method of disposition.       Agenda Cover Memorandum No.: 23004
Staff Recommended Motion:
Approve Resolution No. 220-20.
Background:
The City hereby desires to make a determination of surplus of property located at 8111 South Dixie Highway, consisting of approximately 6.51 acres, as shown on Exhibit A attached. Given the significant interest for development of the property, City staff seeks authorization to issue a competitive invitation to negotiate with interested parties. This method of disposition will allow City staff to evaluate and negotiate proposals that will result in obtaining the best value and use for the Parcel. Highest and best use proposals will be presented to the City Commission for with a recommendation for final approval. Section 2-31(27)(b) of the Code of Ordinances of the City of West Palm Beach, Florida, requires that prior to the disposition of City property, the City Commission shall: (i) make a legislative finding that the City property is not needed for City purposes and declaring the property surplus; and (ii) select the method of disposition. City staff seeks authorization to issue a competitive invitation to negotiate with interested parties and bring one or more best value proposals to the City Commission for consideration. Commission District: The subject Property is located within Commission District No.5: Commissioner Christina Lambert.
https://www.palmbeachpost.com/news/20200804/west-palm-may-sell-shopping-center-redevelopment-site-on-s-dixie-highway
"The latest contender is PGA of America. In March James gave PGA
exclusive rights to pursue its proposal to revive the 196-acre course as a nonprofit community course without adding housing.
He gave Seth Waugh 15 months to find donors to finance the proposal. Waugh said Monday he hoped to speak with James later this week on developments with his proposal and on the 8111 property sale, which he said he just heard about on Friday.
It's 2020 and again the city finds itself in financial distress due to the Carona Virus, and poor management of taxpayer money with no oversite, and a mayor who treats taxpayers money as his personnel piggybank hiring and promoting staff with large pay raises, excessive travel, with police escorts which include the police accompanying him to private affairs. Talk of laying off or firing employees, who are always the first to be hurt. I'm not talking "staff" I'm talking the people behind the scenes who actually make city hall run. I have some suggestions and will use the figure of $30,000.00/year employee salary. The exception would be a salary of $95,000.00 paid to a supporter of James who was hired as a neighborhood liaison. 95K not to return calls or show up for meetings.
My suggestions:
City Commissioners receive a "car allowance" of $500.00/month or $6,000.00/year X 5 Commissioners = $30,000.00. That will pay for 1 employee.
James can roll back mayors salary from $125,000.00 to $100,000.00. James travel 1/29/2018— 3/6/2020 was $29,975.52 + security detail $23,622.89=$53,598.41. Another 2.6 jobs saved.
Faye Johnson, City Administrator, can return to the previous salary paid to Jeff Green of $240,000.00/year saving another employees job.
Cancel former City Attorney Claudia McKenna's contract written on 5/13/2014 with a salary of $4,800.00/month + overtime compensation. $4,800.00 X12 =$57,600.00/year X 6 years= $345,600.00. Pay employee $30,000.00/year, another 11.5 jobs saved. Has McKenna's contract ever been audited, especially the overtime stipulation?
State Road 7 extension. "Sep 19, 2017 – against the Army Corps of Engineers, Fish and Wildlife Service,  "West Palm Beach sues US agencies for approving State Road 7 extension  Preserve, the city of West Palm Beach has sued five federal agencies for approving the extension. West Palm Beach has spent years and more than $2.3 million fighting the extension."   Stop this frivolous lawsuit and save 77 jobs. story below
https://www.palmbeachpost.com/news/west-palm-beach-sues-agencies-for-approving-state-road-extension/uJCEHyfiU6LIbPNOc7DgGK/
If the city so desperately needs money how about selling the city property at 401 No. Flagler that is appraised at $12,050,272.00.
The city has for years rented this property to the Chamber of Commerce for $1.00/year, and the Chamber of Commerce endorses every politician sitting on the dais.
Dennis Grady, CEO of the COC has spoken before the commission and stated he, along with his board of directors have discussed a certain item on the agenda and they voted unanimously in favor and ask the commission to approve the item. They have their marching orders. Are you aware government owned land are not required to pay taxes?
One more suggestion: Yard waste
Code enforcement should be able to check the area south of Southern Blvd; where yard waste such as grass clippings and trees trimmed by private contractors on Monday and Tuesday knowing the city picks up on Wednesday. Contractors are required to remove the debris and take it to solid waste and there is a fee for dumping. When the work is done what is left is blown into the street where it blocks drainage. Code enforcement should monitor areas and when contractors are found leaving trash behind issue warning and then fines. When it cost them money, the abuse will stop.
Why are taxpayers paying the added expense.
Johnson memo to staff      If there are to be layoffs how about city hall start at the top and cut paychecks and benefits. Why should only one class of workers feel the pain?
Those with a good memory can recall a complaint filed against then Commissioner Keith James over a home he rented in Andros Isle from Mr. James Brophy who is vice president of WGI. James voted approval for every WGI contract presented to the city. In the final findings the Palm Beach County Commission on Ethics found no probable cause. Read the story below:
https://www.palmbeachpost.com/news/20190926/ethics-complaint-against-west-palm-mayor-hearing-scheduled-for-october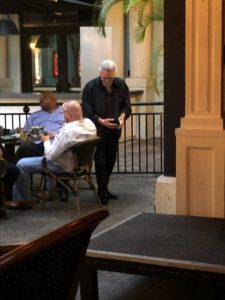 Another complaint was filed against now Mayor Keith James concerning his awarding of the $7.9 million no-bid contract to his friend Willis Perez of PSC (Professional Securities Consultant) The difference with this complaint is it was filed with the Florida (state) Commission on Ethics, so residents may receive a fair hearing this time around. Picture shows James and his pal Perez socializing at the now closed Blue Martini. Double click to enlarge pic.
Below are excerpts from a story in the PB Post. Entire article can be read below.
"Investigator's recommendation found probable cause that Mayor Keith James "misused his position to urge the award of a no-bid security contract to a company operated by one of his friends."
"If James is found to have violated state ethics law, he could face fines of as much as $10,000 per violation or removal from office."
If James violated state ethics law is the taxpayer responsible for paying the fines?
"Shortly after taking office in April 2019, the mayor canceled a bidding process initiated by his predecessor"
"James told the commission investigator that shortly after the commission had approved the no-bid contract, he learned that both City Attorney Kimberly Rothenburg and Procurement Director Frank Hayden had advised former City Administrator Jeff Green against proceeding without competitive bidding."   Oh Pinocchio!
"A rival of PSC, Giddens Security Corp. of Jacksonville, sued the city, alleging favoritism, and filed the ethics complaint."  I couldn't find a picture of Adam Giddens from Giddens Security and James socializing so I assume none exist.
"I do believe that the mayor misused his position, tried to benefit his friend, by setting in motion that an existing contract be eliminated and that they rapidly do a consolidation, and that he failed to disclose that it was his friend," said one ethics commissioner.
"It seemed like this mayor is a little bit out of control," said another.
"Adam Giddens, chief financial officer for Giddens Security, said the probable cause finding was expected and deserved. The mayor continued treating the firm unfairly during the recent selection process, in which it went from being ranked first by city staff to last by the mayor and commissioners."
"In our recent presentation to the mayor and commission, I thought it was strange and unfair that I was immediately asked by the mayor why we have not dropped the pending lawsuit that was about the same matter, as well as asked again at the end of our 10 minute time slot," Giddens said.
"During the presentations by the five finalists, the mayor highlighted lawsuits against each bidder except PSC, even though PSC's submission listed dozens of suits against it, Giddens noted."
"This month the mayor and city commission again selected PSC to negotiate a contract."
If James had mentioned PSC legal problems would that have made a difference in the commissioners decision to negotiate a contract with PSC? As usual "Staff Recommend Approval" Again I say we did not vote for staff, and the commissioners are not doing their homework but listening to staff who in my opinion recommends what James tells them to recommend. Shame on them.
https://www.palmbeachpost.com/news/20200731/state-ethics-panel-finds-west-palm-mayor-james-possibly-at-fault-in-no-bid-deal
When police officers are no longer assigned to walk with residents at the "Peace Walk" and a letter is sent to the city with concerns about increased crime in their neighborhood and I was asked to check on how many WPB Police Officers were assigned to Mayor Keith James security detail, I was dubious because I knew James had hired a retired police officer named Gregory Key at a salary of 95K soon after he was sworn in as mayor. Mr. Key's assignment was Mayor James security detail so I had difficulty believing James also used police as his personnel security detail. I was wrong.
I decided to place a PRR (Public Records Request) seeking information and was told it would cost me $132.09 for the records. As soon as I saw the figure I became suspicious. Was the city hoping I wouldn't pay the price and just go away? What didn't they want residents to know? I paid up and received the heavily redacted records. I can't help but wonder how much of my $132.09 went for bottles of "White-Out"
When you open the link below you will find 6 pages and 58 police names and badge no's redacted. Pages 4 & 5 check out "Detail Code" and "Notes" column. "Pay code" is Regular or Overtime pay. "Notes" where they accompanied Mayor James to events.
Previously I requested a PRR on Officer Patterson after learning he traveled with James to Hawaii and was sent his expense report for Hawaii and Philadelphia. Taxpayers paid a total of $9,842.57 for 2 to Hawaii. Read it below:
In February 2020 while no police officers were assigned to protect residents walking in the "Peace Walk" and I complained to James he told me "I don't control the chief's schedule." I didn't realize it was Chief Adderley's decision to re-assign the officer's to other areas. True definition of "throwing someone under the bus."
I have watched and listened to Mayor James for 8 years as a City Commissioner and now mayor and have come to recognize his "tell" when he is being less than truthful. Here is the definition of a tell "an inadvertent behavior or mannerism that betrays a poker player's true thoughts, intentions, or emotions The World Series of Poker: earth's greatest liars gathered together with millions of dollars on the line … . It's a blur of action, but the educated spectator ignores these distractions and focuses on the players' mannerisms—it's all part of the science of tells, reflexes a player can't control that, read right, give away his thoughts." What I have observed to be James "tell" is when he lies is being untruthful his lips move.
I listened to the latest WPB city budget meeting for 2021 and learned the city was short 30 police officers and received 1.4 million grant which the city must match to replace the missing officers.
I filed a complaint with the FAF (First Amendment Foundation) concerning the redacted police names and they sent a letter to the city which can be read below:
There may possibly be another story titled Where Are The Police–Part 3.
Below is an email sent to the WPB Police, Keith James and City Commissioners from Mr. Carl Flick who obviously believes if you see something, say something. My belief is if the city has a problem bring it to their attention so it can be corrected. Mr. Flick did exactly that with his email. I removed Mr. Flicks email address and phone no.
I first noticed missing police officers during the Feb; 2020 Peace Walk when the officers were pulled from the security detail walking with the marchers in the most dangerous areas of the north end. A story was written and below is an excerpt from the story.
"The last walk was in February when the Carona Virus hit and everything changed. This walk was also different because it was the first time we walked without a police escort in one of the most dangerous area of the city. At the next City Commission meeting I complained about the lack of police presence. Mayor said "I have nothing to do with the police and their schedule."
https://wpbwatch.com/2020/05/city-hall-fails-its-most-vulnerable-residents/
Carl Flick
To Chief Frank Adderley F Adderley@wpb.org, Deputy Chief Rick Morris – WPB Police rmorris@wpb.org, Lt Tomeca West – West Palm Beach Police twest@wpb.org, Vice Chief Anthony Spatara ASpatara@wpb.org, Patrol Captain D Wrobbel dwrobbel@wpb.org, Kelly Shoaf kshoaf@wpb.org, Keith James kjames@wpb.org, Officer William Dames wdames@wpb.org, Assistant Chief Sarah Mooney SMooney@wpb.org
To: West Palm Beach Police Chief Frank Adderley
From: Carl Flick, President, Northwood Shores Neighborhood Association
Re: Increased crime in the North End observed by residents and business owners – We need increased police patrols
Dear Chief Adderley:
The residents and business owners in the North End have noticed a marked increase in prostitution, illegal squatting, and drug dealing in several areas of our community. In addition to my own personal observations, I am getting phone calls from fellow residents and business people who are worried that the West Palm Beach Police have significantly reduced their presence in 2020. Many have urged me to write you. We ask that you reverse course and increase patrols.
The results of this void are predictable. Over the last six months we have seen along North Broadway (in the vicinity of 54th Street), a significant increase in prostitutes, vagrants, squatters in unoccupied homes, and illegal drug dealing.
In Vogelman Park, located at 48th Street and Pinewood Avenue, an entire encampment of people are living inside the confines of this city-owned space. Squatters regularly walk between Vogelman Park and the rear yard and carport of the adjacent abandoned home located at 4719 Pinewood Avenue. I have repeatedly called Code Compliance and the West Palm Beach Police in order to clear the rear of this property of 10 or more individuals. Sometimes this has succeeded with city staff responding. Most times not. This empty, boarded home is held by the bank in pre-foreclosure. So now it presents a fire hazard and crime magnet for adjacent residents. A single woman lives next door and regularly witnesses all types of activity, all of which are illegal. She feels deeply threatened. But her phone calls to the city result in no effective help.
In Currie Park, vagrancy is significantly up. Residents who live in the Portofino Condominiums situated immediately adjacent to Currie Park's northern perimeter regularly observe prostitutes and their johns having sex. They witness public urination and defecation in the boat trailer parking lot. The entire parking lot reeks of urine as you walk on the North Flagler Drive sidewalk. If you take your dog into the park, you have to dodge discarded condoms.
Portofino residents sitting on their balconies regularly smell marijuana being smoked by individuals who reside semi-permanently inside Currie's boat trailer parking area. The historic gazebo marking the entrance to Currie Park is crowded with unfortunate individuals. Their belongings are piled high. This is what visitors to the North End now see. The homeless desperately need the city's compassionate help and social services. Please tend to them. Don't wait any more.
In the streets traversing the cleared adjacent Currie Corridor (owned by Palm Beach resident Jeff Greene), you'll find people living in their cars and in dilapidated, stranded RVs. It is, in every respect, an encampment.
If you travel after 9:00 PM along North Flagler Drive – as it borders Currie Park and the Martin Luther King Memorial, you will see a line of parked cars with people living inside them. Windows are fogged. Some cars have families with kids. These have become mobile dormitories of individuals who are hiding for the night. They have no place to go.
Can you imagine this same scene occurring inside the City's South End parks and common spaces? Actually, you can't. It's not allowed by city personnel.
The illegally entrenched drug supermarket that exists in the 700 block of 53rd Street is continuing without any checks from Police patrols. I have been writing your department about this uninterrupted problem since 2011. They are actively selling at this very moment in Butterfly Park (located at Manning Avenue and 53rd Street).
A drug dealer regularly parks his SUV on the city's grass swale situated on the west side of the intersection of Pinewood Avenue and 53rd Street. One quick method of discouragement for this persistent seller would be to simply give him a parking ticket for illegally parking his vehicle on the city's grass swale. Why not be creative as you address our issues?
Because we are not able to attend the currently suspended monthly North End Mayor's Meetings at City Hall (due to the COVID-19 pandemic crisis), we are no longer privy to the latest police crime statistics. With this email I am asking that you email me the last three months of police crime statistics. I'm confident that they will back up what we have already observed. We are awash in crime, once again.
The city's law enforcement officers have an obligation to protect surrounding residents from harm. It's obviously why we have a police department. Open drug dealing, unchecked illegal drug sales, public urination and defecation in parks and on private property, are unacceptable. Would you tolerate them where you live? Why would you apply a different standard to West Palm Beach's North End? By not adequately patrolling here, you are essentially enabling and fostering our neighborhood's rapid decline.
I could go on with many more details regarding the noticed increase in North End crime. But I'll end here with a formal request that you increase patrols in the North End, once again. We are aware that officers are genuinely concerned about contracting COVID-19. We are also aware that officers must take effectively measures to protect themselves against infection. But this does not mean reducing police patrols from our community is the correct response.
We believe we are witnessing differing police enforcement applied to the city's wide range of neighborhoods. Consequently, we are calling out City Hall on this inequity. We pay our taxes. We expect the same equitable amount of municipal services.
Our police department must not abdicate its role to keep us safe. It is your department's responsibility to adequately address crime issues. As you know, this problem has been persistent in the North End for years.
We don't want the coronavirus pandemic to become a new excuse for the police withdrawing from our neighborhoods. We need and request your help. Please increase your patrols and increase your enforcement. Our community's vitality begins with your sustained presence.
Sincerely,
Carl Flick President Northwood Shores Neighborhood Association
cc: North End residents and business owners
My first "lesson" in WPB city politics came over 30 years ago when I attended a Spencer Lakes HOA meeting.
Ike Robinson was the President of the BOD before he won a seat as a City Commissioner.
A neighbor asked why most homeowners had Barrel Tiles on their roofs and others had Asphalt Shingles. (Much Cheaper)
Ike explained our documents called for Barrel Tiles but a new developer built homes and received a waiver from the city and was allowed to install Asphalt Shingles.
When pressed Ike explained "someone's palm got greased" (Give someone money in exchange for a favor; also, bribe someone)
and explained the developer worked with someone at city hall in order to receive the waiver. Why am I sharing this, here is the story.
AiPP (Art in PUBLIC Places)
Former City Commissioner Shanon Materio brought the AiPP program to West Palm Beach. I imagine she thought residents would appreciate some form of art along with the skyscrapers city officials are so fond of giving to developers, due to the city's shortage of high- end office space. Here's what you need to know.
AiPP program requires developers to incorporate into their projects public art valued at 1% of the development cost or contribute a sum equal to 1%, not to exceed $750,000 to AiPP for artwork throughout the City,
and the ordinance requires art to be "exterior" and "exposed to public view".
This brings me to the Canopy Hotel which recently opened in WPB at a cost of $33 million dollars.
Lets do the math: $33,000,000.00 x 1% = $330,000.00 to the city to be used for art in Public Places
While The Canopy Hotel has an interesting art installation inside the lobby, it can only be seen during sunlight hours by entering the building. This public art cannot be seen by pedestrians and drivers during the day because the building's exterior consists of mirrored window panels. Looking at the hotel during the day, you can see yourself — just not the public art. Of course, you could always park your car and press your face against the mirrored glass to try and see the lobby art, but does that actually make it "exposed to public view"? To be fair, if you walk or drive by The Canopy after the sun sets, you can make out the illuminated interior art. But please be careful. You don't want to have an accident while viewing the public art.
The AiPP committee recommended it and the City Commission's voted to approve. Why did the City Commissioners approve the project? Because "Staff Recommend Approval", and City Commissioners can't be bothered to investigate the project and depend on staff for their information. In fairness to Commissioners they aren't allowed to question staff before the vote is taken. Mayor Muoio and former City Administrator, Jeff Green wanted them to receive only information which will insure passage. It's time for James and Johnson to allow Commissioners to question staff which may change their vote on any issue.
"The now-open hotel has no exterior art exposed to public view and the artistic atrium with sculpted banyan roots dangling from 60 feet above. The roots, illuminated with LED lighting and visible from South Dixie Highway, are the Canopy's $300,000 contribution to West Palm's Art in Public Places and the hotel contributed $35,000 to the program's fund."
No, No and No. The city is owed $295,000.00 for art to be placed throughout the city, not spent in a hotel lobby.
Please take the time to read the PB Post on opening day and pay attention to the art placed in the bar and lounge area. Three monkeys, dressed in business suits, one with his hands over his ears another his eyes and the 3rd. over his mouth. Hear no evil, see no evil and speak no evil. How appropriate.
Final question: Who's palm got greased?
The city is about to do it to us again with a meeting. "An Art in Public Places Call to Artists Review meeting has been added for 4:00PM on Thursday, July 16, 2020. We'll see.
Read the PB Post story below and see the monkey business men.
https://www.palmbeachpost.com/news/20200522/coronavirus-florida-with-limited-staff-canopy-by-hilton-is-west-palmrsquos-newest-downtown-hotel
If you wish to read the City Code ARTICLE V. ART IN PUBLIC PLACES, it can be read below.
https://ibiartwestpalm.files.wordpress.com/2014/10/wpb-aipp-code-and-mural.pdf
The county generously gave Related 27 million taxpayers dollars. Who beside Related made money on this deal?
John Carey PBC Inspector General vs  Jeff Himmel Director of Investigations.
John Carey was appointed Inspector General by the PBC Commissioners. I always believed the OIG should be an elected office. How are you going to investigate the people that appointed you to your job making over 200k/year?
I filed a complaint with the OIG concerning City Commissioner Christine Lambert voting in favor of a business her husband was employed by earning the company and her husband many millions of dollars. The OIG turned the complaint over to the PBC COE (Commission on Ethics)  another useless entity.  (read the previous story below if you missed it previously)
SPECIAL REPORT: Convention hotel probe report was killed despite finding multiple violations, evidence workers shortchanged
But a never-released inspector general investigator's draft report obtained by The Palm Beach Post documented that the project that generated so much wealth was built by many workers paid well below county and federal minimum wages for as little as $4.92 an hour.
Workers' criminal backgrounds went unchecked, the report added, dozens of their Social Security numbers were faked and safety training requirements were skipped, violating contracts among the developer, builder, subcontractors and Palm Beach County, which orchestrated the project and contributed $27 million as an incentive to the chosen developer, The Related Cos.
But after an October 2017 falling-out between Palm Beach County Inspector General John A. Carey and his top investigator – largely unrelated to the hotel investigation – Carey fired Director of Investigations Jeff Himmel and never released the information from the draft report.
"We didn't get a chance to finish because I was forced out," Himmel said.
Carey never presented – to the county commission, county administrator or the public – conclusions extensively documented by his veteran, federally trained investigators. Two GDS officials who investigators sought to question about that declined to speak to them on advice of lawyers.
Related's main contractor on the Hilton project was Coastal Construction Co. of Palm Beach Inc., an affiliate of an established statewide, family-run firm founded by Thomas P. Murphy Jr. Murphy's son Patrick represented Palm Beach County in Congress while the project was in progress. He returned to Coastal as vice president in 2017 after losing a run for U.S. Senate.
Alleging GDS failed to abide by the wage ordinance, the investigators questioned Related's use of county money to pay nearly $1.9 million "for services that were not rendered in the fashion that was outlined in the contract agreements." They questioned an additional $6.4 million paid to D&D Quality Constructors Inc., the subcontractor for whom GDS worked.
In six years, four cases result in criminal prosecutions
Carey, who earns $203,000 a year, became Palm Beach County inspector general in June 2014 after serving as inspector general for the Defense Intelligence Agency. A retired Marine Corps Colonel and former Indiana police officer, he joined an office created out of public outrage in 2009 after the convictions of four county commissioners and two West Palm city commissioners earned Palm Beach the moniker "Corruption County."
Asked about criticism that he shies from higher level cases that might ruffle feathers, Carey said criminal cases are just one measure of an inspector general's effectiveness.
There are good reasons the hotel investigation went nowhere, Carey said.
"We did not have sufficient, consistent evidence to issue findings here,"
Himmel and his top investigator counter that Carey dropped the ball.
The facts were solid and supported by "boxes and boxes and boxes" of documents, Himmel told The Palm Beach Post. He and his former second-in-command question whether Carey is gun shy when it comes to going after big targets and rattling the chain of command.
"This rigorous investigation was conducted and supervised by three veteran law enforcement officers with a combined experience of almost 90 years. It also involved an experienced contract oversight specialist," Himmel said.
Carey hired Himmel in 2015, after Himmel spent 31 years in law enforcement, as a special agent for 16 years and assistant special agent in charge for 15, with the U.S. Department of Labor Inspector General's Office, Division of Labor Racketeering and Fraud Investigations. Throughout his career, he trained federal and state law enforcement officers on construction industry fraud.
The hotel project evidence included many interviews and tens of thousands of pages of documents. Some were obtained voluntarily, some with subpoenas, Himmel said. That evidence was neither stale nor incomplete, he insisted.
"The investigation was done. There were no more records to get."
Himmel: 'Preponderance of evidence existed'
"I don't understand how Carey and Robinson could not determine a preponderance of evidence existed, when the initial draft report of 70-plus pages identified elaborate fraud and contract violations committed by some of the companies hired to work on the Hilton Hotel. The documented violations also included criminal offenses."
Read PB Post reporter Tony Doris story below
https://www.palmbeachpost.com/news/20200710/special-report-convention-hotel-probe-report-was-killed-despite-finding-multiple-violations-evidence-workers-shortchanged
Previous story OIG or COE
https://wpbwatch.com/2020/05/decisions-oig-or-coe/
"Exclusive: Developer claims political revenge in project rejection"
"Are you through? What f******* universe do you live in? Really? What f****** universe do you live in that you think that after how you behaved during the election, raising as much money as you did for my opponent, running around with Kimberly (Mitchell) and Jessica (Pinsky) that you could come in my office and ask for my support of your project?"
Read the story below and ask yourself how this man became the mayor of WPB?
https://www.palmbeachpost.com/article/20150506/NEWS/812063138
"Keith James touts experience over personal travails in West Palm mayor race"
"He paid off a credit card balance last November shortly after the collection company garnished his wages to recover a 2009 judgment. Public records also show foreclosure notices in 1997 and 2013; and an eviction judgment in 2012 (he says he paid arrears and was not evicted). His IRS liens date as far back as 1999 and extend to 2008. He repaid some of what was owed but just over $100,000 remains unpaid." Read the entire story below.
https://www.palmbeachpost.com/news/20190208/keith-james-touts-experience-over-personal-travails-in-west-palm-mayor-race
This email was sent from Rodney Mayo to a group of residents, business people and city elected officials.  If his name sounds familiar to readers, WPB Watch posted a story on him in June 2020 and can be found at the end of the story for those who may have missed it. You decide if James is "getting even" with Mr. Mayo.
From: rodney mayo <rodney.subculture@gmail.com>
Sent: Friday, June 26, 2020 1:10 AM
To: I deleted the names of the residents before posting the story.
CC: JOE CAPOZZI; afins@pbpost.com; tdoris@pbpost.com; Leslie@lesliegraystreeter.com; Cory Neering; Christy Fox; Christina Lambert; Joseph Russo; Muoio; Mayor; Kelly Shoaf; Joseph Peduzzi
subject: 400 and 500 block construction mitigation funds and banyan lot
Hello
I wanted to fill anyone in who may not be aware of the current status of the 500 block Banyan lot project, extended seating and the Cra construction mitigation funds for the 400 and 500 blocks.
Months ago there were a few meetings with the business owners, the Cra and the Dda regarding the construction mitigation budget for the 400 and 500 blocks. In addition the covid reduced seating business mitigation was also discussed. As I'm sure you are aware the city has funded and set up additional outdoor seating for the businesses on the 100, 200 and 300 blocks.
The Banyan lot owned by developer Jeff Greene was proposed as the only feasible option to provide additional seating as both the 400 and 500 blocks are under construction . As this would only really help the 500 block it was suggested perhaps an outdoor drive in movie theater on that lot in addition to the extended seating might help the 400 block as well and the clematis street as a whole. The restaurants on the 400 and 500 block would supply the food and drinks for the drive in movie theater.
Everyone present at the meetings loved the idea.
A call was made by the Dda to Jeff Greene to attempt to secure a 3 month lease on the lot. Long story short it was a no because of the current relationship with Jeff Greene and the city. I offered to try and call Mr Greene and see if I would have any luck. Before I did the Cra and Dda confirmed that the construction mitigation funds were already approved and it would be fine to reimburse me for the lease or pay directly.
My first conversation with Mr Greene resulted in the same result, a no. Mr Greene did call me the following day and changed his mind after I explained the drive in movie idea and he would only be dealing with me and not the city. I confirmed with the Cra and the Dda again they could reimburse the lease amount which was $12,500 per month for 3 months. I put the lease in our not for profit Corp Moonfest. This was May 26th. Due to time constraints and already months into the street construction I offered to fund the 3 months of the lease in advance so things could get started June 1st. I was again reassured the construction mitigation funds were already approved and Moonfest would get reimbursed quickly.
All good up to this point! Weeks go by, we don't get reimbursed, our permit for the drive in theater is rejected. I keep trying to follow up and was told that we need to wait until I have a meeting with mayor Keith James. I kept asking why. I was lead to believe he personally was holding up the project and the funds.
We all meet the day before my meeting with the mayor and we all thought after my meeting all would be ok and we could move forward.
I walked into the meeting, never having met the mayor expecting a very cordial and productive meeting. Well I was never so wrong! The mayor started out the meeting with the statement " just to let you know this ain't gonna be a kumbaya meeting" . It went downhill from there for over an hour. I can fill anyone in person who cares to know just how bad the meeting went.
In reference to the construction mitigation funds for the 400 and and 500 blocks and the drive in project he said "absolutely not, it's not gonna happen". He told me directly I was "entitled white privilege" and I would not get reimbursed for any funds I fronted for the Cra. I told him there were many people at the multiple meetings where this was all discussed and agreed upon, he said he didn't care and it was an "oral" agreement and could not be enforced.
I left the meeting in shock and was dumbfounded. I kept asking what he didn't like about me or if I did something to offend him. The only substantive thing he said was I did not give him money for his campaign for mayor and supported his opponent.
I told him this personal vendetta should not hurt all the other businesses. He said he did not care.
For the past week I have been working with the Cra and the Dda behind the scenes trying to change the mayors mind and make this happen. After many calls and meetings, today I gave up trying.
I instructed the Dda if nothing changes by Monday to remove the tents and tables. There is no business insurance on the lot and therefore the liability would all fall on Moonfest and myself if something were to happen.
I can not emphasize how upsetting this is not just because I have lost $40,000 but also the missed opportunity of something we all thought would be great for the city and the clematis businesses, a drive in movie theater. I'm sure you have seen and read about many other cities turning parking lots and open spaces into drive in theaters in this time when families can not go to a movie theater.
We were also able to obtain an option on the lot for another 9 months. If the 3 month trial period for the drive in proved successful Moonfest, the city, the Dda or the Cra could have continued it.
As of now the Dda has waisted $10,000 in rental fees for tents and tables that no one has been able to use. Of course also 1 month of the 3 month lease is also waisted at a cost of $12,500.
The drive in would have been an amazing opportunity.
If you have any questions or have any suggestions on how we could revive this opportunity feel free to reach out.
Thanks you,
Rodney
561-714-2382
Sub-Culture.org
Above is 2 examples of how James runs the city and below how he runs his personal business with yet another IRS lien filed Feb.2020. Read the PBC Clerk and Controller report below.
http://oris.co.palm-beach.fl.us/or_web1/new_sch.asp?search_entry=James+Keith+A&search_by=Name&OrderBy=&Accending=ASC&PageNumber=1&FromDate=&ToDate=&filter_string=&filter_by=&RecSetOffset=0&file_num_end=&PageSize=20&RecSetSize=100&BookType=
Previous story on Rodney Mayo
https://wpbwatch.com/2020/06/james-fails-the-city-again/
From: Northend Coalition of Neighborhoods
Subject: NCON letter regarding proposed zoning changes
Date: June 29, 2020 at 6:14:59 PM EDT
To: Keith James, Rick Greene,  Angelina Jones -Vann  June 29, 2020
CC: Christie Fox, Christina Lambert, Cory Neering, Joe Peduzzi and Kelly Shoaf
Dear Mayor James:
The North End Coalition of Neighborhoods (NCON) held a special meeting on Sunday June 28, 2020 to discuss concerns about the city's Planning staff initiative to amend the Planned Development (PD) zoning district. The changes included increasing the minimum acreage for proposed developments in both the residential and commercial PD zoning districts.
For the residential PD districts, the proposal drops the minimum acreage from 10 acres to 1 acre.
On May 19, 2020, the City's Planning Board narrowly approved (by a vote of 4-3) the proposed code revisions and forwarded these proposed revisions to the City Commission. We have come to learn some of the Planning Board expressed concern that the public had not been adequately notified about such consequential changes. As a result of this and other public outcry, the City's staff has scheduled a public comment meeting to be held on-line tomorrow, Tuesday, June 30, 2020, at 5:00 PM.
We believe the impacts of these potential changes have not received adequate public scrutiny. NCON asks for this process to be slowed down and opened up for public input.
The public should be allowed more of an opportunity to review and comment on important matters such as these prior to being brought to vote. Lastly, it should be noted that the COVID-19 Pandemic may not be the best time to accomplish this goal considering public hearings are only being held on-line and may not reach less connected residents.
At this time, NCON seeks answers to the following questions or concerns:
1) What are the full impacts of reducing the minimum acreage of PD's from 10 acres to 1 acre?
2) Will this drastic reduction in minimum acreage constitute illegal spot zoning?
3) The city's planning analysis lacks the actual reasons for such a drastic reduction from 10 acres to 1 acre. Could the Northwood Pines minimum acreage be a higher threshold to obtain favorable benefits, while maintaining the necessary protections for Northwood Shores established single family communities?
4) What is the full impact of retaining Comprehensive Plan's Future Land Use Element Policy 1.7.1? We've received conflicting staff claims that it was already removed five years ago. A check on-line shows that the FLU policy continues to be listed.
5) Why is FLU Policy 1.7.1 being added to the Zoning Code? Will this inclusion (with its suggested exemptions to density, acreage, height, setbacks, and floor area ration (FAR)) be used to reverse or undo the Zoning Code's exacting standards?
6) Given the historical and repeated use of Policy 1.7.1 to override current zoning standards, what is the City's rationale for retaining Policy 1.7.1?
7) Could Planning staff explain the original impetus for this proposal? It appears unlikely that residents in established single family neighborhoods would ask for less protection.
In summary, we believe changes of this magnitude should not be rushed. NCON asks that this process be slowed and opened for review by the communities in which it impacts. Staff should strive for greater public input. NCON is willing to work together with the City and SENA on a collaborative approach to ensure our zoning and code restrictions work for the City's planning purposes as well as protecting and improving our communities.
Sincerely,
Cathleen Ward,  Chair North End Coalition of Neighborhoods (NCON)
SENA – South End Neighborhoods Association
NCON- Northend Coalition of Neighborhoods
ADVOCATING FOR A BETTER QUALITY OF LIFE FOR:
NORTHBORO PARK,  NORTHWOOD GARDENS, NORTHWOOD HARBOR, .NORTHWOOD HILLS,  NORTHWOOD LEGACY, NORTHWOOD PINES,  NORTHWOOD SHORES , OLD NORTHWOOD, PINEWOOD PARK and PLEASANT CITY.