Jan. 13, 2020, #5. "Resolution No. 10-20 establishing the salary and other compensation for the City Administrator and amending the pay grade information for the City Administrator job classification. Based on Ms. Johnson's extensive qualifications and experience, the Mayor is recommending to the Commission a starting salary of $249,000 for consideration, which is within the General Management Salary Rate Schedule for the City Administrator Pay Grade, GM20 ($174,303-$261,454)
Upon successful completion of a six (6) month probationary period, Ms. Johnson's salary will increase by 5% to $261,450, also within the current salary rate schedule. Ms. Johnson's current salary as Interim City Administrator is $220,000."
Jan.12, 2023 Investigative Reporter Terri Parker (WPBF 25) 
Ms. Parkers story can be read in its entirety below. My comments in Italic and excerpts from Ms. Parker's story.
"Loophole allows city administrator to get away with same issue West Palm Beach mayor suing challenger over."
"West Palm Beach Mayor Keith James is suing to get his sole challenger, Rodney Mayo, kicked off the ballot for the upcoming March election. James claims Mayo doesn't live in the city, as required by the city charter.
"Mr. Mayo is not qualified at the end of the day," said James following a court hearing Tuesday, when asked why he had filed suit."
But some outraged citizens call that ironic because James' top city administrator, Faye Johnson, has not lived in the city for the past three years, which the charter also requires.
The issue has come up several times over the past few years but has taken on a new spin with James' lawsuit."
""She's supposed to live within the city bounds of West Palm Beach. Ms. Johnson does not. Why, Keith, do you allow this?" asked resident Sandy Matkivich at a city commission meeting."
"Right now, I live in my primary residence, which is in unincorporated Palm Beach County," Johnson told WPBF 25 News Investigative Reporter Terri Parker. "
"To comply with the residency requirement, Johnson says she kept her house and rented an apartment within city limits for about a year. That lease is up, and she says she's looking for another one."
I want to see rent receipts. The fact is Johnson bought an apt. in Nov.-2021 at 2000 Presidential Way Apt.305 WPB Fl. For $136,000. Five months later she sold it for $155,000. A profit of $19,000 in 5 months. See PBC Property Appraiser website below.
PAPA-Property Detail (pbcgov.org)
"Johnson says there's a loophole of sorts in the charter, which allows her to skirt that requirement."
"She said as long as the city attorney says this setup is legally permissible, she's going to take advantage of it.  take advantage, loophole seriously? 
"It's not illegal. It's not unethical. It's not immoral," said Johnson. In my opinion it's all three.
Ms. Parker's story has links. One will show the City Charter Requirements and the other the City Attorney's response.
https://www.wpbf.com/article/florida-west-palm-beach-city-administrator-mayor-lawsuit/42478329
So, let's examine her pay raises:
City Administrator: General Management Salary Rate Schedule for the City Administrator Pay Grade, GM20 ($174,303-$261,454).
Assistant City Administrator I don't know what Johnson's starting salary was before she was promoted to:
Interim City Administrator, her salary was $220,000.
"The Mayor is recommending to the Commission a starting salary of $249,000."
The City Commissioners approved the pay raise. $249,000 – $220,000 = $29,000 raise. After 6-month probation a 5% raise. = $12,450 = $261,450 and Johnson was $4.00 short of the top of her pay grade of GM20 $174,303-$261,454
Johnson refused the $12,450 raise due to the pandemic until the Federal Government sent the city of WPB $25,3 Million. She accepted the 5% raise retroactive. That put her at the top of her pay grade. Not so fast!
Johnson's pay grade has gone from GM20 to GM10 meaning "salary is set by the commission upon the recommendation of the mayor." sky's the limit and to make a point her salary now stands at $291,240.00; Johnson has received $71,240.00 in pay raises. 
Sep 7, 2022
City Administrator Faye Johnson said the proposed pay increase would be "unprecedented in this city." A 5% raise equates to an additional $2,000 per year for an employee making $40,000.
What I find unprecedented is $71,240 raise in 3 years. James recommends the raise, and the City Commissioners approve it. Who's the suckers? The taxpayers
Johnson GM10 salary set by mayor
The end
Announcing WPB Gov Watch on September 16, 2013
"WPB GOV WATCH is a group of concerned citizens, for the City of West Palm Beach, FL, who have united to expose government waste, fraud and abuse and to recruit, promote and support responsible and effective candidates for Elected City Offices, who will be committed to work in the best interests of the Public at Large."
"In a Democracy, the people get the government they deserve" So said Alexis de Tocqueville, or Thomas Jefferson, or Ayn Rand – it has been contributed to all of them. Democracy is also hard work and best not left to politicians. And the best government is one that is constantly watched. And it doesn't take a lot of people to make a difference. In fact, Margaret Mead said ""Never doubt that a small group of thoughtful, committed citizens can change the world; indeed, it's the only thing that ever does." That is our motto. We hope to change the City of West Palm Beach.  We hope that you will join us in this effort.
For 10 years I have published stories on the happenings of our elected officials of WPB. For 10 years I have tried to shine a light on what was happening behind the scenes. I have said many times the hell with this, I'm banging my head against a wall for nothing. I do not have the knowledge or the ability to bring people together. Now I know why I stuck with it. Rodney Mayo has the ability to do both, and he's not giving up.
I have 101% confidence in Mr. Mayo and his ability to move our city forward, and I do mean our city, not the city of politicians, judge's, special interest groups and political consultants. WPB is our city and Rodney Mayo is working to return the city to us—the residents of WPB.
As much confidence as I have in him, I realize he can't do it without you and me, he has to have our support.
Posted by Sandy on January 15, 2023 "James record as Mayor 2019"
That story was to be the first of 4 published stories, and three more were to have followed. James record as mayor in 2020, 2021 and 2022.
I wrote and published the stories and can't believe how much I had forgotten because every year after 2019 Mayor Keith James leadership has deteriorated to the point I don't recognize my city.
When the court made the decision Mayo was not qualified to run I saw no reason to publish the remaining stories. I was wrong. The stories will be published on Monday for the next three weeks to remind us and hopefully get angry enough to join the fight.
Below you will find Rodney's latest post. what his plans for the city are and most important what you can do to help him. Please take the time to read it. There is something all of us can do. He's not asking people for money in fact he will return the $100.00 you donated to his campaign. he's asking for something more valuable than our money. He is asking for our signature on a "Recall Mayor Keith James" petition. He has mine.
Home for WPB Watch  https://wpbwatch.com/  If you want to view previous stories please check out "Archives"

Readers have contacted me wondering why they can't register on the website to receive the latest news.  Five countries, China, United States, Germany, Singapore and the United Kingdom have attempted to register with WPB Watch 327,697 times in the hopes of advertising their wares. WPB Watch will never allow advertising, so I disabled the register on line feature. Want to receive WPB Watch to your inbox? Please email me at sandymac36@aol.com with your full name and you will be registered. Thank you.
Below is the link for Rodney's latest message with upcoming meetings, where our help is needed and information I never had before. I was amazed to find what political consultants represented elected officials in Florida.
https://mailchi.mp/subculturegroup.com/mayo4mayor-welcome-1452654?fbclid=IwAR3_gZwd2aZ7JPs9bHeq_C-FxLwblOvSqvUHk1oC2hT6Lr_7YXAB3z5jhdg
The end? No, more to come
By nature, I am suspicious of government. I'm talking federal, state and city government. As I've written before. I don't believe in coincidences. I believe everything happens for a reason, whether good or bad. As the city is aware the court found on behalf of Keith James, and by the judge's ruling the residents of West Palm Beach have lost.
Keith James, who the residents elected has done more harm to our city while Rodney Mayo has done nothing but help the residents who needed help the most.
During the coronavirus he fed the hungry and the homeless and kept his businesses open and running so his staff never went without a paycheck.
Keith James on the other hand shut down Henrietta Farms. A farm that was located in an area known as a food desert where the closest supermarket was two or three miles away, and people had no transportation to buy vegetables and fruit to feed their families.
After George Floyd was murdered by a police officer, people were protesting on Clematis St. It was a peaceful demonstration while protesters on Palm Beach Lakes Blvd. were smashing windows at the Target store and burning vans that belonged to Best Buy. Thats where the trouble was, not on Clematis St.
Police chief Adderley notified the mayor at 8:00 o'clock on a Sunday night asking for a curfew. The mayor gave the chief what he wanted.
A curfew was to start at 9:00 o'clock Sunday night and end at 6:00 AM.  When police officers with loudspeakers told the crowd to disperse because there was now a curfew in the city. Protesters were confused. Why are they breaking up the protests? Everything's going fine. It was peaceful. It was friendly.
The crowd didn't break up quick enough for the police and while dressed in riot gear they started firing rubber bullets, and set off canisters of tear gas, which only inflamed the protesters. When it was all over the police and the mayor denied using tear gas. They claimed they were using smoke bombs until Rodney Mayo showed the Police chief an empty canister of tear gas. The Chief admitted tear gas was used by accident as the canisters for tear gas and smoke bombs lookes the same. Mayor Keith James made no comment, or admitted a mistake was made.
The worst the protesters did was throw road signs into the into the middle of the road and threw rocks at the police. By the Grace of God, not one Police officer or protester was seriously injured. Our city got lucky that Sunday night. I share this story to lead up to what happened next between the police, the protesters and Ronnie Mayo.
In an attempt to make peace between the protesters and the police, Rodney Mayo applied for a permit to host a peace rally. The city told Rodney what had to be done to hold the event and he went above and beyond what the city required. He rented chairs, tables, tents, umbrellas. He supplied all the food and soft drinks, hired a band and then bring the police and the protesters together, for conversation and forgiveness. This is the Rodney Mayo I know.
A good plan was spoiled when Mayor Keith James cancelled the permit the day before the event. This is the Keith James that I know.
Well, no one heard the fat lady sing yet, so I guess it isn't over. The good guys lost the first round, but regained their momentum and will be back in the fight to bring fairness and justice to the city of West Palm Beach. I hope residents stick with Rodney. You couldn't do any better. Below is Rodney's comment and explanation of recent events and plans going forward.
Rodney, my friend, word of advice. Watch your back and expect retaliation going forward. We all are aware how vindictive James can be when crossed or challenged.
There Should Be No Uncontested Elections in a Democracy!
"Unfortunately, despite our efforts, that is the result of the Judge's decision today. One man made a decision today that led to our election on March 14th being canceled. Even saying our election is canceled seems discomfiting, but that is the result. The Judge ruled that I did not qualify as a candidate. Most of you know I was not excited about running for Mayor. However, I felt obligated to do so, witnessing the complete disregard for the citizens' voice by our current Mayor.
Mayor Keith James and two of our commissioners, Shalonda Warren and Joseph Peduzzi, will go unopposed, and there will be no election. What is a democracy with no elections? What do these politicians have in common?
If a citizen like me who moved to Northwood in 1974, opened his first business in 1987 on Clematis street, has ten businesses operating in the city with an 11th on the way, owns several properties in the city, has started several local charities and helped assist folks who lost their income due to COVID when the city failed to do anything does not qualify to run for local office then what individual would?
Next time you see one of your commissioners, stop them and ask them if they have voted their conscience in every vote since they have been in office. Then, ask the commissioners to look in the mirror and ask the same question. If the answer is yes, then we deserve the politicians we elected. If the answer is no, vote them out no matter how many ads, mailers, or billboards they throw at you. Warning that's only if you can if the election is not cancelled.
There is a common denominator with our Mayor and the two commissioners, as well as our other three commissioners, and that is unlimited access to money.
Most may not be aware, but there is a political consultant group called Cornerstone Solutions
https://www.csteam360.com/team
that is responsible for getting Mayor Keith James and every one of our commissioners elected.
I was told 12 years ago that the Cornerstone group and influential developers had a 12-year plan to own this city by owning the Mayor and all the commissioners. I couldn't believe it at the time, but almost exactly 12 years later, they own our city government. I would be remiss to mention that Judges are also elected officials; in this case, our Judge is up for election in 18 months. Does anyone want to make a friendly wager as to whether the Cornerstone Solutions group will handle his campaign? (see the list of Cornerstone Solutions candidates they are proud to list on their website)
It all comes down to money. Years ago, the average commissioner campaign was $30,000, and a mayoral campaign was $100,000. Thanks to Cornerstone Solutions, fueled by money from a few influential developers (if you want to know who they are, look at the cranes dotting our skyline), these numbers have ballooned to $150,000 and over $500,000. When I decided to enter this race and met with a few political campaign advisors, I was told, "money equals votes; are you willing to match your opponents' money?"
Two things I have learned in the past 60 days running our "take the money out of politics campaign" are 1) the money Cornerstone Solutions and the developers threw at their hand-picked politicians have indeed scared off any potential opponents. 2) I have learned they are wrong; money does not buy votes!
Money and the threat of what it can do scare many qualified concerned righteous individuals from getting involved in politics leaving only unopposed candidates and no elections.
In the past 60 days, I went from thinking we had some chance of winning to, in the past two weeks, believing we would win this. Our grassroots campaign worked. Today we have over 500 volunteers signed up to help us change things for the better in our city. The outpouring of support was from all sectors and all communities. I was humbled by the people stopping by our campaign office and offering help, from the wealthy to the forgotten. We had a former homeless person that got himself off the streets wanting to help, a contractor who lost all income during Covid and had to rely on some of our food-giving efforts with H3, a grandmother who has been a resident for 60-plus years concerned about the high-rise proposed across her street and of course the traffic. All walks of life in our community wanted a change for the better. It has been truly inspiring.
I am fearful of many things to come. I'm afraid our out-of-control, laissez-faire attitude toward development will go unchecked. It is assured developers will get their way, and our skyline over the next four years will change dramatically. I am afraid more residents will be forced to move elsewhere as the rental rates continue to skyrocket; I am fearful that our forgotten communities will be wholly ignored until it's time to bring in the bulldozers and hand the land over to the developers, I am afraid the small businesses will suffer and will be forced out in exchange for larger corporate operations that can pay the escalating rents, and I am fearful of retribution. Mayor Keith James is a vindictive person. Anyone who did not support him may suffer. Many folks stayed out of this race because of that fear. For those that stood up, we applaud you!
Many have asked me about appealing this case, and I have been advised it would not be a wise decision. In an appeal, I would be required to post a bond equal to an amount dictated by the city to cover the cost of an election. This could quickly run into hundreds of thousands of dollars. In addition, appeals take time to win and are a long process that must be expedited in time for March 14th.
What we are going to do is to start a petition to recall the Mayor. The required number of signatures needed is 3,500. We want to double that! We want to send a message that we want our city back! We deserve to have an election and have a choice in our future.
We will notify you shortly on how to sign the petition and share it with your neighbors.
So, will you join us? Will you help us? Let's take back not only our city but our democracy. We have no choice for the sake of our city, communities and our future.
Our campaign slogan still stands.
Get Involved, Get Excited, Expect Change!
Thank You to all our Volunteers and our Amazing Team who stuck it out through thick and thin, Jody, Chris, Max, Lia, David, Maria, Adam, and a special thanks to my heroes, Sandy and Larry, who keep me going.
If you did contribute to our campaign and would like a refund, please message me and I will gladly return your donation.
James The Commissioner:
Prior to being elected Mayor, Keith James served as the district 4 City Commissioner from 2011 – 2019. He represented the Western Communities and their interest in NO Expansion of SR 7. 
"James, an eight-year commissioner, a Harvard lawyer and a stalwart supporter of term-limited Mayor Jeri Muoio, received notification a collection company garnished his city wages for repayment of a decade-old credit card debt of $1,375.
If the optics were bad, there was worse to come.
Opposition researchers for his rivals in the race dug up official records showing the intelligent and affable politico also owes the IRS more than $100,000 and was hit with two foreclosures and an eviction judgment. And they topped that off with police records from Texas of a DUI conviction from 2003."
Voters elected him Mayor of WPB. Good for James, not good for residents, city employees or people wishing to do business with the city.
April 4th, 2019: Keith James sworn in as Mayor: Let's examine 2019 and see what type of man the people elected.
Mayor Geri Muoio:
(1) Mayor Geri Muoio formed the African American Advisory Committee.
(2) Mayor Geri Muoio promoted Sara Mooney to Chief of Police which had to be confirmed by the City Commission. At the time Commissioner James was the only no vote.
(3) "Peace in the Streets" Former Mayor Muoio had an idea to improve the lives of young black men in the north end of the city where crime is rampart and shootings are a normal way of life.

(4) Mayor Geri Muoio signed a contract with the Lord's Place who looked after the homeless and supplies daily lunches, clothes & housing where needed.
(5) Mayor Geri Muoio appointed Dr. Deandre Poole to Criminal Justice Advisory Commission & Sales Surtax Oversite Advisory Committee.
(1) After taking office, his very first act was to dismantle the African American advisory board. During his campaign they challenged his lack of involvement in issues that faced their community. Instead of stepping up, he eliminated everyone who would challenge him on that board.
(2) James second act was to replaced Chief Mooney with Fort Lauderdale Police Chief Frank Adderley along with Deputy Chief Rick Morris who were waiting in the wings. Two men to replace one good woman.
Commissioner James needed endorsements and reached out to Mayor Muoio and the PBA (Police Benevolent Association) for their endorsement and received both after he stated Police Chief Sara Mooney's job was not in jeopardy and would remain Chief of Police.

Mayor Muoio is quoted on WPTV Channel 5 as stating:
"One of the things that's disappointing is that he promised us all he wouldn't change the police chief. I know the (Police Benevolent Association) asked him that question when they gave him their endorsement Now he's taking this action, so it's very disappointing."
Read the story below.
https://www.wptv.com/news/region-c-palm-beach-county/west-palm-beach/former-west-palm-beach-mayor-calls-replacing-police-chief-a-travesty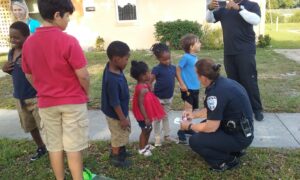 (3) Mayor James ended the Peace Walks.
The walks continued monthly, always led by Chief Mooney, and residents would walk with us and say they were grateful for our presence. Homeowners asked for and received "Peace in the Streets" yard signs and displayed them proudly. Every month more signs could be found in yards,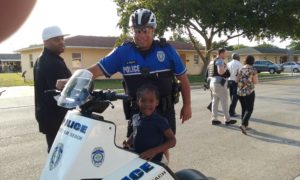 Cops would give young children a ride on their Segway, and their smiles said it all, not to mention the goodwill and trust it created between kids and cops. Chief Mooney's idea was to reach the young before the gangs did.
(4) James ended the contract with the Lord's Place, and found no need to explain his actions, but he had a plan for the homeless and set it in motion in 2020.

(5) James removed Dr. Deandre Poole from both positions after he had received 3 letters from the city saying he would be re-appointed. Now I'm assuming he didn't have a "James for Mayor" yard sign or God forbid didn't contribute to his campaign.
James increased Fire Fee from $50.00 to $100.00 and we discovered millions had been allocated to the General Fund.
If a resident wished to address the Mayor or City Commissioners we had 3 minutes, either praise the city or air their grievance. Before James, residents spoke within 10-15 minutes after the start of the meeting. James moved "Comments by the Public" until the end of the meeting. This was a + for the mayor as he didn't have to listen to complaints, people lost the opportunity along with folks who had to be home to cook dinner or pick up their kids. If the meeting ran longer than usual residents waited until 9-9:30 to address the Mayor or Commissioners.

James awards $8.5 million no-bid contract to PSC Security. Senior Regional Manager Willie Perez, a drinking buddy of James who sent a picture of his penis to a city employee, Sharagay V. Esposito who later sued the city.
"The city solicited competitive proposals from firms early in 2019. Administration canceled that solicitation within two weeks of James taking office in April. While competitors waited for it to be reissued, the James Administration instead recommended the City Commission hand the contract to PSC without bidding." The Commissioners voted unanimously to award the contract to PSC. Story below.
https://www.palmbeachpost.com/story/news/2020/07/06/how-security-firm-overcame-scandal-to-win-right-to-negotiate-multi-million-dollar-deal-with-west-palm/41714601/
James attempts to pay out $180,000 to a former city employee, Sharagay V. Esposito who received a lewd picture sent by Senior Regional Manager Willie Perez a personal friend of James.

"A Resolution of the City Commission of the City Of West Palm Beach, Florida, approving a Conditional Settlement Agreement Dated November 5, 2019 For $180,000.00 In The Pr-Suit Claim Matter of Sharagay V. Esposito and the City of West Palm Beach; Providing an Effective Date; and for other purposes."
The City attempted to have Commissioners pass the Resolution listed under the "Consent Calendar' where items are not discussed, in an attempt to hide a brewing City scandal. The City Commissioners refused to approve the Resolution. A win for the good guys.
9/27/2019 @ 2:00 PM: Two Commissioners, Neering and Ryles requested a special meeting to revisit the PSC contract. Commissioners Lambert, Peduzzi and Shoaf were a no show.  No quorum, no meeting. A loss for the good guys. When it was time to re-elect Commissioners Neering and Ryles, both made the decision not to seek re-election. That speaks volumes to me. We lost 2 good men.

James was out and about and was surprised when Channel 5 reporter Wanda Moore aimed a microphone at him with more pesky questions concerning the PSC no-bid contract. Here was the question; "You had said that because of new information that has been brought to your attention you had changed your mind. Can you elaborate on what that information was?"
Mayor James said he has asked Johnson, who replaced Green, for a full review.
"She did a full review of the process and of every step taken, including the decision by staff to cancel or reject all bids without my knowledge during my first week in office." 
The end
A WPB Watch reader reached out to me with a request to contact Ms. Edith Bush.
I had just published "Rodney Mayo's 10 Point Action Plan" and the two had a conversation, both agreed with the 10 Point Plan, and Ms. Bush wanted to extend an invitation to Rodney to attend the Martin Luther King Jr. Kick off service on Friday January 6 at 6:30PM. She followed up the conversation with an email, I forwarded it to Rodney, and he accepted the invitation immediately.
Ms. Edith Bush, so who is she? Edith Bush is a force to be reckoned with. Below is a story written by Shana Gruskin Staff Writer South Florida Sun-Sentinel Apr 03, 2005.
The story was written 18 years ago, and now at the age of 90 Ms. Bush has not slowed down and I'm willing to bet she wouldn't know how. When she finds injustice, she steps up and voices her opinion. She talks common sense which most people can relate to. Below are excerpts from the story and if you take the time to read it there is much more information on her.
"Here in this tidy neighborhood, Edith Bush is a benevolent monarch of sorts aiding elderly neighbors; encouraging residents to spruce up their homes; scolding truant school kids; exhorting corporations to paint fading houses and donate money; phoning the rich and the powerful to give and, above all, do.
Slowly over the years, Bush's reign has extended past Palm Beach Lakes Boulevard and Australian Avenue to Mangonia Residence Apartments for seniors a few miles north, to rundown sections of Riviera Beach, to city hall and the county seat and even, when need be, to Washington, D.C.
She's a regular woman, not wealthy or politically connected or physically imposing. But somehow, by force of personality and belief in cause, Bush has transformed her passion for civic duty, her love of people and peace, into a cult of volunteerism." Read the entire story below.
https://www.sun-sentinel.com/news/fl-xpm-2005-04-03-0504020411-story.html
Mr. Rodney Mayo, so who is he?  A business man who is running for Mayor of WPB, who has the present Mayor James running scared.  Just my opinion!
He's a good man with principles and moral fiber which is the capacity to do what is right, no matter what the circumstance. A business person with strong moral fiber for example, would decline a bribe, and put his self-interests aside for the benefit of the city and its residents.
I was discussing with a friend, who is the first to make an appearance when volunteers are needed for a project and he shared his story with me which has been verified.
A group of volunteers went to PBC with a request to donate the paint that was turned in as no longer needed. The County was happy to oblige. People who knew how to blend paint did their job and now the volunteers could get to work painting homes.
As you read the story above on Ms. Bush she "exhorting corporations to paint fading houses and donate money; phoning the rich and the powerful to give and, above all, do."
My friend told me Rodney meet with the volunteers, grabbed a roller and went to work. This is the Rodney I have come to know over the years. A man that steps up when needed.
Below is a video of the event at the Martin Luther King Jr. Kick off service and Ms. Bush introduced Rodney and gave the crowd sage advice. "Know who you're voting for"
Listen to the short video below, and notice the letters missing from the memorial.
https://mega.nz/folder/NxgxgDwT#2NPIwEwJlQCdGsv8hWi-hQ
1/10/2023 was an important day for WPB and it's future. There was a court hearing, and WPBF (25) Investigative Reporter, Terri Parker spent the afternoon sitting in the courtroom to bring us the story below.
Rodney Mayo testified, Mayor James did not, although he did comment to Ms. Parker after the hearing stating "At the end of the day the voters of WPB deserve transparency and integrity" two words he is familiar with, and in my opinion finds it impossible to practice.
Read the story below and take a minute to listen to James words of wisdom.
"West Palm Beach Mayor brings challenger to court in bid to kick him off the ballot"
https://www.wpbf.com/article/west-palm-beach-mayor-keith-james-rodney-mayo-court/42450877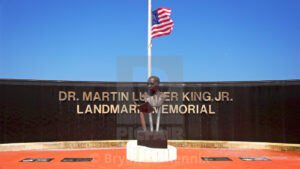 Mayor James,
Dr. Martin Luther King Jr. Memorial. Holiday is 1/16/2023. Please ensure Letters that were missing on Jan. 6, 2023, are replaced for the upcoming holiday. It's extremely important to many people, who wish to honor Dr. King.
The end
The Information below was taken from the PBC Supervisor of Election Website, and I have included the links if you have any more questions. There have been changes to the voting rules so please take the time to read the information.
"If you are not already registered to vote in Florida, eligible individuals can register to vote at any time. The deadline to register to participate in an upcoming election is 29 days before the election.
If you are at least 18 years old (you may pre-register to vote at the age of 16, but you cannot vote until you are 18 years old); you have not been adjudicated mentally incapacitated with respect to voting in Florida or any other state; and you have not been convicted of a felony or have been convicted of a felony and had your voting rights restored."
https://www.pbcelections.org/Voters/Register-to-Vote
"Voters wishing to vote by mail in the 2023-2024 elections are required to make a new Vote-by-Mail Request for all elections.
A request must include the voter's FL Driver's License or FL ID, or the last four digits of their Social Security Number, whichever can be verified by our office. If your voter record does not include your FL Driver's License/ID, or last four digits of your SSN, you must update your voter record before requesting your Vote-by-Mail ballot.
IMPORTANT: The deadline to request that a Vote By Mail ballot be mailed to you is no later than 5 p.m. on the 10th day before the election. If you miss the deadline, you can visit one of our offices and we will print a mail ballot for you through 5:00 pm on the day before election day. Or you can vote in person during Early Voting or on Election Day." 
https://www.pbcelections.org/vrservices/mbrs#
WHAT TO BRING TO THE VOTING SITE:
 Please bring one or two forms of valid and current identification that include your signature and photo.
Acceptable Photo ID Florida Voters:
Florida Driver License
Florida ID Card (issued by DHSMV)
U.S. Passport
Debit or Credit Card
Military ID
Student ID
Retirement Center ID
Neighborhood Association ID
Public Assistance ID
Veteran Health ID (issued by the US Department of Veterans Affairs)
Concealed Weapon License (issued pursuant to F.S. 790.06)
Employee ID card issued by any branch, department, agency, or entity of the Federal Government, the state, a county, or a municipality.
If your photo ID does not include your signature, you will be asked to provide another ID that has your signature. If you do not bring your ID, you may still vote, however, you will be required to vote a provisional ballot, which will later be evaluated by a canvassing board for eligibility. 
General Early Voting Information
Early Voting allows you the opportunity to cast your vote when and where it is convenient for you. The Early Voting locations we select in Palm Beach County are chosen with you, the voter, in mind, while remaining in compliance with Florida law. 
As long as you're an eligible registered voter in Palm Beach County, you can vote in any Early Voting site we have open.
https://www.pbcelections.org/Voters/Early-Voting
P: (561) 656-6200 | F: (561) 656-6287
Hours for All Offices: M – F: 8:30 AM – 5:00 PM
Now we have information needed to vote.  Will we?
The City of West Palm Beach is divided into 5 districts. Each has its own commissioner. Over 20 years ago the city asked voters to change from Single District to City Wide elections, and we handed it to them on a silver platter. That was our first mistake. Our second mistake was not taking the time to vote in Municipal Elections.
My vote won't make a difference, and I reply the hell it won't!
March 14, 2023, we have another chance to elect a new Mayor.
The choice will be between Mayor Keith James and Mr. Rodney Mayo. (I believe the court will make the right decision and we will have an election)
The gated communities in the west will vote for the people who protect their interest, and their main interest is to stop the expansion of S.R. 7. Below are excerpts from a story by Joel Engelhardt. Please take to time to read his story.
"Long-awaited State Road 7 project will wait five years longer"
"West Palm Beach's litigation prompts state to withdraw $80 million scheduled to be spent in 2023 to build connector between Okeechobee Boulevard and Northlake boulevards."
"But on Thursday, state officials will slam the brakes on the controversial project by formally asking local officials to sign off on a shocking twist: Delay it at least five years."
"While cost increases contributed to the state's action, a legal challenge filed by West Palm Beach to block the project remains the largest hurdle."
"With more than 1,800 homes, Ibis is a key West Palm Beach voting bloc and its residents have opposed the route, first dedicated in the 1940s, for decades."
"Cost of road skyrockets to $134 million"
"With $80 million in hand and $5 million already spent, the state had almost all of the money it would need to begin building both segments in 2023 at an estimated cost of $87.5 million."
The five-year delay, coupled with rising construction costs and design changes to ease environmental hurdles, puts the new project cost at $134 million, an increase of $46 million."
https://ongardens.org/2022/12/14/long-awaited-state-road-7-project-will-wait-five-years-longer/
Over the years the City of WPB has spent millions of taxpayers' dollars on lawsuits, and in my opinion, it is to protect the residents of Ibis and other gated communities. They will be out in force to vote to keep Mayor Keith James in office.
If the other 4 districts don't come out in force to vote it will ensure James will have another 4 years to further the damage, he has done since 2019.
The end!
I finished reading Rodney Mayo's 10-point Action Plan for WPB and I have a decision to make. Should I post the story today, New Year's Eve, when many will be celebrating the New Year, or should I post it on New Year's Day. I have decided on New Year's Day as my way of starting 2023 off on a positive note.
What you will read below is Rodney Mayo's plan for our City and he has to start somewhere, he decided on "Ethics in our City Hall" If you don't have ethics in government, you are governed by people who are not concerned about the people, they are concerned about their political future and special interest groups.
Below are three links from his campaign and that tells me he is not only going to talk ethics, but he has also actually researched the issue.
Rodney Mayo is not a politician and has said he will be a one term Mayor, as in One and Done. I have never heard him say he was going to do something and not follow through. To me, his word is golden. For those of you not familiar with him please take the time to meet him as he has extended an invitation to his Open House at Mayo Campaign Office, 522 Clematis Street, Wednesday Jan. 4 @ 6:00 PM. Mr. Mayo says he wants to hear from you. Meet him and put him to the test and see if he is worthy of your confidence and your vote. Hope to see you there.
"Below is our 10-point Action Plan in no particular order. We will explain in detail each chapter, why it is on our top 10, and how we plan to tackle the problem. For example, below is Ethics in our City Hall. Next week we will discuss A livable and Affordable City for All. Why not just list them all at once? We would be afraid no one would read all of it, and we want to allow you to comment on each point and open the discussion. We welcome your input.
Someone out there might be an expert in a particular field or have had first-hand experience.
I. Ethics in our City Hall
II. A livable and Affordable City for All
III. Sensible and Responsible Development
IV. Public Safety is Priority One
V. Efficiency in Government is Not an Oxymoron
VI. Transparency is Essential
VII. Our Drinking Water and the Environment
VIII. ACE- Arts Culture Entertainment
IX. A Welcoming Business Environment
X. Friendly, Customer Oriented and Compassionate City
Action Plan I.- Ethics in our City Hall –
"The principal goal of a local government ethics program is to further the public's trust in those who govern their communities to put their personal interests aside in favor of the public interest."  *
We are introducing the subject of ethics in our local government as the first step in our action plan, for without the strong moral fiber of our elected official's government ceases to provide for and act as the people's servants.
Liberti. Masilotti. Exline. Newell. McCarty. Koons. If any of these names sound familiar, they have all been convicted of felonies, and some served jail time; all were local City or County commissioners. It is too familiar in politics for our elected officials to practice a Quid pro quo, accepting significant special interest money to run their campaigns and help them get elected. Often leaving office to work for the same developers, they helped approve projects while in office.
We need to break this cycle.
We will create an ethics code within our City Hall by introducing a broad ethics program with oversight and enforcement powers. We will launch a 3-step program outlined below.
1- Create a Community Ethics Board to oversee any concerns of ethical behavior within our government. Including City administration, building department, parking department and most importantly where all our money is collected and spent in our City budget. It might come as a surprise, although it should not, that our city budget is rarely contested, questioned, or examined. Our City budget comprises over 600 pages of obscure acronyms and confusing charts. A sophisticated CPA would have a hard time reviewing in a month, but we ask our Commissioners and Mayor to approve this budget often within 48 hours. Yet, our elected officials approved our last budget in less than 1 hour with virtually no questions or comments.
A Budget oversight committee will ensure our city budget is accessible to the public a minimum of 30 days before the commission votes on it. This additional time will ensure qualified 3rd party eyes have time to review and allows the public ample time to be present at the budget review meetings and final vote to adopt.
2- We will require commissioners to abstain from voting on any contracts with any company requiring contract approval if they have received any political contributions from that company. It may be surprising to most, but this is not common practice.
3-We will introduce and expand on anti-nepotism restrictions through our local ethics program. Nepotism is generally defined as the bestowal of patronage by public officers in appointing others to positions because of blood or marital relationship. *
Below are excerpts from articles with links to successful ethical programs and research:
The Key Elements of a Local Government Ethics Program
A local government ethics program is not just an ethics code with a series of ethics provisions. Even in a town or small county, other elements are necessary to have an effective ethics program. The most important elements are quality training and timely, professional advice. Also essential are (1) three types of disclosure, (2) enforcement, and (3) whistleblower protection. An ethics program is administered by an independent ethics commission with enforcement authority and a monopoly on interpreting and enforcing the ethics code.
There is one big exception to the rule that government office should not be used for the benefit of its holder and those to whom the holder has obligations. That big exception is politics. A politician (as opposed to an administrator or employee) is permitted to give precedence to his political obligations and to benefit his political career and his political colleagues, with some exceptions. Our democratic system allows elected and some appointed officials to wear the additional hat of the politician.
Elected officials and their appointees often act to benefit their parties and factions, and their own political futures. Many elected officials do what they can to get re-elected or elected council president or mayor. And many mayors have their eyes on higher office. Board and commission members often think of running for council, or making sure their party remains in control of the government.
Citizen Engagement is Key
It is important that community members provide input throughout the budget planning process. Soliciting their input in the local government's choices further strengthens trust and buy-in. Ways to engage residents in the process include:
• Open houses
• Citizen academies
• Focused discussion sessions
• Needs surveys
The annual budget directly affects where citizens live and work and should be influenced by their needs and concerns.
*Weschler, Robert. "City Ethics Inc." 2013,
* National Conference on State legislators"
https://opengov.com/faq/local-government-budget-process/?fbclid=IwAR0gOeY0ooyNc4A_6T35WTjSFkgIEYC-rYa52vks_LUtAFbuVOfhIgBArZA
https://www.cityofdenton.com/DocumentCenter/View/884/Local-Government-Ethics-in-a-Nutshell-PDF?fbclid=IwAR3J2hN27zZs0ktonp6LLI2suJe6mtQgqLv22Fc7z4enJCXogXYUlF1d3Ho
https://www.ncsl.org/research/ethics/50-state-table-nepotism-restrictions.aspx?fbclid=IwAR08FsIc-9iYJ9EgGt1aVqkqmoBN9F_UaYxwmiwslQ_FPQ9O5jtdMLNJNO0
Paid for by Rodney Mayo for Mayor
The end
Mayor James along with Commissioners Warren and Peduzzi are up for reelection. Warren and Peduzzi had no challengers and will retain their Commission seat.
I assume Mayor James was feeling good about the election until Rodney Mayo presented his papers to the City Clerk and qualified to enter the race the day before the cutoff date.
In an act of desperation Mayor Keith James has filed 2 complaints against Mayo, PBC Supervisor of Elections, and his own City Clerk and the taxpayers will pick up the tab for Attorney and Court costs.
For the past four years James has basked in the power of the Mayor's seat, taking full advantage to enrich his friends with no bid contracts, Contracts to his Political Consultant Rick Asnani, forced the closing of Henrietta Farms, which helped feed blacks in poor neighborhoods, firing good employees, and forcing others from their livelihood, criticized the state for vaccinating Palm Beach while he ordered vaccinations for the Bristol ( millionaires and billionaires), let's not forget the Sunset Lounge, located in the Northwest neighborhood, and always considered an African American nightclub. He found a way to cancel the Commissioners vote to allow Vita, a small black owned company to manage it which led to another lawsuit, and the court ruled James must give his deposition. Sometimes he just doesn't care for courthouses. Allowing residents to use contaminated water for 8 days before sending out a notice and so much more happenings that we have learned about, and I shudder to think what he has kept secret.
Most importantly the total disdain he has for WPB residents, and the lack of respect he has for the black community.
Included with the story I have added the court documents along with Mayo's City's qualifying records if you care to read them, and I encourage you to take the time.
1 COMPLAINT FOR DECLARATORY RELIEF AND INJUNCTION
"COMES NOW the Plaintiff, KEITH A. JAMES ("JAMES"), by and through his undersigned attorney, and files this Complaint against Defendants RODNEY BRIAN MAYO ("MAYO"), WENDY SARTORY LINK AS PALM BEACH COUNTY SUPERVISOR OF ELECTIONS ("LINK"), and THE CITY OF WEST PALM BEACH ("THE CITY")
Read the court papers here: Court Papers 1 of 2
The judge dismissed the complaint and Mayo can continue to campaign for Mayor.
2 "MOTION TO SET EMERGENCY HEARING ON PLAINTIFF'S REQUEST FOR A TEMPORARY INJUNCTION COMES NOW the Plaintiff, KEITH A. JAMES ("JAMES"), by and through his undersigned attorney, and moves the Court to set an emergency hearing on Plaintiff's request for the entry of a temporary injunction prohibiting Defendant WENDY SARTORY LINK AS PALM BEACH COUNTY SUPERVISOR OF ELECTIONS ("LINK") from taking any official action with regard to the "candidacy" of Defendant RODNEY BRIAN MAYO ("MAYO") for the position of Mayor of the City of West Palm Beach; to prohibit MAYO from campaigning for the position of Mayor of the City of West Palm Beach; and prohibiting the CITY OF WEST PALM BEACH ("THE CITY") from treating MAYO as a candidate of the position of Mayor of THE CITY in the election scheduled for March 14, 2023, and as grounds therefore would state as follows:"
Read the court papers here:   Court papers 2 of 2
The judge will set a hearing date before January 15, 2023, as that is the cutoff date when the ballot must be sent to the printers.
I am confident both names will be on the ballot. James & Mayo.
Mayo has made one promise so far. He will not accept donations from pacs, or special interest, and will not accept donations over $100.00. That tells me when the election is over and he is sworn in as the new mayor of WPB he will owe no one except the residents of WPB and will look after us. I had to check if he meant what he said, and his word is good. Read his financial statement below with names and amount of contribution's.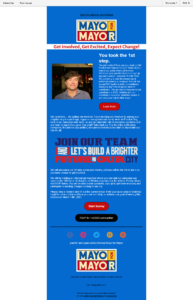 Mayo campaign flier   to enlarge open the flier and left click.
Invites you to join his team "We will announce our 10-step action plan shortly, and you will be the 1st to see it as you have chosen to get involved.
Ask you to take a survey (what city issues have you concerned?)
RSVP for 1/4/2023 get-together   (come meet the candidate)
The end
Below you will find a story concerning Mayor Keith James fight to hold onto power.
The story is by Investigative Reporter Terri Parker, WPBF channel 25. Below is an excerpt and the entire story along with Terri's interview of Rodney Mayo and James campaign manager Rick Asnani, of Cornerstone Solutions. My comments will be in italic.
"The mayor of West Palm Beach has filed a lawsuit against his sole challenger in the March mayoral election. Keith James is trying to disqualify Rodney Mayo from running against him, claiming Mayo does not live in the city.
James is also suing Palm Beach County Supervisor of Elections Wendy Sartory Link and his own city of West Palm Beach, asking a judge to stop them from allowing Mayo's candidacy to move forward."
In the story Mr. Mayo states his water & electric bills are sent to his home since 1982 at 520 Clematis St. Water bill should be easily verified because the City sends the bills. WPB Drivers License lists 520 Clematis St. His campaign lists 520 Clematis St. WPB. Now I am assuming people will send Christmas cards to 520 Clematis St, but unable to verify at this time.
Mayor James did not give an interview, although his campaign manager, Rick Asnani made a statement simply stating he didn't believe Mr. Mayo lived in the city. If the name Asnani is familiar to readers it's the same man James gave three contracts totaling $357,500 taxpayer's dollars, without City Commissioners input and possible knowledge.
Ms. Parker has added the court papers to the story and can be read by simply clicking on the link.
I read them and a couple of things jumped out at me. On page 4 & 5 titled Certificate of Service.
CERTIFICATE OF SERVICE
"I HEREBY CERTIFY that a true and correct copy of foregoing document was served by process service on this 5th day of December, 2022 to: Rodney Brian Mayo, 520 Clematis Street, Apt 1, West Palm Beach, FL 33401 and 6171 Pine Dr., Lantana, FL 33462 ; Wendy Sartory Link Supervisor of Elections of Palm Beach County, 240 South Military Trail, West Palm Beach, FL 33415; Hazel Carson, City Clerk, City of Wes Palm Beach, 401 Clematis Street, West
Palm Beach, FL 33401.
By: /s/ Gerald F. Richman
GERALD F. RICHMAN
Florida Bar No. 66457″
Above you read "foregoing document" that means: A subpoena which is a written order to compel an individual to give testimony on a particular subject. A subpoena was issued to Rodney Mayo at 520 Clematis St, and his home in Lantana. Lucky man got two, and Mr. Richman acknowledges Mr. Mayo does indeed live at 520 Clematis St.
A subpoena was also issued to Hazel Carson, City Clerk of West Palm Beach. Hazel Carson retired from the City 4-5 months ago and Jacqueline H. Mobley has been the interim clerk ever sense. Ms. Mobley has displeased the mayor, and most know the meaning of that.
Now ask yourself if you would re-elect a man who isn't even aware who is in charge of the City Clerk's Office. I believe James is terrified of losing his job. Maybe now he will have empathy for Phyllis Brooks and Mark Parks, two excellent employees who knew their jobs, along with where the bodies are buried.
https://www.wpbf.com/article/florida-west-palm-beach-mayor-lawsuit-james-mayo/42192622
The end
Below you will be able to read my request for a PRR (Public Records Request) to Jacqueline H. Mobley, City Clerk who responded.
Dates are important, and I have them in bold print to draw your attention. If it's bold print please notice. Any comments I make will be in Italic.
I don't believe Ms. Mobley is holding up my PRR, but is receiving direction from two individuals who obviously don't want me to receive them. Judge for yourself.
***********************************************************************************************
From: Sandy Matkivich <sandymac36@aol.com>
To: Jacqueline H. Mobley <jhmobley@wpb.org>
Sent: Friday, November 18, 2022 3:24 PM
Subject: PRR 11/18/2022
­­­­­­­­­­­­­­­­­­­­­
Please provide an electronic copy of the following:
FY 2022-23 line item budget for the City
FY 2022-23 line item budget for the CRA
FY 2022-23 line item budget for the DDA
FY 2022-23 budget book
Please acknowledge request received.Thank you in advance for your help
Sandy Matkivich
**********************************************************************************************
—–Original Message—–
From: Jacqueline H. Mobley <jhmobley@wpb.org>
To: Sandy Matkivich <sandymac36@aol.com>
Sent: Mon, Nov 21, 2022 9:13 am
Subject: RE: PRR 11/18/2022
Good morning,
We are in receipt of your public records request and will respond accordingly
Thanks!
Jackie H. Mobley
City Clerk, Interim
****************************************************************************************************
From: Sandy Matkivich sandymac36@aol.com
To: jhmobley@wpb.org
Sent: Wed, Dec 7, 2022 9:07 am
My PRR for the info. below was sent on 11/18/2022. On Nov./21/2022 you acknowledged receipt.
Today date is 12/7/2022.  That is 17 days I am waiting for a response from the city. Does that amount of time seem reasonable to you as City Clerk?
Florida Statute Section 119.07(1)(a) — Requires every person who has custody of a public record to permit the record to be inspected and copied by any person desiring to do so.
The documents I have requested are PDF files that already exist and require no scrutiny by any department.
By law, you, as the Clerk, are required to provide me with the ability to receive copies in a reasonable time.  My request only requires the sending of an email.
Please assure me you will get this done immediately,  and acknowledge email received.
Sandy Matkivich
FY 2022-23 line item budget for the City
FY 2022-23 line item budget for the CRA
FY 2022-23 line item budget for the DDA
FY 2022-23 budget book
****************************************************************************************
Before publishing this story I checked my email and did not receive any acknowledgement from the City (Ms. Mobley)
Next step:
Ashley Moody, Attorney General
"Every citizen has been granted the Constitutional right to inspect or copy any public record with some exemptions in Florida, and the Sunshine Law provides a right of access to government proceedings at both the state and local levels.
Citizen Guide to Public Records and the Sunshine Law in Florida
You have the right to inspect and copy public records at any reasonable time, under reasonable conditions, and under the supervision by the custodian of the public records.
You have the right to request public records without having to show identification, without saying why you want the records, and without making your request in writing.
You have the right to request an estimate for the time and costs involved in producing your public records request.
You have the right to ask for a written statement of the statutory basis for denying access to public records.
You have the right to be present and unobtrusively record public meetings.
For more information regarding Florida Public Records and the Sunshine Law, contact the Attorney General's Open Government Mediation Program, (850) 245-0140, or visit the FAQ section.     Attorney General website below.

http://myfloridalegal.com/pages.nsf/main/3dbe69bb9a74d5188525791b006a54e6   
"How much is the fine for knowingly violating Florida public records laws?"
"Knowingly violating public records laws is a crime, a first degree misdemeanor punishable by up to one year in prison, a $1,000.00 fine or both."
Dear Ms. Mobley,
Who do you think will be fined $1,000.00 and spend a year in prison?
The end (not even close)